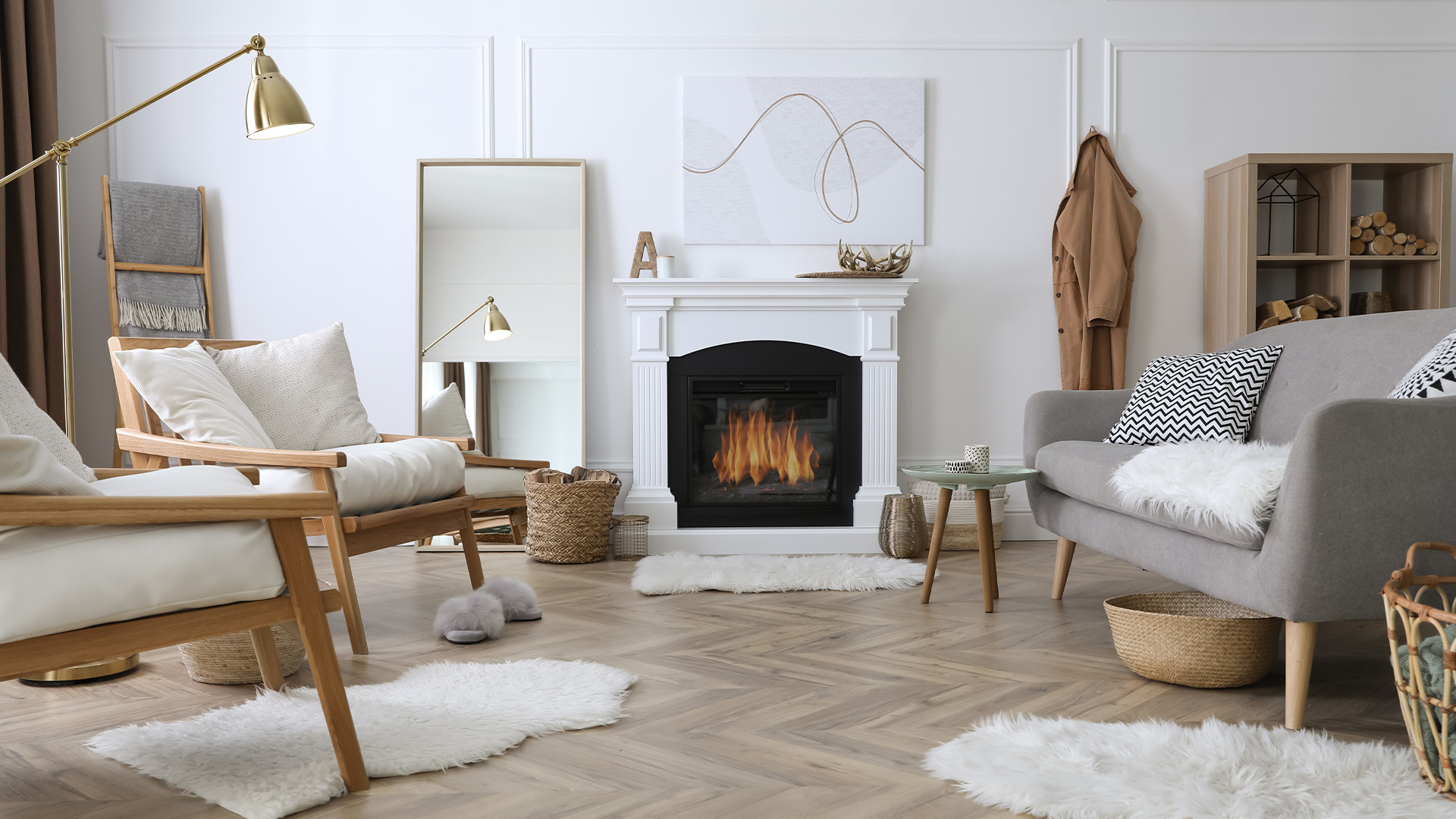 Outdated fireplaces can really date a room, leaving it feeling old-fashioned and impractical. With their sooty brickwork and inefficient open fires, traditional fireplaces often fail to provide the comfort and aesthetic we expect in today's homes. Thankfully, with a few thoughtful updates, even the most tired and dated fireplace can be transformed into a modern showstopper.
Here, we'll take a look at how to breathe new life into outdated fireplaces, and offer some practical tips to create the perfect fireplace, adding value and quality of life to any home.
Things to consider before starting
When modernising an outdated fireplace, there are several important factors to consider before getting started.
Permissions and regulations
In the UK, any structural changes to a fireplace will require adherence to building regulations. Chimney alterations, in particular, may need approval. Planning permission may also be required if you want to fully open up a fireplace or chimney breast. There may also be restrictions on the materials you can use for the fireplace surround if your property is listed.
Safety
Depending on the fireplace style chosen, gas supply lines will need to be safely installed and ventilation provisions made. With any installation, fire risk must be evaluated and mitigated, with fireguards, hearth gates or screens used as appropriate. Proper clearance from combustible materials is crucial.
Budget
Modernising a fireplace can quickly become expensive. Masonry, new inserts, surround materials and labour all add up. Ensure there is an accurate, determined budget and that detailed quotes are confirmed before starting.
Aesthetics
Choose a style that complements the existing decor, creating a seamless look. Period homes may suit traditional stone or brick while more modern properties can accommodate contemporary metal or glass surrounds. Hire a designer if you're struggling to visualise the finished look.
Have the chimney inspected and swept
A crucial step in upgrading an old fireplace is having the chimney professionally inspected and swept. Over time, chimneys can become blocked with debris or develop cracks and structural issues. Using an outdated fireplace without having the chimney assessed risks fire, smoke damage or exposure to dangerous gases.
A qualified chimney sweep will use cameras and other tools to thoroughly examine the chimney and highlight any problems. They can also determine if the flue is the proper size for any new insert you plan to install. Chimney sweeps will clear out old build-up of creosote and soot, leaving the chimney clean and safe to use.
It's advisable to ask the chimney sweep to provide documentation of the chimney's condition. This will prove invaluable if any issues emerge further down the line. They can also advise on necessary repairs and provide cost estimates. You may need to repoint brickwork or install new flue liners. Damp issues should also be addressed before upgrading the fireplace itself.
Upgrade the fireplace insert
Once you have a clean, inspected chimney, it's time to upgrade the dated fireplace insert itself. There are several options to consider that will boost the efficiency, safety and aesthetics of your fireplace.
Electric Fireplace Insert: For a zero emissions option, an electric fireplace insert simply plugs into a mains socket. Opt for traditional log effects or sleek crystals and pebbles. Installation is quicker than gas and costs £500-£1,500. Running costs are low but heat output is less.
Gas Fireplace Insert: A gas fireplace insert can quickly and easily convert an old fireplace into a convenient modern heat source. Choose between LPG or natural gas, with flames that can be adjusted via remote control or thermostat. A gas insert provides instant ambience at the touch of a button. Installation can cost between £350 to £2,000.
Wood Burning Stove Insert: For a traditional real wood fire, a wood burner insert might be the right choice, providing greater heat output. Models with glass doors allow you to enjoy flickering flames. Installation is around £1,800-£3,000. Ensure proper ventilation and wood storage.
Each option can quickly and effectively convert old open fireplaces into modern, efficient heating solutions with greatly reduced draughts and improved safety. Consult an expert to determine which is best suited for your needs and chimney type.
Upgrade the surround
The fireplace surround creates the frame for your new insert. Upgrade this element to complement the modernised firebox. There are numerous materials to create a surround that matches your vision and decor.
Natural stone like marble or slate makes a durable, upscale surround that adds texture, or you can use glossy ceramic or porcelain tiles. For an industrial look, opt for a surround made from metal. Choose brushed steel or matte black iron to match modern or vintage styles. Surrounds made from reclaimed oak, maple or driftwood can provide a rustic, natural appearance. These can also be painted for a bolder look and added durability.
Whatever material is selected, choose a slim, streamlined surround that draws the eye to the fire. The surround should frame and complement the new insert without competing.
Choosing a fireplace style
When modernising a fireplace, carefully consider the style that will best match your home's aesthetic. For period homes, sympathetically updating an existing brick or natural stone fireplace helps retain heritage charm. Sleek modern glass and metal surrounds paired with gas fire inserts evoke contemporary loft living, working well in new builds and modern apartments. For a cosy, rustic feel, meanwhile, wood burning stove inserts and log stores are ideal for cottages or country homes.
There is tremendous variety to draw on when upgrading outdated fireplaces. Carefully evaluate the existing architecture and interior decor of your home. An old inglenook fireplace can be sensitively refreshed, or a dated brick fireplace completely transformed with a modern glass surround. Upgrading your fireplace is a worthwhile investment that can greatly boost comfort, style and property value when done thoughtfully.
Modernising a key feature of any room can seem daunting, but with careful planning and the right guidance, dramatic transformations are possible. With creativity and care, even the most tired, inefficient fireplace can become a contemporary showstopper and heart of your home.