Posted on 25th March 2022
How to Build Your Own Garden Office: WFG not WFH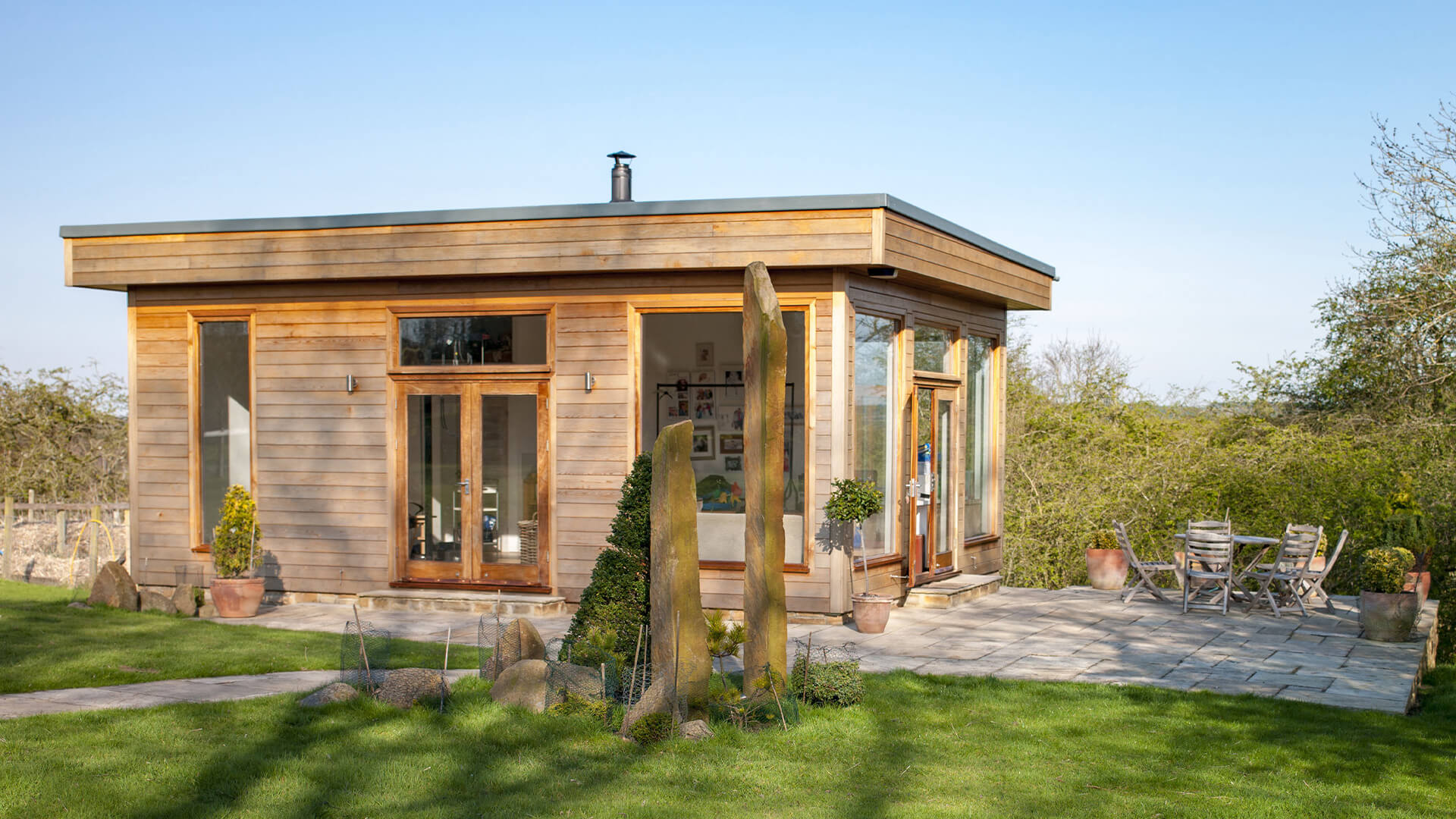 How about WFG rather than WFH? It is no understatement to say that the pandemic has had a transformative effect on how and where we work. Working from home (WFH), whether on a full-time or part-time basis, has become a reality for many people, but setting up a home office on the dining table or even in a spare bedroom is far from the ideal solution.
Homeowners with a garden have another option: WFG (working from garden). An office in the garden creates a healthy separation between home and work, enabling you to leave the house and all the associated responsibilities behind, and 'commute' a few steps to your dedicated work zone where you can focus fully on your job.
If you are tempted by the idea of working from a building in your garden, you're certainly not alone. Indeed, demand for high-end 'shoffice' (shed office) space in UK gardens has been booming, particularly in the last couple of years.
What Paperwork Do You Need?
Before you can get started with the actual build, there's the question of paperwork. Ignore this at your peril – in extreme cases, you could be made to take the building down if it contravenes planning laws, which no one wants. The good news is that a standalone garden office that is less than 2.5 metres in height and is deemed "incidental to the enjoyment of the dwelling-house" is unlikely to require planning consent.
Do always check with your local planning authority before you start the build that your proposed works fall within your permitted development rights. These rights may be restricted if your property is located within a Conservation Area or an AONB, or your home is a listed building. They also don't apply to leasehold properties.
Also check whether you may need a party wall agreement. The Party Wall Act 1996 applies to brick-built sheds and garden walls on the boundary line, regardless of whether the wall forms part of a building. It also applies to excavations near a neighbouring property. "If there are any shared or adjoining structures within 3 metres of the foundations to the proposed annexe, and the foundations are deeper than those to the shared or adjoining annexe, or the external walls of the annexe are at the boundary, Notice under the Party Wall Act must be served," explains one expert in the field.
As far as Building Regulations are concerned, the electrics in your garden office must comply with Part P. Beyond that, the Planning Portal considers garden office buildings to be outbuildings, stating "if you want to put up small detached buildings such as a garden shed or summerhouse in your garden, building regulations will not normally apply if the floor area of the building is less than 15 square metres and contains NO sleeping accommodation. If the floor area of the building is between 15 square metres and 30 square metres, you will not normally be required to apply for building regulations approval providing that the building contains NO sleeping accommodation and is either at least one metre from any boundary or it is constructed substantially of non-combustible materials."
How Will You Build Your Garden Office?
Investing in a garden office can take many different forms. Perhaps you already have a summerhouse or garden shed that could be transformed into a fully functional workspace at relatively low cost? If you choose to go the new build route, there are standard, modular and bespoke options aplenty at every price point.
Converting an existing garden building starts with weatherproofing the structure, installing proper heating and

adding insulation

to ceilings, walls and floors to create a comfortable working environment all year round. Heating your new office can be done quite simply with the help of electric radiators or convection heaters, or by fitting underfloor heating under hard flooring or even carpet.

Standard off-the-shelf garden offices come in fixed sizes and a basic specification that typically doesn't include interior decorating or flooring coverings, or any electrics. You may also have to lay your own foundation. On the upside, ready-made garden office kits can usually be delivered quickly and erected in a single day, at reasonable cost.

Modular garden office design is growing in popularity. This offers a wealth of choices that can be combined in many different ways to create different layouts for garden office designs for a wide range of uses. Here's an

excellent example

.

A bespoke garden office is the most expensive route but it does allow you to have input into every element of the design and complete flexibility when it comes to the shape, layout and finishes to create the perfect home office for your needs. Working with a bespoke designer means starting with a blank canvas and the opportunity to create a unique building.
What About the Finishing Touches?
If you want your finished garden office build to have a homely feel, you need to give the interior the same level of attention as you would your main home. Not so much a case of bringing the outside in – here you're taking the inside out. Find an interiors scheme that you love, that inspires and motivates you to be productive, and personalises your new workspace.
From wallpaper or paints to floor finishes, lighting, furniture, soft furnishings and accessories, the thoughtful use of décor can make all the difference to create a peaceful environment in which it's easy to focus on doing your best work.
Finally, don't forget that your new office is surrounded by nature. Here's a golden opportunity to take full advantage of the benefits of tuning into the natural environment while you work. 
Maximise the amount of daylight coming into the room through doors and windows and keep them open whenever you can. Bring elements of nature into the office through natural textures, materials and colour palettes as well as real plants. Introducing plants into our homes and offices brings both physical and psychological benefits that include lower stress, blood pressure and heart rate, and greater productivity, creativity and overall wellbeing.