Posted on 22nd March 2023
Goodbye Neutrals, Hello Green. This Is How to Style the New Neutral In Your Home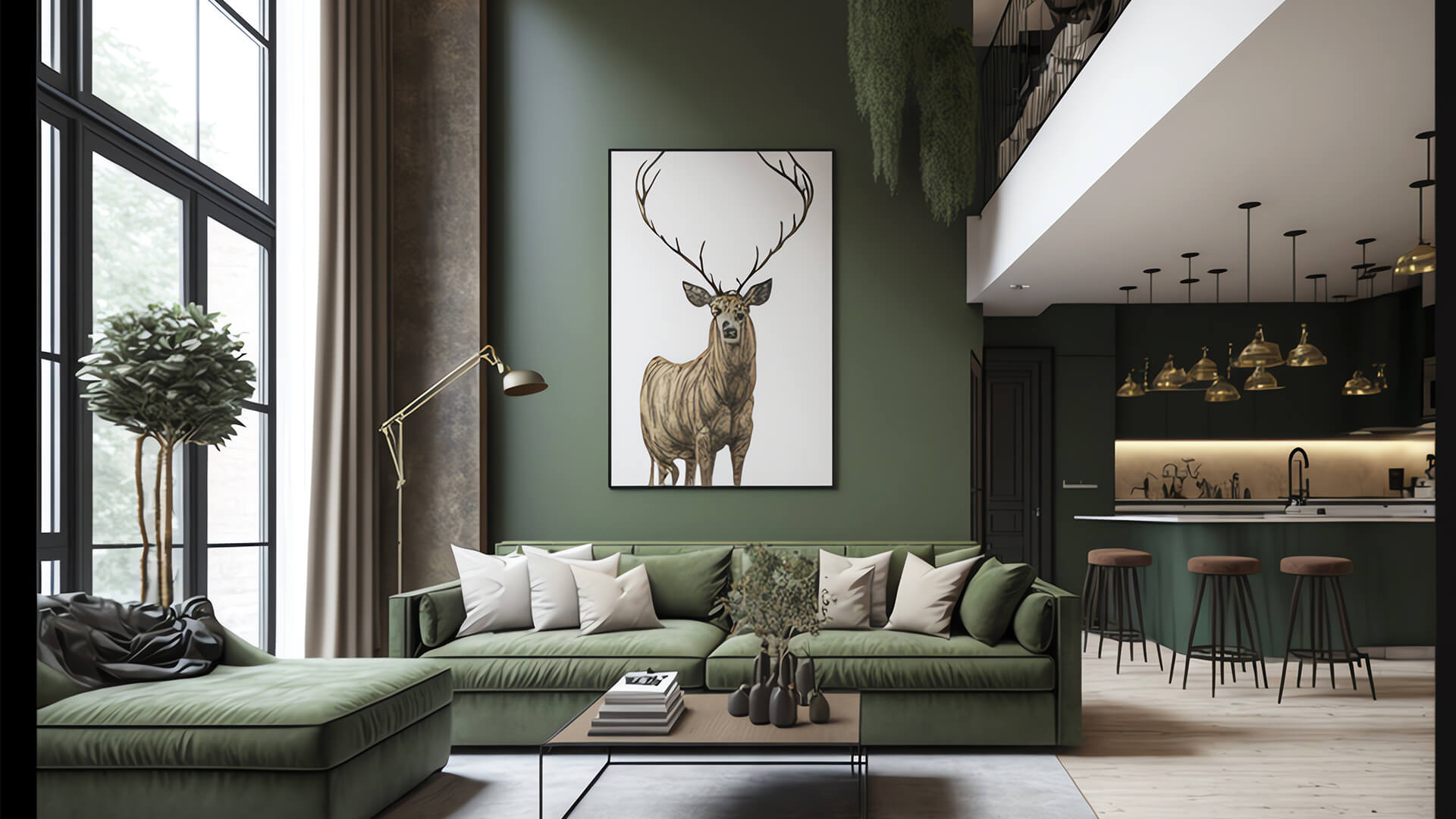 Sales data reveals that nature-inspired wallpaper patterns and paint shades to be the most popular1
Google searches for 'biophilic design' +70% in the last month2
Paula Taylor, Head Stylist at Graham & Brown reveals why green is emerging as the new neutral and how to style it in your decor
We all love a neutral. Timeless and fail safe, this palette of trusty beiges, ivory and taupes breathe instant calmness into a room. But, what if we told you that we're starting to wave goodbye to this palette and instead say hello to shades of green? 
Paula Taylor, Head Stylist, Graham and Brown reveals: "At Graham and Brown, we've seen a real demand for paint shades that resemble nature with sales of deep green paint shades coming out on top for the last three years.1  Our rich forest green paint shades,  Adeline and Glasshouse, both appeared in our bestsellers in 2022. 
"When it comes to wallpaper, we've also seen consistent demand for wallpaper designs in dark, moody green shades. For example, our Restore Emerald wallpaper was one of the biggest sellers in 2022. Depicting a misty, tropical rainforest, this wallpaper adds depth and drama to a room without feeling harsh or overwhelming." 
To help you incorporate the new neutral of green into your home, Paula has revealed 4 simple ways to decorate with green. From simple paint techniques to wallpaper choices, Paula says… 
1. Use dark green paint to create a feature wall 
"One of the easiest ways to weave green into your home is to use it on a feature wall. I'd recommend using a rich, dark green paint if you're looking to add depth and drama to a room, without having to completely revamp every wall. 
"These darker shades not only feel luxurious and comforting, they also allow for contrasting, softer coloured furniture to really come to life. They work particularly well alongside lighter wood and white accents, whether that be in your kitchen, bedroom or living room." 
2. Paint the third wall for a cocoon effect
"If you're brave enough to take this one step further and want to create a dramatic and cosy effect, try painting the ceiling green. Although this might feel daunting at first, you'll be stunned by the way it creates the ultimate cocooning effect – perfect for a living area or a reading nook.
"One thing to consider is that this darker ceiling look would work best for rooms with high ceilings and lots of light, as the darker ceiling might make small rooms feel crowded. Pairing the darker ceiling with lighter paint on the remaining walls is one way to prevent this." 
3. Wallpapers with biophilic designs are timeless 
"If you want to add some detail to a room while bringing a subtle connection to nature, opting for a wallpaper design in a scenic forest or wildlife scape is the perfect choice. 
"These biophilic designs are popular year after year, so you won't need to worry about them going out of fashion. The gentle reminder of nature incites a sense of calm to anyone that enters the room." 
4. Use contrasting colours of the same shade
"To use contrasting colours of the same shade, play with a mix of tones from the same colour mix. For example, try forest green paint with sage green for a layered look and added warmth to a room. 
"This two-tone effect not only looks fresh and modern but compared to classic neutral shades, these tones won't show scuff marks on the walls,  making it the perfect paint technique to try in a hallway entrance."