Posted on 21st July 2022
5 Tired Kitchen Trends to Avoid in Your Renovation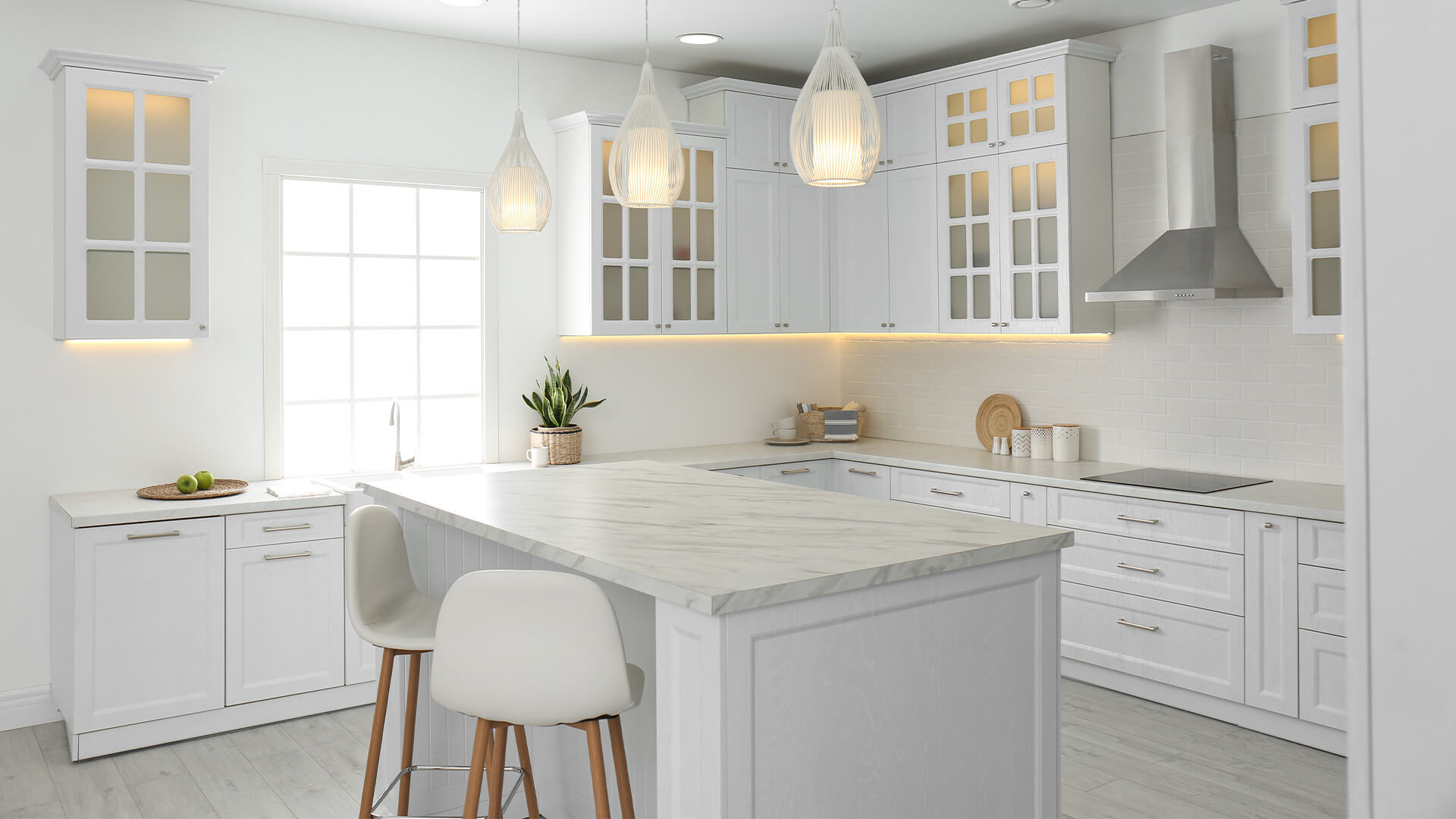 If you're renovating your kitchen, it can be easy to fall into the trap of following trends without realizing which trends will not be popular by the end of your remodel. You want a kitchen that will have a modern but timeless design that may not follow what traditional styles have been in the past.
Here are five kitchen trends to avoid in your kitchen renovation.
Farmhouse Sink
Farmhouse sinks are sinks with a large basin with an open, exposed front side. The sinks were initially invented to hold large amounts of water when running water wasn't easily accessible.
Once faucets were readily available, farmhouse sinks stayed on-trend because homeowners enjoyed their large, white basins. However, the day of the farmhouse sink is ending for a few good reasons.
Classic farmhouse sinks used to be in almost every home, but they can be frustrating to maintain. Debris gathers around the rim of the sinks, which have to be cleaned often and can lead to limescale deposits if you live where there is hard water. The white porcelain of the sink can get stained from food remains and can be a pain to try and scrub out. Over time, the sink can even fade to a yellowish color.
If you're still looking for a similarly styled sink, try purchasing a modern apron-front sink made out of a unique material, or you can get a seamless sink if you're looking for easy cleanup.
All-White Kitchens
It used to be popular to have a clean, monochrome, white kitchen within the home, but you should know that the all-white kitchen trend is getting tired.
White kitchens look stark and uninviting, plus they show every speck of dirt that gathers on your cabinets and counters. You don't have to kill your white kitchen dreams entirely, though, since airy colors are still a good idea. Try adding some color and warmer tones to break up the monotony. You can even opt to incorporate warmer whites and taupe colors to warm up the space while still letting it be white.
If you're not big on adding a lot of color to your kitchen, you should consider adding natural wood cabinets or nature-colored fixtures to add warm accents. You can also try adding other natural stone or clay elements to bring more life to a white kitchen.
Warm colors are thought to increase appetite, and colors like red and green can inspire creativity and productivity.
Open Shelving
Having open shelving only works if you are meticulous about its upkeep. If not, your shelves can quickly become a mess that you'll hate looking at every day.
Kitchen grease and grime can travel through the air and land on your shelves, making them appear dirty and adding a level of grossness to any items sitting on the shelves. Then, it becomes more of a hassle when you have to climb up and clean them regularly.
They can also easily appear cluttered with just one too many items on them, leading to the shelves not having very much storage, after all, leaving you scrambling to find more space.
If you'd like to display some of your items, you can purchase a glass-front cabinet or case to keep your things protected. If you were looking into the shelves as trendy, consider more practical, built-in storage instead, where your items are protected and you can stress less about what your shelves look like.
Small or Stylized Backsplashes
Kitchen backsplashes were designed with practicality in mind. They're strategically placed behind stoves and sinks to catch any splashes so they don't stain or damage your walls. Over the years, ceramic, marble, and glass tiles have depicted designs ranging from fruit and vegetables to abstract art.
Resist the temptation to have a small or fancy backsplash, since more straightforward, larger glass and ceramic tile designs that are easier to clean are taking their place. An advantage to these updated designs is that they are easier to clean. If you go for a slab backsplash, you won't need grout cleaning at all, saving you time in your cleaning routine.
When searching for a more significant backsplash option, look for neutral colors and patterns, as colorful and intricate backsplashes have become overwhelming to the eye and are almost guaranteed to go out of style sooner rather than later.
To calculate how much backsplash you will need, measure the length and width of the space you are looking to fill and use a tile calculator to take the size of the tiles into account.
Open Floor Plans
After spending more time in our homes these past few years, the world is reconsidering their open floor plans, including in their kitchens. We appreciate our at-home privacy more and like to have a contained workspace.
If your kitchen has an open floor plan, consider adding a wall or two to make it into your cooking haven away from the chaos of the rest of the house. If you want to be involved in conversations still, you can have the best of both worlds by installing a pass-through window.
The separation will allow you to have a separate space for cooking and relaxing, helping you focus more on both scenarios. It also puts less pressure on you to have an immaculate kitchen when you have guests over, so you can put the scrubbing off until after your gathering.
The biggest bonus of having a closed floor plan is having extra walls for cabinet and counter space to store ingredients, plates, and appliances, which frees up your counter space.
Creating Your Best Kitchen
When you renovate your kitchen, you want to choose options that feel right for you and your family, but you don't want to make decisions based on trends that are going out of style. Your renovation takes precious time and money, and you don't want it to already be outdated by the time you're finished with it.
Incorporating modern trends that put a spin on classic designs, warming up your space, and making it feel more intimate is a great way to have a kitchen that will be in style for years to come.
By Evelyn Long, Editor-in-Chief of Renovated.