Posted on 31st July 2016
Civil Engineer of the Month – Ainsworth Civils & Engineering, Julius Ainsworth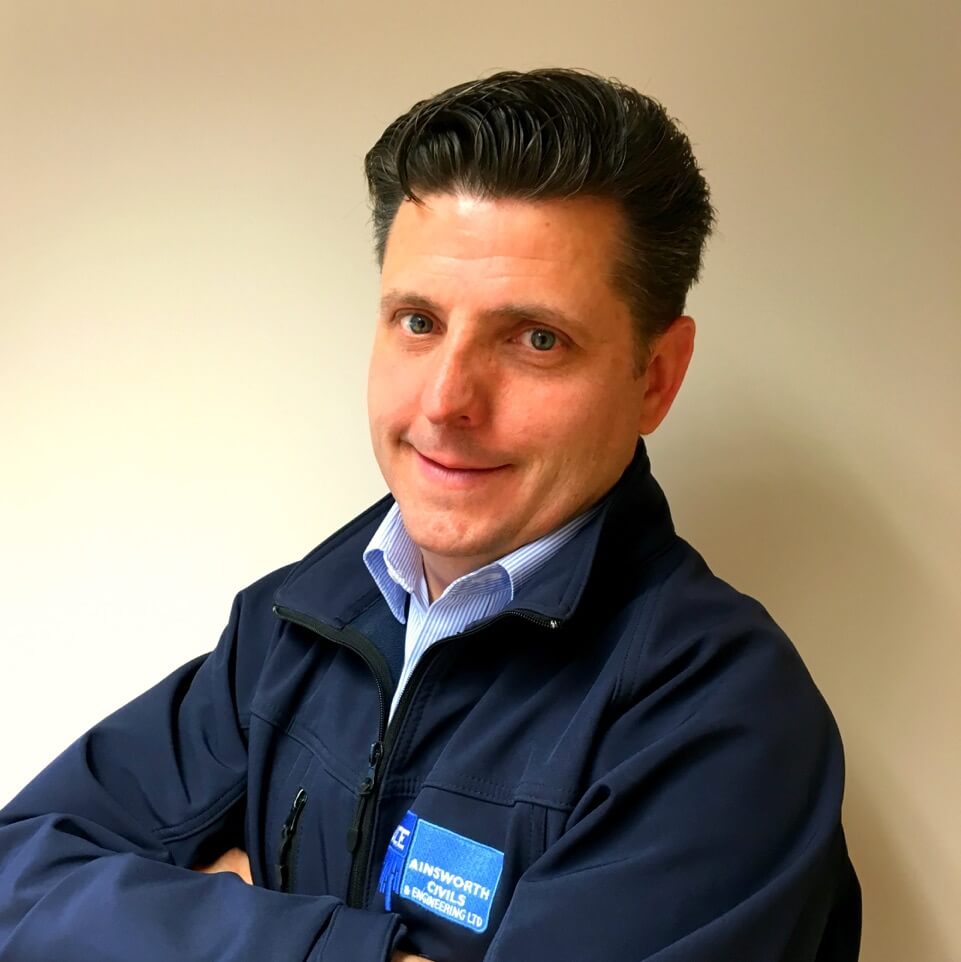 Civil Engineer of the Month – Ainsworth Civils & Engineering, Julius Ainsworth
Ainsworth Civils & Engineering is a medium formwork and civil engineering company based in Kent. Its dedicated managing director, Julius Ainsworth, and his staff, provide multi-award winning services that encompass all aspects of civil engineering, groundworks and reinforced concrete construction.
Speaking of the foundation of the company, Julius reflects upon the success that he has enjoyed, stating an unequivocal pride in his work. 'I founded Ainsworth Civils & Engineering 12 years ago and have never looked back.
'We work with a number of blue-chip main contractors; to name but a few, these include Balfour Beatty Rail, Balfour Beatty Civil Engineering, Birse Civils, Costain, Provian & National Grid, SSE Plc Medway, Siemens, Skanska and Volkerfitzpatrick. Our services include working in the environmental, power generation, rail, renewable energy, road, waste water and water sectors.
'We already work with local colleges and fully support their apprenticeship schemes. In general, I am feeling optimistic about the EU referendum's outcome as I believe the UK economy is robust enough to survive initial turmoil and ultimately grow our investment in our youth.
Most recently, Julius enjoyed success in negotiating to move from a standard NEC contract to a cost-plus contract for a large rail depot. As he explains, 'this essentially reshaped the commercial side of our business as well as the project delivery, giving us the confidence to take on more complex projects in the future.'
This recent experience underpins the wider approach that Julius takes with Ainsworth, ensuring that clients get an expectation that is realistic and yet devoted to achieving high standards. 'We are very clear from the beginning about what we can and will deliver. Good communication is key between clients and suppliers to avoid costly errors and delays. When plans change unavoidably on a project, our teams are innovative and flexible to bring them back on track while always maintaining our flawless safety record, our quality of work and our professionalism.'
To counterpoint this, Julius recognises the presence of a number of challenges within the industry, highlighting two distinct areas that hugely affect the way his business operates: his employees and the projects he takes on. 'This is true for all SMBs in our industry,' he quantifies.
'Having been involved in difficult projects involving complicated contractor issues in the past, we have established clear channels of communication to flag anticipated issues early and thereby preventing possible escalation of the problems. We also actively promote our staff internally, often bringing them up through the ranks. At Ainsworth Civils & Engineering we reward initiative and exceptional work. Our professional work principles apply internally to our staff just as much as they do externally. Quality, reliability and professionalism are at the heart of what we do.'
Julius is intimately familiar with recent trends in the availability of labour. 'Since founding the company, I have seen great diversification of the labour force alongside a marked reduction in youth entering the industry. This is a shame, as the industry needs them and I would gladly take on more apprentices right now.'
That said, Julius finds ways to persevere through challenging circumstances; his success up to the present underpins the value in his mantra: 'know your worth and be clear about your abilities. Also, keeping a cap on your own overheads is crucial as it is so easy for a smaller company to lose control of its cost base.'
Building upon this firm foundation upon which ACE was founded, Julius discusses a selection of his upcoming projects, highlighting the diligence that goes into each job.
'Having recently moved to bigger premises to accommodate our growing staff numbers, we are currently tendering for various large projects, as well as growing our own property development in South East England.
'We are also working with Kent's Scape Group framework on our latest project, the Church Marshes Waste Transfer Station redevelopment in Sittingbourne, Kent. Scape Group is a local authority owned built environment specialist offering a full suite of national procurement frameworks and design solutions helping local government deliver infrastructure projects.
'Working together with sub-contractors like Ainsworth Civils & Engineering, they support the entire lifecycle of the build environment, enabling a smooth procurement journey, stimulating local growth in communities and delivering demonstrable outcomes on projects.'
As far as future aspirations for the company go, Julius simply comments, 'We want to continue growing our market share through our strategic partnerships with main contractors.' Yet on a wider scale, the future of the company has been subject to the current political atmosphere. With the EU referendum delivering a shockwave to international markets, especially across Europe, Julius reflects on the future prospects for ACE Ltd., remaining rosy about the prospect of picking up the slack and continuing a steady growth.
'The industry has gone through a major period of consolidation and many projects have been slow to get started while people waited for the outcome of the EU referendum. Now, even with the outcome in favour of leaving the EU, it will still take a while to see actual change happening in our industry.
'Nonetheless, in general, I am feeling optimistic about the EU referendum's outcome, as I believe the UK economy is robust enough to survive initial turmoil; in our case, we can ultimately grow our investment in our youth.
'In the longer term, I hope to see major infrastructure projects come to fruition as there has been underinvestment in our local region for some time.'
Company: Ainsworth Civils & Engineering Ltd
Email: [email protected]
Phone: 01622 232 550
Web Address: www.ace-limited.com
Address: South Belringham, South Lane, Sutton Valence, Maidstone, Kent, ME17 3BD