Posted on 18th November 2021
Types of Coffee Tables and the Most Popular Materials They Are Made of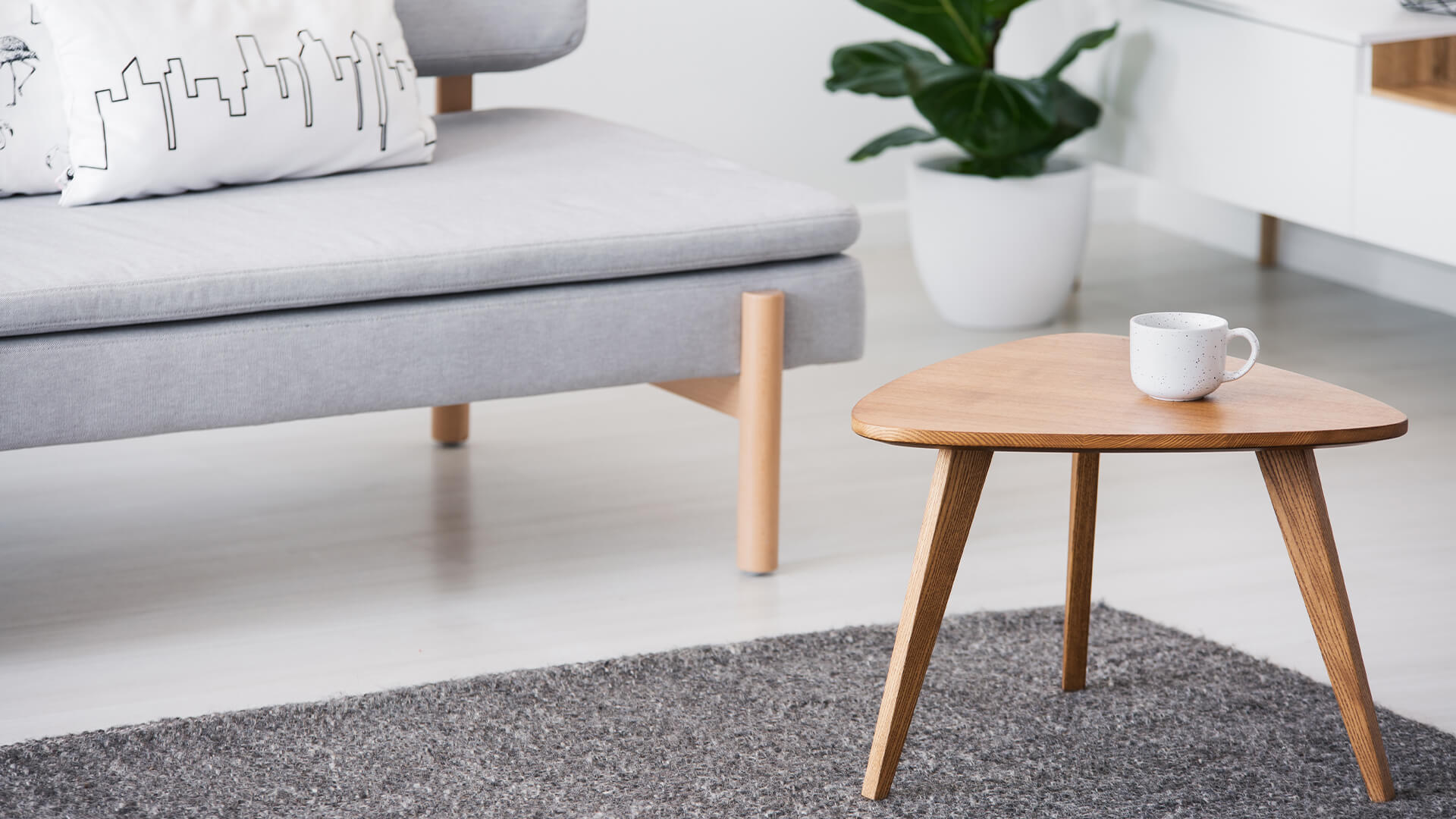 If you're planning to buy a coffee table, you might get easily spoilt for choice. In this article, you'll find a brief and comprehensive guide on the most popular varieties of coffee tables.
You might want to buy a coffee table to create a striking focal point in the room. You can use this piece of furniture to serve meals and beverages, stack magazines and books, play games with your guests or display floral arrangements.
From this article, you'll get to know about the most popular types of coffee tables and the most common materials they can be made of.
Types of Coffee Tables
The coffee table should nicely match your already existing interior. When you start looking for this furniture item in online and offline shops, you'll be most likely to come across the following types:
Traditional. Such coffee tables will never go out of fashion. They are almost always crafted from carved wood and have a rectangle or oval surface.
Modern. The adjective is not synonymous with "contemporary". It might refer to Bauhaus, Art Deco or any other design style of the middle of the 20th century. Coffee tables of this type are equally functional and aesthetically appealing.
Rustic. This style pays homage to the countryside in old-fashioned times. Rustic coffee tables are usually made of wood, carved into simple patterns. The most popular contrast details are brass fittings.
Coastal. These evoke an airy, natural beach house feel. Their distinctive features are natural shapes and light-toned wood.
Industrial. It recreates the purposeful look and feel of factory tools, utilizing metal and wood in more rough-hewn, sturdy construction.
Vintage. This style is focused not on any random design trends of the past but the quirkiest ones. A vintage coffee table might look classic and kitschy at the same time. Manufacturers can use various repurposed materials to produce such furniture items.
Ottoman. Coffee tables that double as ottomans have been one of the hottest trends of recent years.
Stacking. When you buy such a table, you get three furniture pieces in one. It looks stunning and it's highly functional.
Folding. These are utilitarian and great for saving spaces. After having used such a table, you can fold it and hide it in the storage room.
Low platform-style. They look minimalistic and it should be very convenient for your guests to put drinks on them.
To surprise your guests, you might want to buy a coffee table with extraordinary design — for instance, a wheeled-cart-style one or the one that looks like a glass pyramid.
The Most Common Materials
The coffee table should be beautiful, durable and easy to take care of. To meet all these criteria, manufacturers normally opt for one of the following materials:
Wood. It is available in various shapes, styles and sizes. Manufacturers and consumers love this material because it's rich, warm, versatile and timeless. The most popular types of hardwood used for coffee tables are oak, walnut, maple and mahogany. Cedar and pine are the most common types of softwood.
Metal. It is widely popular for industrial designs but its usage is not limited to this style. Metal tables are sturdy and often weight less than traditional wood constructions. Manufacturers can easily craft metal into any shape. They value this material because it allows for thinner legs and support structures. Consumers love that metal is resistant to stains or water damage and remains always cool to the touch.
Clear or smoked glass. It looks particularly stunning when combined with metal joints or support structures. Glass adds visual space and a luxurious sheen to the room. You'll never see stains on such a table and you won't damage it if you occasionally spill a drink on its surface.
Rattan, also known as wicker. Such furniture items are equally good for indoor and outdoor use. They can withstand the elements and look luxurious.
Acrylic. At first sight, it might look identical to glass — but is lighter and has a lower price tag. Acrylic tables often have unusual designs.
Leather. This material is used only for table surfaces. Thanks to the plush cushioning, you might want to prop your feet up on the table, and it can effortlessly double as an ottoman. To ensure stability for the drinks, many manufacturers sell leather tables together with wooden trays.
Pallet. These are casual and budget-friendly. If you would like to build a stylish coffee table with your own hands, opt for the pallets. It will look amazing and you'll enjoy every minute of your creative process.
Besides, coffee tables can be made of molded plastic, stone, marble or concrete.
Final Thoughts
Hopefully, this article came in handy and now you better understand how to select an ideal modern coffee table. You can choose from traditional, modernistic, rustic, coastal, industrial, vintage, ottoman, stacking, folding and low-platform-style types. The table can be made of wood, metal, glass, rattan, acrylic, leather, marble, concrete or pallet. Such a furniture item will be functional and visually appealing at the same time.