Posted on 9th August 2023
Should You Install a Smart Lock System in a New Build or Existing Property?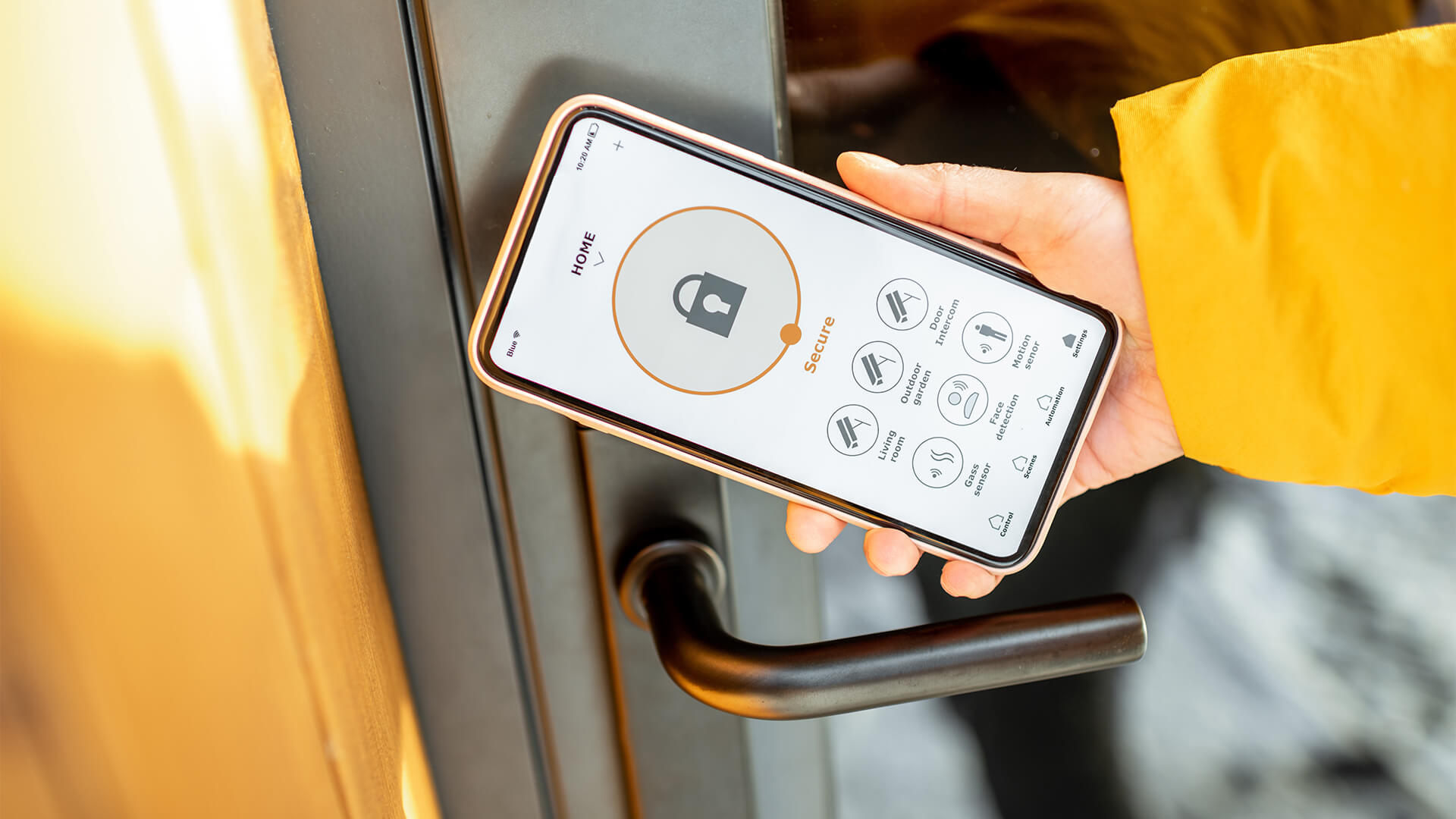 A home's security is one of its most important qualities. With new smart technologies emerging every single day, and the growing trends for smart homes, it begs the question of whether our lives can be made more convenient and secure with the help of smart tech. We know smart tech is more appealing than ever to homeowners, but how can it address concerns about security?
Smart lock systems are rapidly growing into a popular option for many homebuilders, developers and construction companies as this demand from homeowners rises. The premise of smart door locks is simple; they allow residents to lock and unlock their properties remotely, monitor who enters and exits, and restrict who is granted access. 
While this technology is still emerging, smart locks are becoming increasingly popular as homeowners look to balance convenience and security. Smart locks offer plenty of advantages, but many developers, builders and homeowners are wondering whether the investment is worth it. 
How smart locks work
Firstly, it's important to establish exactly how a smart door lock works. 
Smart locks replace traditional keys and locks as entry methods to a property. Some models can be integrated into an existing front door lock, while others exist as standalone self-contained units. Homeowners can use a smart lock app via their mobile phone, tablet or computer, to provide keyless entry to the property, and open or close doors remotely.
Some smart door locks can keep logs and time stamped video recordings of everyone who gains entry to and from the home, and even have schedules for automatic locking and unlocking features. Most come with additional features like built-in security cameras, keypads and the ability to integrate with other Internet of Things (IoT) smart home devices like smart lighting. Most locks are connected via WiFi or Bluetooth.
The popularity and potential of smart locks
While traditional keys and door locks will likely dominate the market for the foreseeable future, the future of smart locks is filled with incredible potential. Smart home tech is becoming much more mainstream as each year passes and is believed to enhance property sales and rental values significantly. Therefore, for safety-conscious homeowners or property investors, fitting a property with smart door security can be an infallible solution.
However, despite the popularity of smart door locks, their relatively high upfront costs and reliance on stable, secure connectivity means that, for many, they remain an 'optional luxury', particularly in economically and financially testing times like today.
Understanding smart lock options and their benefits and drawbacks is crucial to giving the best advice to your property clients, architects and potential buyers or investors. If you can offer advice on smart ‌lock installations, usage, maintenance and some pertinent security risks, this will look more appealing to anyone considering a property renovation, planning a new build or upgrading an existing building.
Benefits of smart locks
Smart locks remove the need for residents to keep hold of physical keys as they provide keyless entry via a smartphone app, fob or keypad. With no physical keys to carry or conceal, the risks of copied or stolen keys are mitigated. If a virtual key is compromised, the main user can revoke permissions, which is handy for rental properties where tenant turnover is higher.
This is handy when residents are carrying bags or parcels, or if keys have been misplaced or lost. Having a smart lock means that residents do not need to pay to have additional keys cut either. What's more, residents can grant temporary access to visitors without even being present. This means that they can arrange for tradespeople, engineers or contractors to enter the property without having to let them in. Therefore, homeowners don't need to rearrange their schedules as often or as extensively.
To enhance the security of a home, smart locks often have advanced features like remote locking, monitoring and real-time alerts and verification. Homeowners can see who is in the property's vicinity, as well as who has accessed it and when. 
Some smart locks have built-in cameras so homeowners can visually confirm visitors and refuse entry to anyone that they deem suspicious. Depending on the type of smart lock chosen, should the system be compromised, you can trigger an alert to safeguard your property and instantly notify emergency services. This 24/7 incident response feature is incredibly helpful if you spend long periods away from home or abroad.
Drawbacks of smart locks
The primary aim of a smart door lock is to improve security, however, any IoT smart device is at risk of cybercrime and hacking. Cybercriminals are developing increasingly sophisticated techniques to hack a smart home system, and in many cases, they can successfully gain access without immediate detection.
Therefore, builders, developers and homeowners must take a security-first approach. This translates to choosing a reputable smart lock provider or enabling advanced security features like managed detection and response capabilities, to ensure their homes are protected from a cyber attack. 
Requires reliable technology 
To work properly, smart locks need to be connected to a strong, secure and reliable WiFi network. Unreliable connectivity could mean that the smart lock does not function correctly and residents could be locked out. In remote or rural areas where coverage is sometimes lacking, this may be a more common occurrence.
Not only that but entering the property requires residents to have up-to-date and stable mobile phones or other devices to work. If a resident's phone is lost, stolen or out of battery, residents can be locked out of their own properties. This is where a backup physical key may be necessary to mitigate any technological failures.
Complicated for commercial use
While residential smart locks are mostly failsafe, smart locks may not be feasible to install in larger commercial properties, housing estates or residential blocks with more foot traffic. Installing and maintaining multiple smart lock systems with numerous virtual keys could be too complicated and unreliable for commercial builds. Physical keys and locks may be more cost-effective in such instances.
Why it might be time to fit smart locks 
While it's evident that smart locks require stability and reliable infrastructure to function correctly, the security and convenience benefits they offer are excellent. Builders, designers and homeowners alike will be able to reap many advantages by integrating smart door locks, particularly if they want maximum peace of mind and security across their properties and building projects. However, in commercial applications, it may be some time before it's feasible.
As more properties become retrofitted with smart technology, homebuilders, developers and construction firms can relay the best ways to install and benefit from smart lock technology to their clients, investors and customers. They should not ignore the prevalence and availability of smart locks and seriously consider advising their clients on their advantages. Staying up-to-date on smart lock options and how to leverage them successfully will position builders and developers to advise on the right smart lock solution, whether they're looking to build, plan or sell new or upgraded properties.