Posted on 8th September 2017
BUILD September 2017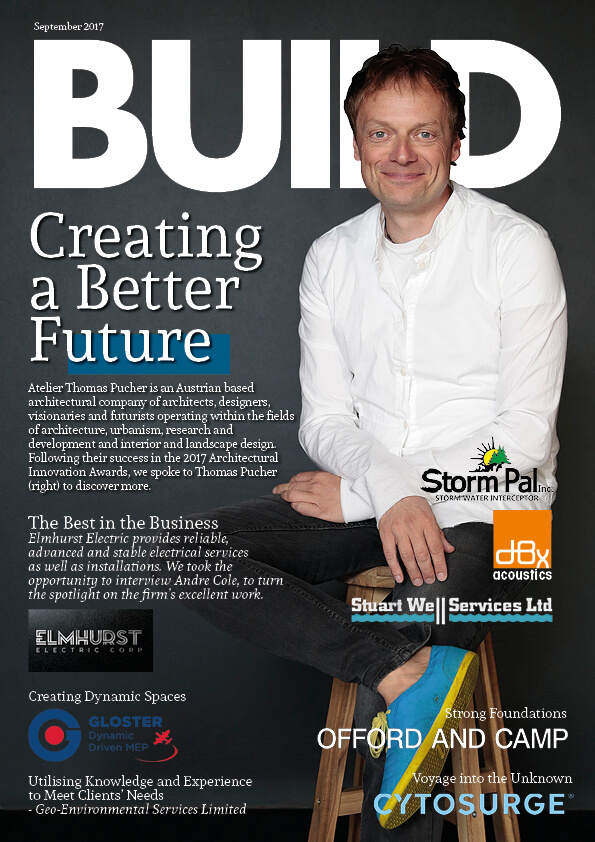 Welcome to this bumper September edition of BUILD Magazine, providing you with the latest insight and updates from across the global construction and property industries.
In this issue, Thomas Pucher, from Austrian based architectural company Atelier Thomas Pucher, talks us through the firm's impressive portfolio. From urban planning to housing, concert halls to stadiums, it is no surprise that they won an award in the 2017 Architectural Innovation Awards, as both the firm and Thomas himself are committed to creating superb structures that are both aesthetically pleasing and uniquely inventive.
A recent report by the British government has shown that the construction of new build homes in the UK has accelerated to levels not seen since 2008. According to the Housing and Planning Minister in the UK, Alok Sharma, these figures are proof that we are getting Britain building again.
One of the firms contributing to this growth is the Cuddy Group, one of the UK's leading multidisciplinary contractors with nearly 40 years' experience. Taking time out of what must be a hectic schedule is the firm's Mike Cuddy, who tells us more about the wide range of useful services they provide.
Later in the issue, we talk to Contract Director David Wright, from Stuart Well Services. Founded in 1982, the firm is a leading specialist dewatering subcontractor, who have worked on projects such as Crossrail and the Mersey Link Crossing.
Lastly, we learn more about how Bio-Organic Catalyst Inc has developed a revolutionary water treatment process, which is based on the science of bio-catalysis and gas transfer techniques. This new process accelerates reactions in water treatment and the remediation of pollutants. We discover more about this exciting project and the fascinating science behind it.
We hope that you enjoy reading this informative issue!
As always, please feel free to get in touch if you have any queries or comments about the magazine.