Posted on 22nd May 2019
Rising Star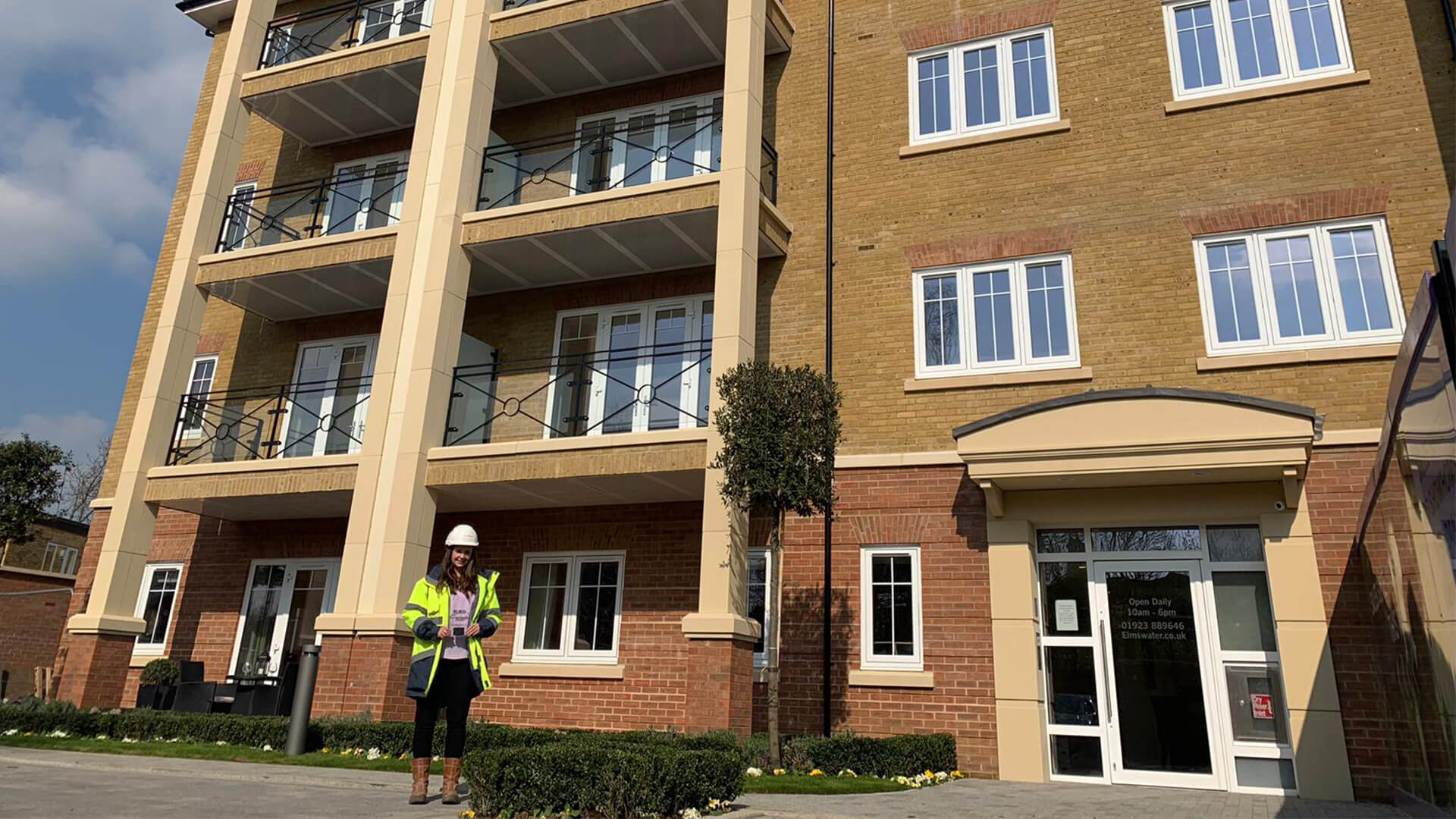 St William is a new joint venture launched by the Berkeley Group and National Grid. Recently, Rachel Burgess found further success in BUILD's Women in Build Awards as the Most Outstanding Woman In Site Management – Home Counties. On the back of this win, we profile St William and caught up with Rachel who provided us with a detailed insight into the innovative company as well as her remarkable career.
Formed in 2014 as a joint venture between Berkeley Group and National Grid, St William was created with the aim of regenerating disused gas holder sites into new homes and communities in which people can live and work.
St William follows a landscape-led approach, whereby the team first determine what amenities people will need and how they will use the space before designing the buildings to make this a reality. At St William, the goal is to create sustainable, inviting and sociable places where people can create a community and feel at home.
The joint venture has provided St William with a large portfolio of redevelopment sites, each with their own unique characteristics. The large variety in the sites enable the business to create fantastic homes in amazing places where the team can tailor each development to meet the demands of the different locations and the housing needs of the area. Expanding further, Rachel begins by informing us how St William attributes its success through its attention to detail, business goals as well as its people who make the developments possible.
"Here at St William, our homes are designed to an extremely high standard and the site teams work incredibly hard to ensure we deliver a product that meets these exacting standards. The homes themselves form part of our placemaking strategy for each site in which we strive to create tenure-blind buildings that integrate into the environment and communities in which they are located."
Aside from our focus on creating beautiful places for people to call home, St William strives to make sure that safety is high on everyone's agenda – whether it is the construction of the buildings and the safety of our staff and contractors or in the design of the buildings and the safety of future residents. We frequently refer to "Our Vision" out on site whereby we want everyone to go home safe and injury free at the end of every day. We have recently launched a new safety campaign which is known as STOP! – Safety Takes priority Over Production pressures. We encourage all operatives and members of staff to stop work if they feel that the task they are being asked to do is not safe or the environment they are working in is not safe – we would much rather an operative stop work, explains their concerns and then we can find a solution, instead of the carrying on and taking risks which may result in them getting injured. 
One of our core focus areas as a business is 'Our People' whereby we seek to "develop highly skilled teams that work together in a safe, healthy and supportive environment and contribute to wider society". Aside from upskilling our own employees we also seek to address some of the concerns within the industry as a whole particularly around skills shortages. One approach we have taken to addressing this is by actively encouraging our subcontractors to employ apprentices on our sites through site specific targets and through our apprenticeship awards. 
With work currently underway across eight different St William sites and our first homes beginning to be occupied from April 2019, this year promises to be extremely exciting for all those involved in the St William journey so far!
After joining St James (another one of the operating companies within Berkeley Group) in September 2015 as a Construction Graduate, Rachel spent her first eighteen months on a development in Kew known as Heritage Walk.
"At Heritage Walk, I focused on all aspects of the development from piling at the beginning, building the RC (reinforced concrete) frame and then right through to internal finishes and completion of the apartments. During my time at Heritage Walk, I progressed from a Construction Graduate to an Assistant Site Manager and also gained MCIOB status. 
"Following the completion of this site in April 2017, I transferred across to St William and began at Rickmansworth on our Elmswater development – I have been on site since day one of this development and have been involved in every aspect of the build.
"The construction of this development itself is quite different to Heritage Walk as it is not purely an RC frame, but is instead a combination of RC frame on the lower levels and traditional masonry, steel frame and pre-cast planks on the upper levels. The development has been fascinating and has given rise to numerous challenges throughout but we have found solutions as a team to all of them and are now getting ready for our first occupations in April. During my time at Elmswater, I have progressed from an Assistant Site Manager to a Site Manager and also obtained my Appointed Person for Lifting Operations quali
fication (CPCS – AP). My role as a Site Manager is not confined to purely managing contractors and ensuring the development is built to the standards we expect and within the programme dates. My role also involves managing our site compliance with our company sustainability procedures, preparing for our health and safety audits and ensuring we are meeting the CCS scheme requirements. We have been awarded a Considerate Constructors Award for the development which we are all looking forward to receiving in April 2019."

At St William, as well as at Berkeley Group, there is a commitment to career development and ensuring that women feel able to enter what is still perceived by some as a male dominated industry and are given the same opportunities to progress into senior management positions if they wish to do so. I have been fortunate to have a fantastic mentor since my first day at St James whom I still meet with regularly and several other amazing mentors as and when they have been available. St William, St James and Berkeley Group itself are an incredible company to work for and I am proud of my career so far with them and am excited to see what the future brings.

Looking ahead to what the future holds, Rachel signs off by revealing the exciting plans which she has in the pipeline, as well as highlighting what it means to have found success in BUILD's Women in Build Awards.

"It is an honour to have been awarded a Women in Build award for the third consecutive year and I hope that awards such as these will encourage other young women to pursue their dreams and not be afraid to enter ' traditionally male ' industries.

"Over the last three and a half years, I have thoroughly enjoyed my time on site and have learned an incredible amount as a result. In April 2019, I will be undertaking a short period of mentoring within the senior management team, before moving department and joining the St William Land Team in May 2019. I am excited for the new challenge and look forward to expanding my knowledge and experience of the initial stages of a development first being created."

Company: St William Homes LLP 
Web Address: www.berkeleygroup.co.uk