Posted on 5th April 2022
Practical Tips For Building a Stylish, Low Maintenance Playroom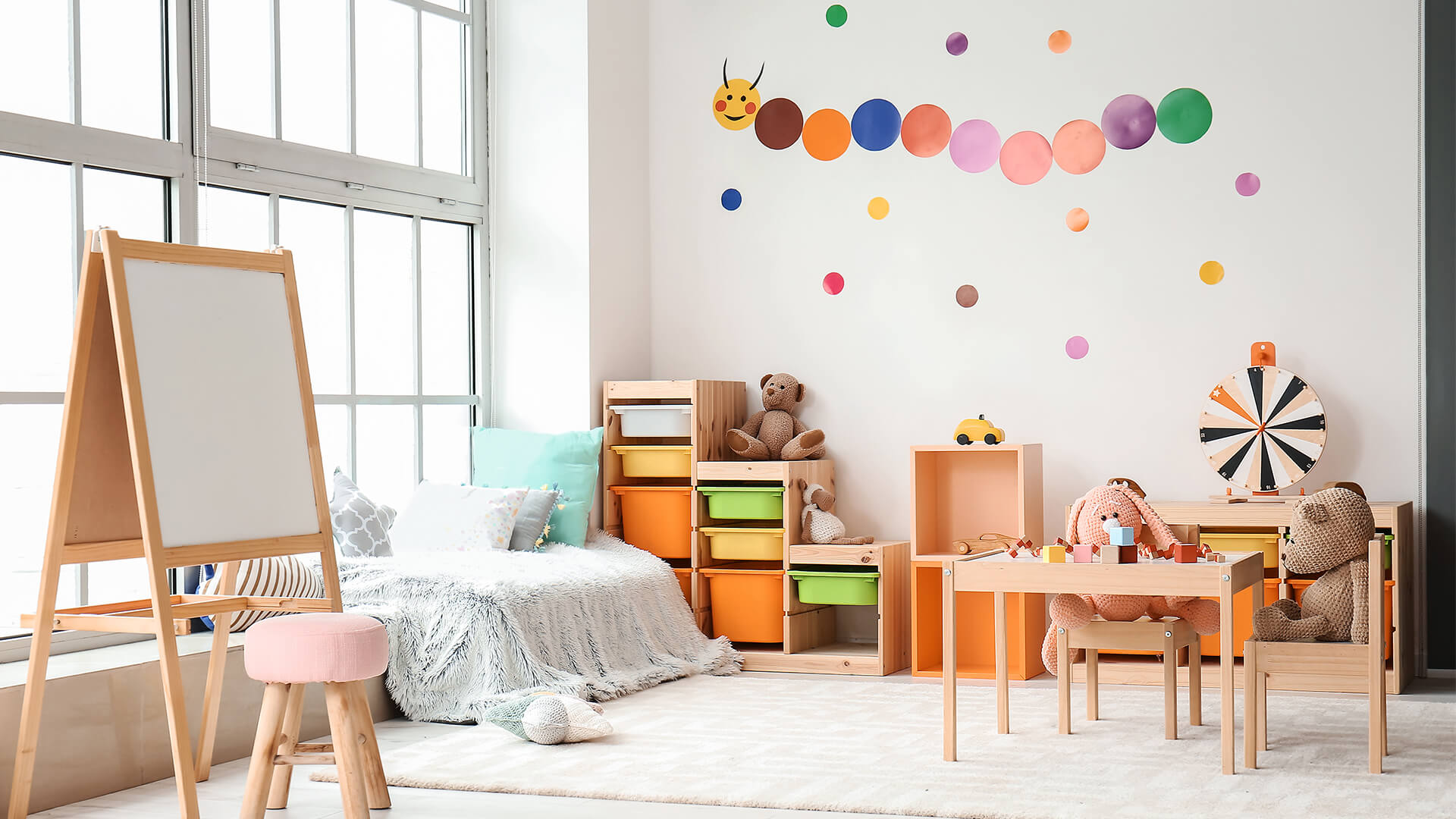 As a parent, you'll know how important it is to have somewhere in the home where little ones can get creative, be inspired and let their imaginations run wild. A practical space designated, designed and built with little people in mind that can be filled up (and messed up!) with toys and adventurous play. 
For a family who plans to remodel their rooms to accommodate children, the compromise can be a stylish yet low maintenance playroom that is easy to keep clean and tidy, but won't hinder their playtime which is so crucial to their development. Here are a few tips on how you can build and balance with style and practicality in one place. 
Start with a Low Maintenance Foundation
The base of your playroom should be the first port of call when it comes to making the area easy to maintain. Kids are going to create a mess, it's unavoidable, but with a few clever build and design choices, you can make handling that mess much easier as a parent. Start with scrubbable paint on the walls in a fun colour that ensures that if they spill their snacks or drinks, or decide to get creative with the crayons, it can be cleaned off in an instant and will be back to looking brand new again in no time. 
If you have a large family home, the practical side of home maintenance does come to the fore. Whether you are cleaning, repairing or renovating it, it's also key to get your floors right as they'll undergo a lot of wear and tear and spillages over the course of your kids' formative years. "In practical terms, luxury vinyl and rubber floor tiles are a superb flooring option for a kid's playroom. They are incredibly easy to clean and maintain, and offer extra protection against spillages, making them ideal for a child's play area", explains one leading flooring supplier. Finally, make sure you're installing plenty of storage areas to keep toys, blankets and other items hidden away yet easily accessible. 
Create Multiple Levels and Hideaways
Kids love to feel cosy, comforted and secluded, and little hideaways in the playroom not only provide this but they can also be conducive to imaginative play too. Spare your sofa cushions and duvets from pillow forts by making up permanent nooks in the kids playroom, which can also be a great way of utilising awkward spaces in unconventionally-shaped rooms. 
Whether alcoves by the chimney breast or under eaves in dormer rooms, create spaces to read or create their own little clubhouse. Don't have any ready-made nooks? A bright and colourful teepee makes a great alternative and can be packaged up to be stored when it's not in use. 
Embrace a Specific Theme
As your kids develop their own character and personality, their interests are guaranteed to change and evolve. So, why not embrace those interests with a themed playroom that celebrates their hobbies and passions? From a space-themed room with stars on the ceiling and deep, jewel tones on the walls, to an ocean-themed room with patterned floor tiles and decals of sealife, you can get creative and get your kids involved in the design process. If your child is too young to have developed any specific interests yet, you can simply create a colourful, bright room that is fun and inspiring. Why not go for a wildlife theme with stuffed animals and murals on the wall, or a circus-themed room with a red and white-striped ceiling to make them feel like they're walking into a circus tent?
Get Creative with Storage
Kids' toy collections can quickly pile up, and after an afternoon of playing, you'll find them scattered everywhere. To avoid the issue of toys without a home, get creative with storage to corral all the clutter that can build up. 
Whether it's a set of baskets that look stylish but are also practical, bins that fit on the shelves of a bookcase so they're tucked away, purpose-built storage units or even an ottoman that does double-duty as seating, there are various ways to keep the toys, books and games contained. Opt for materials that are visually appealing, add texture and interest, but are also practical and easy to maintain – canvas, rattan or wood are all great options. 
Decorating a playroom that's not only fun for little ones but also easy to maintain is easier than you might think. From the materials you use to the colours you choose, and the various zones you can create, there are many different ways to decorate a room or area in your home where kids can have fun, be imaginative and relax. 
Plan for the Future
As your kids grow, their requirements will change and so will their interests. What seems fun and cool to them when they're 3 or 4 won't be the same when they're 8 or 9. But you don't want to be continually decorating the space every 6 months, so to keep the playroom low maintenance, create a flexible space that works with your kids as they grow up. 
When thinking about the elements of the playroom, focus less on the age-specific features and opt instead for elements that will remain an interest for years to come. For example, focus on installing bookshelves that will still be required when your child is little right through to when they're a teenager, or a games corner for board games that can be switched out easily. Or maybe you could create an area for arts and crafts that will still be practical in years to come – chalkboard walls are a fun way to keep the kids interested and entertained, and they can be wiped down easily.
Likewise, as your children grow up, you might feel like you've outgrown your home. Adding a playroom, or adapting, extending and renovating any spaces in your home to create new rooms will add value to your property when you decide to sell in the future.