Posted on 1st June 2021
Planning to Install a Gazebo? Here's What to Keep in Mind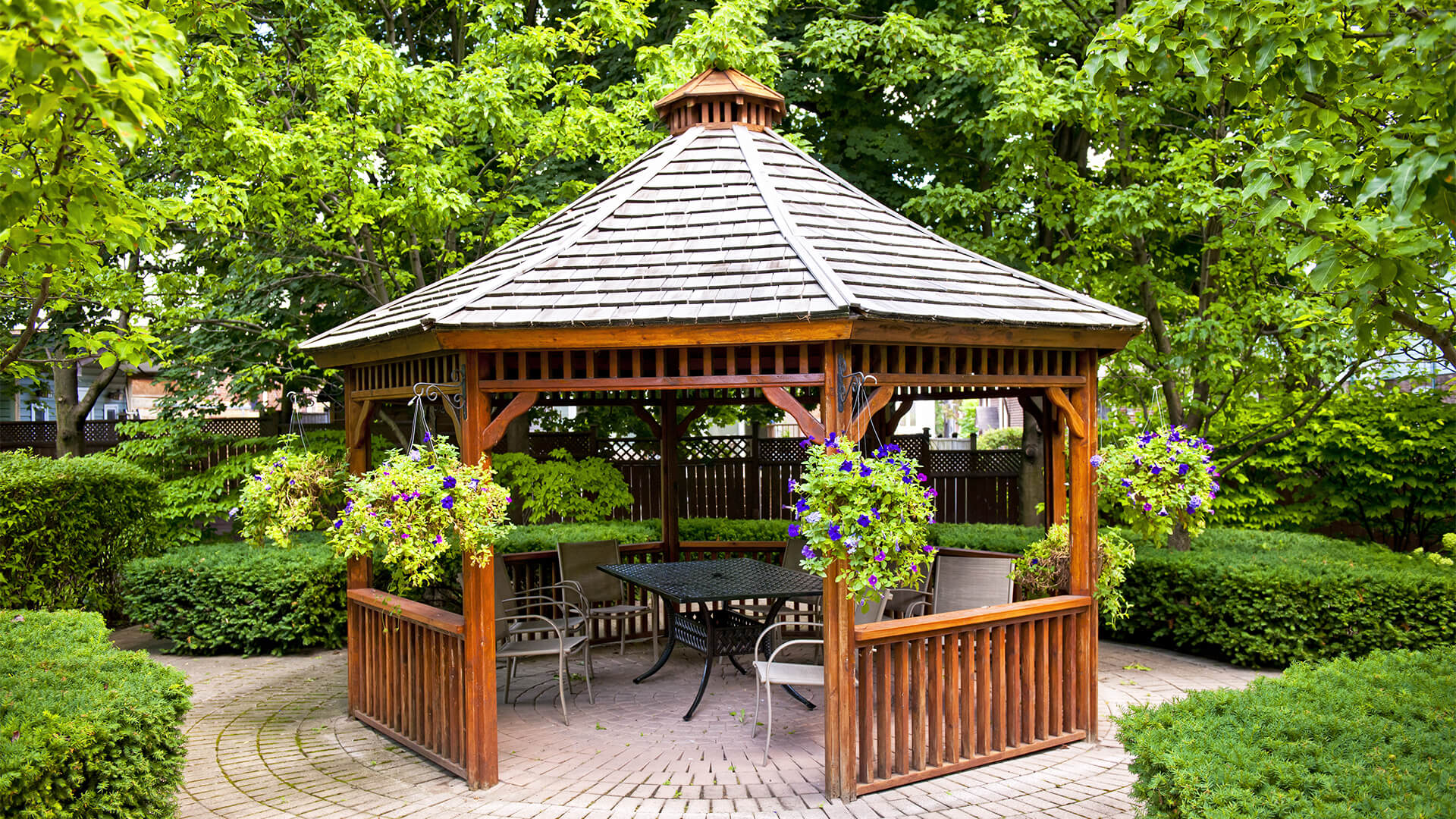 Gazebos are a great addition to homes. Apart from the class and elegance, they can also give you an intimate space where you can have quiet conversations with your family or guests plus a peaceful place for exercise, weight training, or yoga.
And if you have a spacious backyard, you can even use it as a wedding venue. On top of that, it can increase your home's value as it can make your yard unique.
However, installing a gazebo on your lawn isn't as easy as setting up a tent. Apparently, there are several things that you need to consider before adding this garden structure, and here are some of them.
Size
Not all gazebos are for everyone. While they come in various shapes and sizes, one of the first things you still need to consider is the size of your lawn. This will help you determine what size your gazebo will be. This way, your lawn will not look too cramped and you're still able to enjoy the other parts of your lawn.
To know if the gazebo you're eyeing is perfect for your space, one of the things you can do is to place stakes in the shape and size of your desired gazebo into where you want it to be installed. Then, add some ribbons so you can visualize where your gazebo's railings will be.
After that, add some chairs, a table, a bench, or anything that you want to place inside your gazebo when it's done. This will help you see if your plotted gazebo size can accommodate your gazebo furniture. Don't forget to ensure there's space to walk around too.
Type and Design
Another important thing to ponder, of course, is your gazebo's type and design. Apparently, gazebos have three primary types: the hardtop gazebo, soft top, and pop-up. Each of them has different strengths that fit your location and your space more.
Hardtop gazebos, for instance, have roofs that are made out of solid material; hence its name. It could either be made from wood, steel, polycarbonate, or aluminum. If you live in a place that often experiences typhoons, hurricanes, and other strong weather conditions that could affect the structure itself, this one's for you.
Soft tops, on the flip side, are more temporary. As its name suggests, it's usually made out of softer material, such as fabric roofs, plastic, and mesh walls. Because of this, they can be assembled or disassembled easier, which is perfect for short-term residents.
Meanwhile, pop-ups are a bit like soft tops. However, they are more temporary. They're made from lighter materials, so you can set them up quickly with less effort.
Shape
Speaking of design, you also might want to think about the shape of your gazebo. While their shape may depend on the size of your space, some are easy to work around and be able to fit different area sizes. But, usually, gazebos are designed in these shapes:
● Round
● Square
● Oval
● Hexagonal
If you have a wider space in your lawn, you can also go for these shapes:
● Rectangular
● Octagonal
● Decagonal
● Dodecagonal
The shape of your gazebo may also depend on its placement on your lawn. If you're thinking of placing it in a corner, then a gazebo with sides, such as square, hexagonal, rectangular, and the likes is more ideal. But if you want to place it at the center of your garden, round and shapes with smaller sides are a better fit.
Permit
Believe it or not, you also need to think of your gazebo's permit. Yes, you read it right. Even if it's your gazebo, your expenses, and you're building it in your own property, you might also still need to apply for permits, depending on the style of your gazebo.
Gazebos aren't like your home or any other buildings as they don't have walls. Thus, they aren't considered buildings. Because of that, many people try to get away with getting permits for their gazebos. Sometimes, they don't even know if a permit is required. But, it turns out, they are, depending on your location.
Some cities or locations don't require permits, especially if your gazebo is smaller than 10×10 feet. However, a gazebo that big is usually unrealistic for many homeowners. If you're planning to build a bigger one, then you'll probably need to apply for a permit. So, if you don't have time to spend at all to do it, then it would be safer to build a smaller one if you can.
Electricity and Water
Depending on how you'll use a gazebo, you also need to think of how you're going to add lights and water to it. If you often like to invite friends or relatives over for parties and you want to use it as a place for you to gather, then you'll probably need to add lights and sockets to it.
If you want to add running water to it for more functionality, you'll also need to add a water connection. However, note that aside from seeking professional services, you'll also need to ask for a permit for it, depending on your location's rules.
But, don't worry, it's not hard to get permits. These days, you can just reach out to your local permit office through phone and or email. Then, they will send you the forms you'll need to fill out.
As for the other requirements and paperwork, they also depend on the municipality you're in. Some aren't strict with their rules but others are even if the project is small. To be sure, it's always safe to ask your local office.
Installation
Depending on your chosen gazebo design, you also need to think about its installation. If you want hardtop gazebos, the installation will be a bit more complicated. Thus, it requires professional help. If you want a soft top or a pop-up, though, it's easier to set up even without professional help. There are also easy-to-install gazebos in the market.
Gazebos have numerous benefits. Thus, before building it, make sure to carefully plan for it, so you can make the most out of it