Posted on 20th March 2019
ODUNPAZARI MODERN MUSEUM (OMM), MAJOR NEW MUSEUM  DESIGNED BY KENGO KUMA AND ASSOCIATES, TO OPEN   IN NORTH WEST TURKEY IN JUNE 2019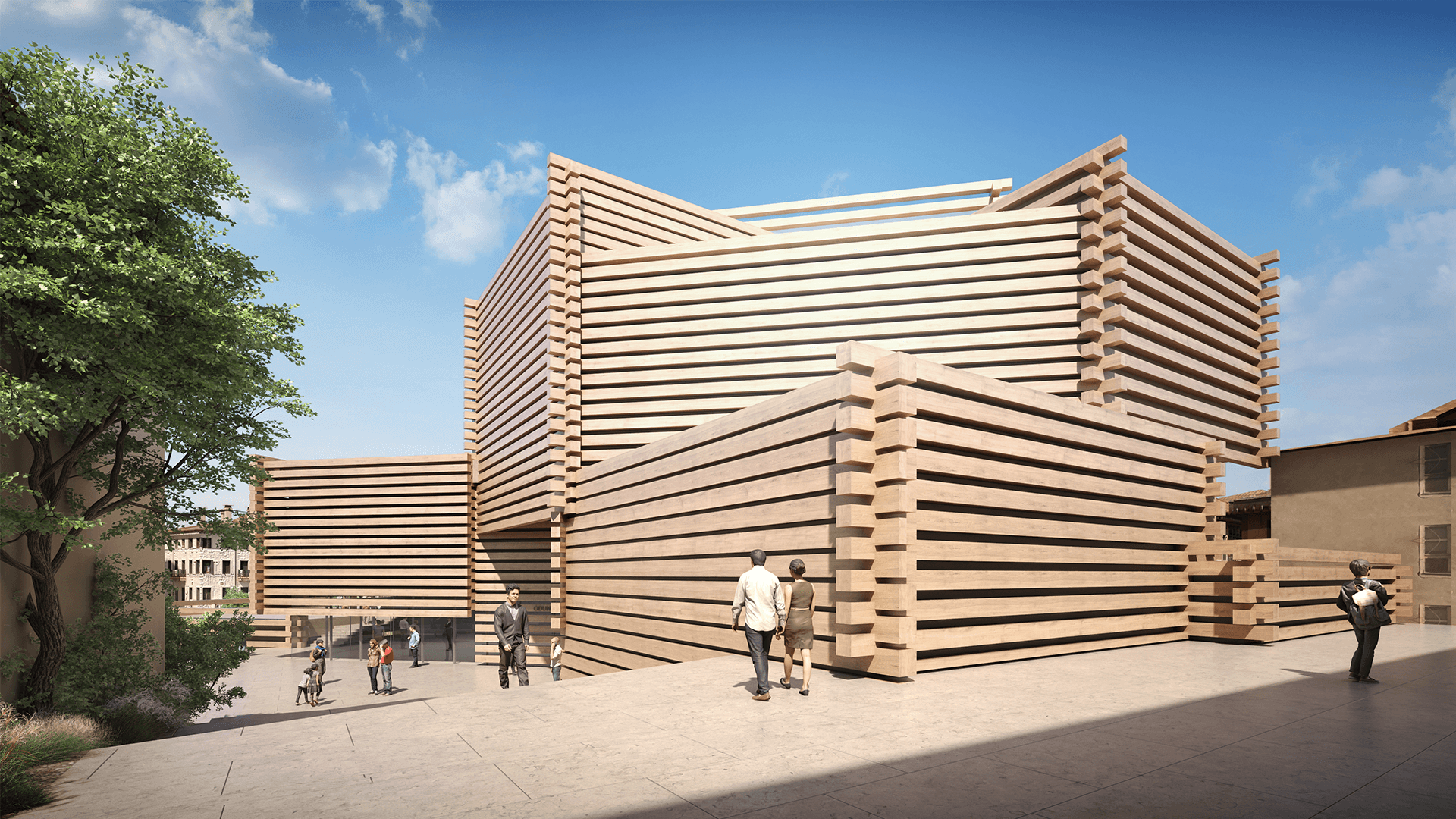 ● Odunpazari Modern Museum (OMM) by Kengo Kuma and Associates will open in June  2019 – in the Anatolia region's capital of culture 
● Featuring an internationally significant collection of modern and contemporary art 
● First exhibition to showcase artists from Turkey and a new commission by acclaimed  Japanese artist Tanabe Chikuunsai IV  
Odunpazari Modern Museum (OMM), a major new museum designed by Kengo Kuma and  Associates, will open in Eskişehir, a university town in the northwest of Turkey, in June 2019.  Founded by Erol Tabanca, an art collector and businessman, OMM will welcome international  audiences to discover its significant collection of modern and contemporary art spanning the 1950s  to the present day.    
With its distinctive stacked timber design by Kengo Kuma and Associates (KKAA), the 4,500m2  building draws inspiration from Odunpazari's traditional Ottoman wooden cantilevered houses that  are synonymous with the district, and pays homage to the town's history as a thriving wood market.  Along with several other city museums in the surrounding area, OMM will create a museum square  and public meeting place in the town.  
Split over three floors, visitors will journey through a variety of exhibition spaces, with the large  spaces at ground level echoing the rhythm and scale of the surrounding townscape, and the smaller  rooms on the upper levels providing a home for smaller-scale artworks. At the centre, a skylit atrium  will allow natural light to permeate throughout the building.  
Yuki Ikeguchi, Partner leading the project, and Kengo Kuma, Founder of Kengo Kuma and  Associates, said:
"At the heart of this project was a desire to create a link between people and art.  We wanted the building to carry the history and memory of the town, to resonate both on a human  scale and with the unique streetscape of Odunpazari, which passing through is a special experience  in itself. We very much look forward to seeing the public enjoy and interact with the building."   
"We are delighted to announce that the museum will open in June and look forward to opening our  doors, said Erol Tabanca, founder of OMM. "It is my privilege to give this museum and open up the  collection to visitors all over the world to enjoy. OMM will stand as a new landmark that reconnects  the town with its history, and as a progressive cultural development for Eskişehir and the Central  Anatolian region at large."    
Curated by Turkish curator, Haldun Dostoğlu, the museum's inaugural exhibition will showcase a  selection of around 200 works by 60 leading artists from Turkey including Bedri Rahmi Eyüboğlu,  Canan Tolon, Erol Akyavaş, İlhan Koman, Ramazan Bayrakoğlu, Sinan Demirtaş and Tayfun  Erdoğmuş. The exhibition will continue up to the present day with a new site-specific commission by  Japanese bamboo artist, Tanabe Chikuunsai IV. His intricate installation, crafted from woven  bamboo, will interact with and complement the architecture of the building.  
Curator, Haldun Dostoğlu, said: "When curating OMM's inaugural exhibition, I was inspired by three  truths: Eskisehir will gain its first modern art museum, Erol Tabanca will fulfil his dream of sharing his  art collection with the public, and this wonderful collection – much of which has been behind closed  doors for a number of years – will be showcased in its entirety for the first time."  
The collection has been brought together by Erol Tabanca over a period of 15 years and features  more than a thousand works of art spanning the 1950s to the present day, championing pioneering  twentieth-century figures as well as the next generation of contemporary artists. 
The collection  features works by acclaimed artists from Turkey such as Burhan Doğançay, Canan Tolon, Azade Köker, Nejad Melih Devrim, Erol Akyavaş, Haluk Akakçe, Taner Ceylan, İnci Eviner, Gülsün Karamustafa and Erdağ Aksel, alongside international names including Peter Zimmerman, Jaume Plensa, Marc Quinn, Robert Longo, Aron Demetz, Julian Opie, Sarah Morris, Stephan Kaluza, Hans Op De Beeck, Massimo Giannoni, Seon Ghi Bahk, Alfred Haberpointner.  
OMM's multidisciplinary exhibitions – many of which will be produced in collaboration with leading  curators and creatives – and permanent galleries will be complemented by a dynamic public  programme, offering seminars, artist talks and workshops.