In case you intend to increase the value of your property, then the best place to start upgrading or remodelling is your bathroom. Most homebuyers regard a sleek and functional bathroom as an important aspect in buying a home, which is why the value of a property can be significantly affected by the overall look and feel it. This article lists down some of the modern bathroom trends that you should consider when it comes to upgrading your bathroom this year.
Large-Format Wall Tiles
One of the modern bathroom trends that you should consider for this year is the use of large-format wall tiles. The professional tilers behind tilingliverpool.co.uk suggest that you replace the mosaic tiles of your bathroom walls with large-format tiles that display fewer grout lines. Not only is this visually enhancing, but cleaning will prove to be easier as well. Pair your large-format tiles with natural stone or stone-looking materials to create a luxurious look. Also go for neutral and earthy hues such as beige, tan, or brown to make your bathroom look and feel warm and inviting.
Back-Lit Mirrors
If you want to exude a modern bathroom design, then you should leverage back-lit mirrors that feature ambient lighting without glare. They even create a glowing effect on your wall, which makes your mirror appear as if it is floating. In this case, your back-lit mirror can either be the focal point of your bathroom, or it can be used to highlight your textured wall. The great part is that your back-lit mirror can even function as a nightlight when it is dimmed. Thereby, apart from being a decorative aspect of your bathroom, they are also fully functional.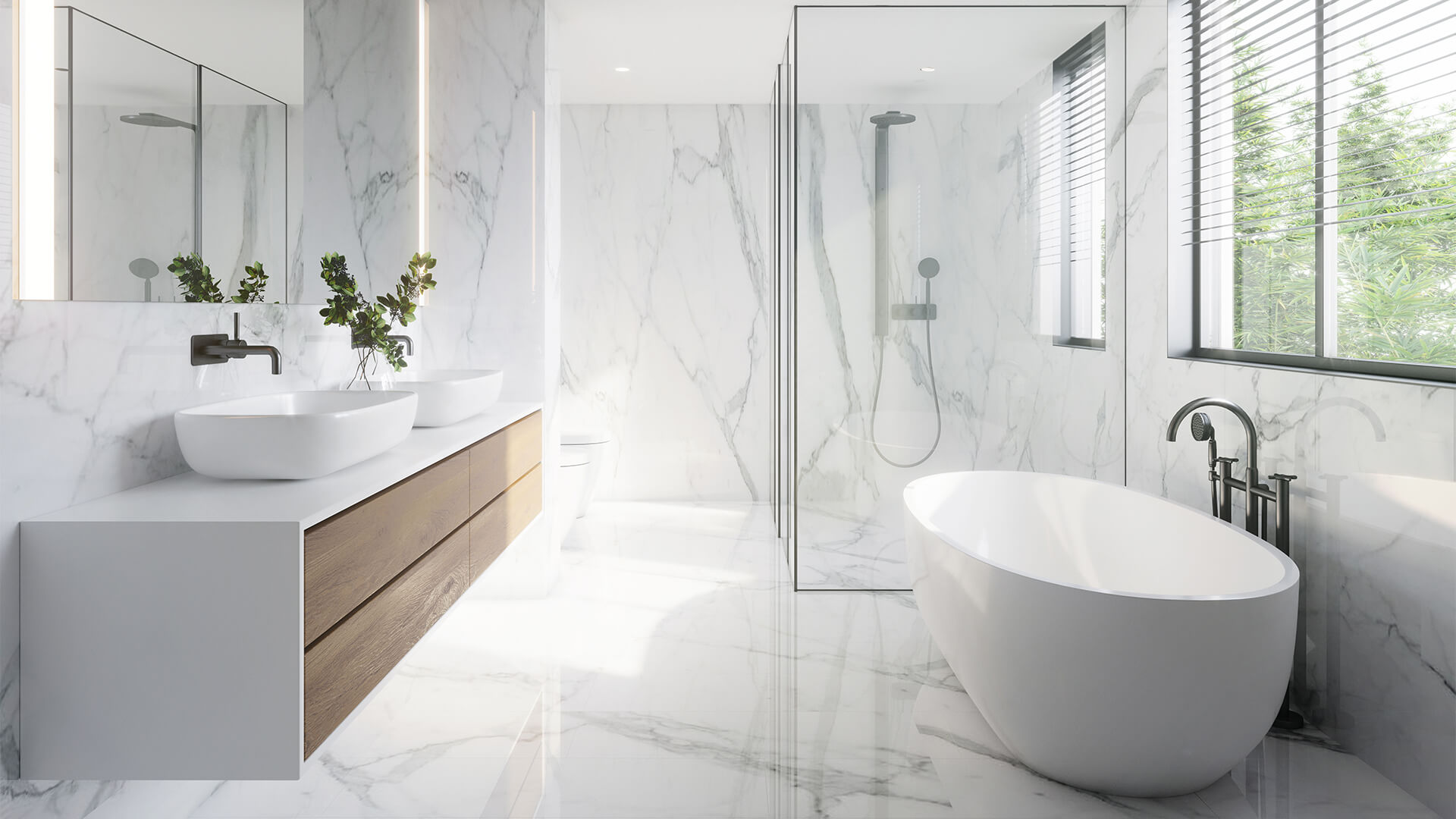 Warm Colors
Make your bathroom look more inviting by applying a fresh coat of durable paint. This will not only provide a fresh look in your bathroom but will also pave the way for it to stay cleaner longer. Ideally, you should go for warm and neutral colors such as hues of beige or tan that you can complement with a few vibrant ones. The key is in ensuring that the tiles you install work well with the shade of paint that you are considering.
Quartz Countertops
Aside from floating vanities, you can also consider the use of quartz countertops which is also a trend in bathroom makeover designs. Since it is a naturally hard material, it is quite resistant to scratching and staining, making it perfect for your bathroom. Apart from being easy to clean, countertops made of quartz also look great because of their sleek profiles.
Floating Vanities
Another modern bathroom trend that you should look into this 2021 is floating vanities. Rest assured that you will have various options to choose from when it comes to wall-mount bathroom vanities that come in different configurations. For instance, you can go for a complete unit with a countertop, sink, and storage compartment, but you can also opt for partial sets with entirely separate pieces. The great part about floating vanities is that it makes cleaning your bathroom floor a whole lot easier and faster.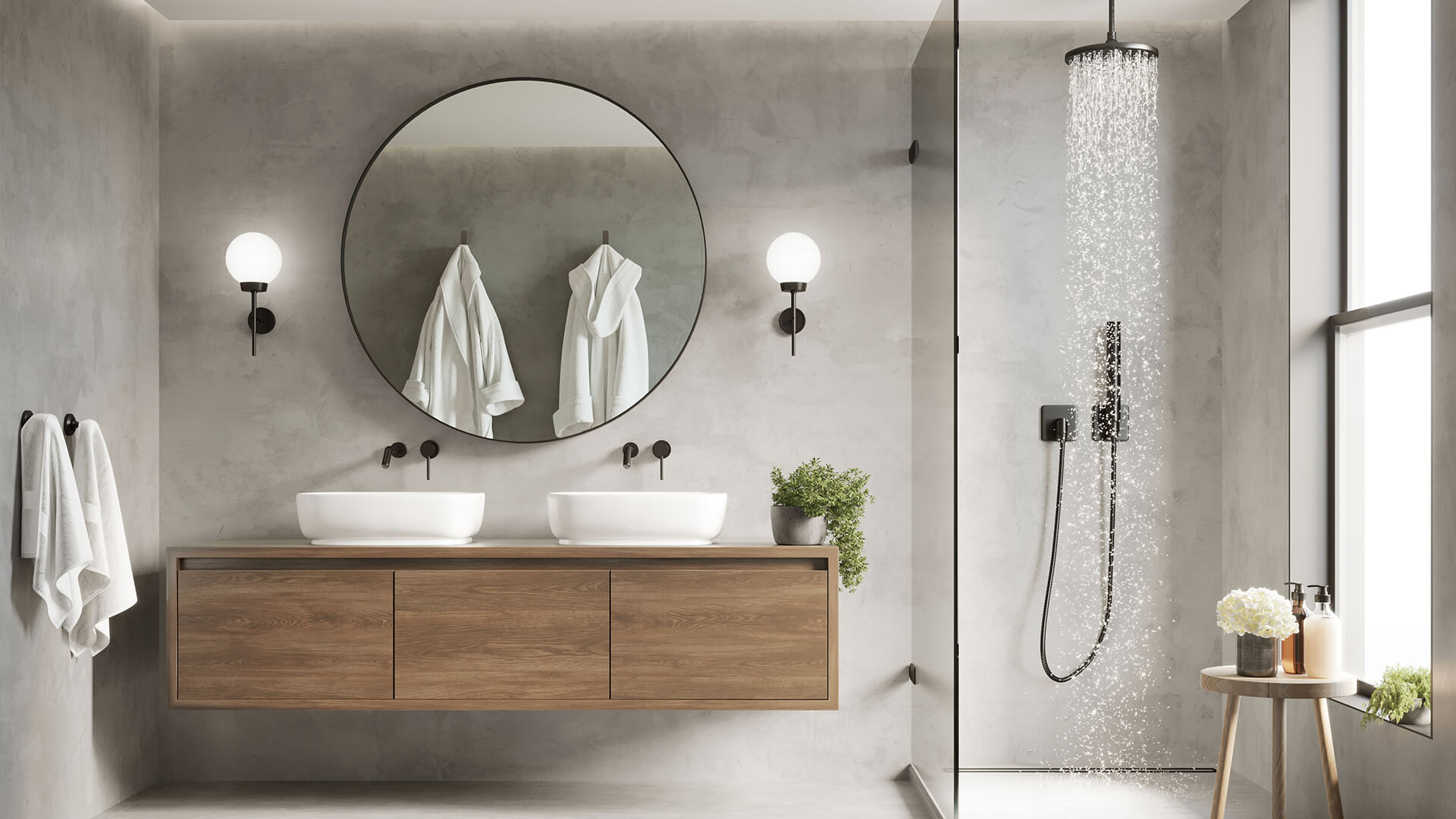 Space-saving Soaking Tubs
Some home buyers consider having a soaking tub as an essential aspect when it comes to inspecting the bathroom of the property they are considering. More often than not, these home buyers are the ones who have little kids, or families living with the elderly. Nevertheless, indulging in a warm bath in a soaking tub is also one of the best ways to relax and rejuvenate, which is why you should consider having one in your bathroom.
In case you have limited space in your bathroom, don't worry because the trend is to go for space-savvy soaking tubs that will fit perfectly in your bathroom space. While your tub and shower should ideally be separated, you can integrate them if you have limited space. Nonetheless, if you can fit a free-standing, flat-bottom tub in your bathroom, then go for it.
Smart Toilets
More and more homeowners are leveraging technology to convert their properties into smart homes. Aside from doors that lock and unlock automatically, as well as lights that turn on and off with just a clap, people are also starting to install smart toilets in their bathrooms. Usually, these smart toilets have hands-free components such as self-closing lids, as well as touch-free flushing.
In addition to this, most smart toilets are already equipped with self-cleaning technology such as bacteria-killing light under the lid. Therefore, not only are these aesthetically pleasing because of their futuristic and luxurious appeal, but they also prove to be easier to clean as well.
Heated Flooring
When it comes to the floor of your bathroom, you should consider incorporating heated flooring, allowing you to take off your slippers comfortably. Otherwise, you can also consider the use of ceramic and porcelain tiles that mimic natural hardwood. This goes well with the growing popularity of an organic style that more and more people prefer, even in their bathroom. Rest assured that with ceramic and porcelain tiles, you will enjoy various other benefits such as hypoallergenic characteristics, durability, as well as ease of cleaning.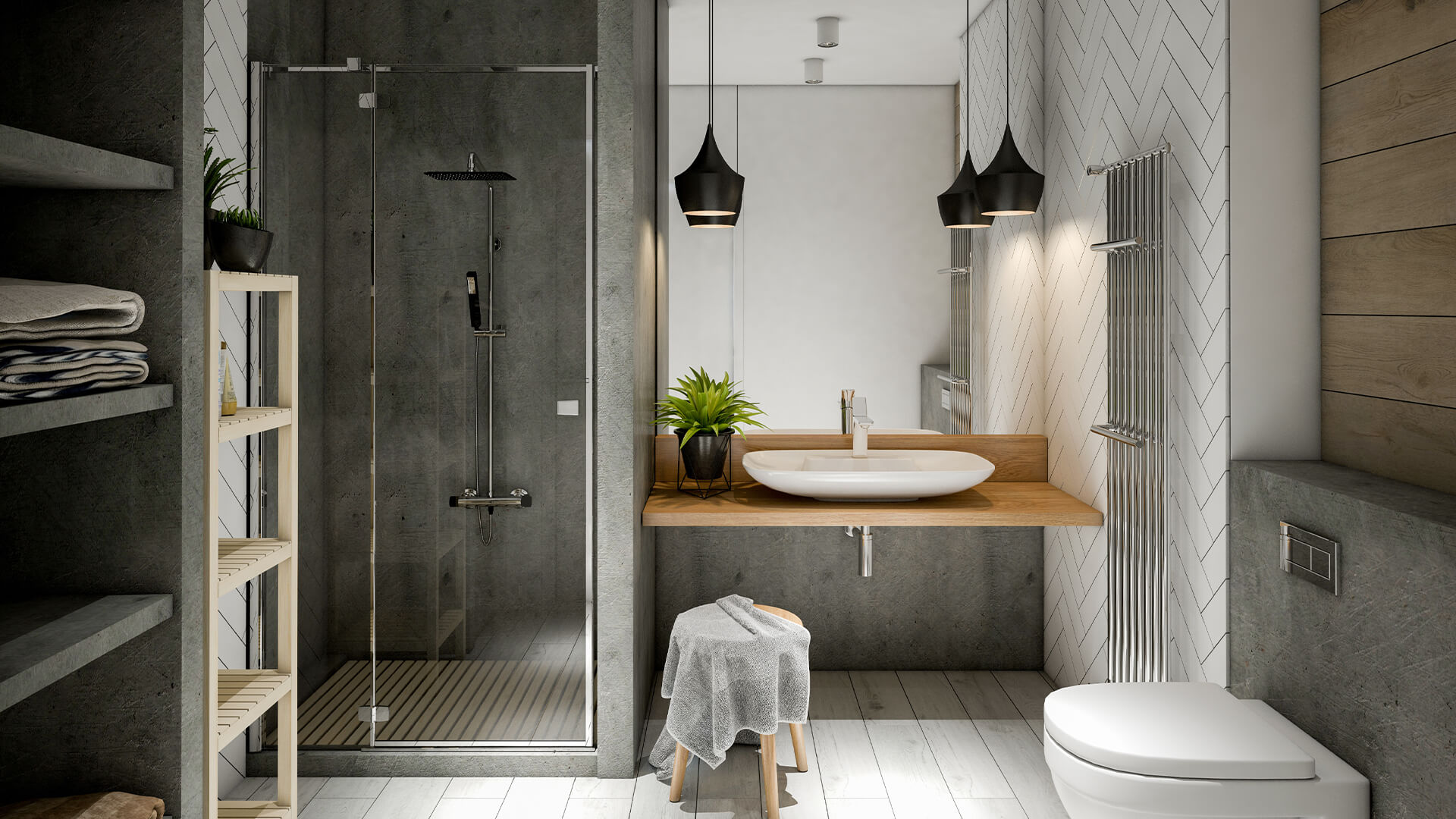 Blended Schemes
Finally, you should also consider having a blended scheme when you makeover your bathroom. In this case, you are no longer confined in a plain white bathroom, but rather, you have the freedom to be more confident and bold in designing a quite busy bathroom look. The key is in perfectly blending both schemes, integrating both a traditional look with a contemporary feel.
There are various trends that you can consider when it comes to upgrading the design of your bathroom. The ones listed above are only some of them. There are other trends that you should also look into such as a cocoon room, wall panelling or a fluted finish. You can even consider delving into a minimalist mood, integrate luxurious lighting, as well as go for botanical walls. All these are geared towards ensuring that your bathroom is not only aesthetically pleasing but fully functional too, which can eventually increase the value of your property.