Posted on 14th August 2023
Interior Designer Shares Styling Secrets for Converted Loft Spaces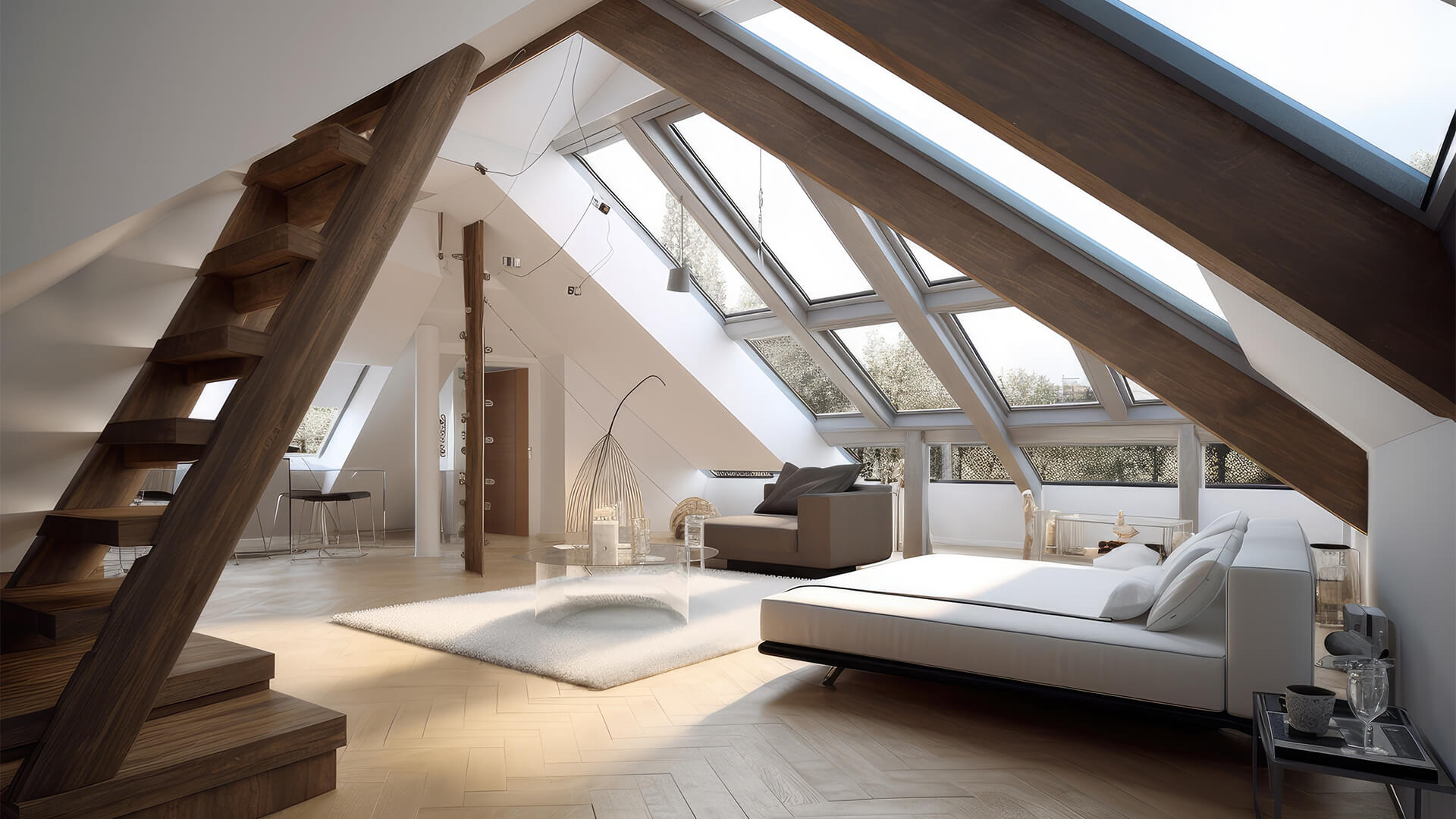 Loft conversions are on the rise, and people are looking to decorate their new spaces
247 Blinds has seen a 161% increase YOY in sales of loft blinds in the last 3 months
On average, loft conversions are £30,000 cheaper than a traditional extension to the home
The average cost of a loft conversion is about £30,000 cheaper than building a traditional extension to your home1, so it's no wonder that searches for 'cost of loft conversion 2023' are up 7,100%2 in the last 3 months with people becoming savvier with their home space. 
Whether you're looking to add another bedroom, create the dream walk-in wardrobe or design a cosy escape retreat, Amy Wilson, interior designer (a contestant on BBC's Interior Design Master's) and Creative Director at 247 Blinds has shared her styling secrets for utilising your attic space.
Embrace Natural Light
Take advantage of your new 'lofty heights' and the added light opportunities that it brings to your new space.
Amy says: "One of the most obvious and significant advantages of a loft conversion is the abundance of natural light. Skylights and dormer windows are popular choices to make the most of the height and light. These features not only flood your space with light but also create an airy, open atmosphere that enhances the overall ambiance.
"Whilst this style of window is beautiful, they can be tricky to dress and at times, impractical. In the summer months the added light can heat up a room very quickly whilst in the winter, they can feel cold. The best solution is to buy loft blinds or skylight blinds to control the temperature.
"For loft bedrooms, you may want to opt for a blackout blind that fits your colour scheme – which will help you to create a calm environment perfect for sleep. If you're turning your loft into a living space, you can play around with the designs – opt for pleated styles for added texture or a roller blind with a subtle pattern to add extra interest to the room."
Clever Storage Solutions
If you're giving up a loft that was once used for storing suitcases and Christmas decorations, finding smart solutions for the space is a necessity.
Amy suggests: "With most loft conversions having slanted roofs, you can be a bit more limited on space so finding smart storage solutions that maximise space is essential for keeping your living area organised and clutter-free. 
"Consider bespoke built-in cabinets, under-eaves storage, or stylish shelving units that seamlessly blend with the overall design. This will ensure your loft conversion remains functional while maintaining its aesthetic appeal."
Create Zones
Whilst open-plan living is still a popular design choice, a big open space can benefit from zoning to give it multiple uses.
Amy says: "Open-plan layouts are often the preferred choice for loft conversions, for ease and to offer versatility and a sense of spaciousness. However, it's important to create distinct zones within the space to define different areas and optimise functionality. 
"Make use of your furniture placement, large decorative rugs, or dividing screens to establish separate spaces with specific purposes – whether that's a work from home office space, a living area or bedroom set-up. 
If you want to really define a space, you can even hang a curtain to create privacy that can be utilised as you wish. This also gives a real luxury feel to a space."
Statement Accents
There's something about a loft space that feels quite serene and calm – capitalise on this with a neutral base.
Amy advises: "In terms of the colours you use on the walls of a loft conversion, I'd stick to neutral or earthy tones to emphasise the light, airiness that you naturally get with this kind of space. Dark green or shades of brown work really nicely with the natural light and can help to maximise the features of the space.
"If you want to add statement patterns or colours, do this through accents like your roof blinds, cushions and other soft furnishings. A strong stripe is really on trend at the minute, which can help to add more interest to the room."
Thoughtful Material Selection
Play on the natural elements of the space with clever material choices.
Amy says: "The choice of materials plays a crucial role in bringing your loft conversion to life. Opt for a combination of natural elements and contemporary finishes to strike the perfect balance between warmth and modernity. 
"If your loft has exposed brickwork, wooden beams, or reclaimed materials, these add character and charm, while sleek surfaces and polished finishes provide a contemporary edge. Harmonise the materials with your chosen colour palette to create a cohesive and visually appealing space."