Posted on 5th September 2023
Design Experts Unveil the Top 4 Interior Trends Shaping Autumn/Winter 2023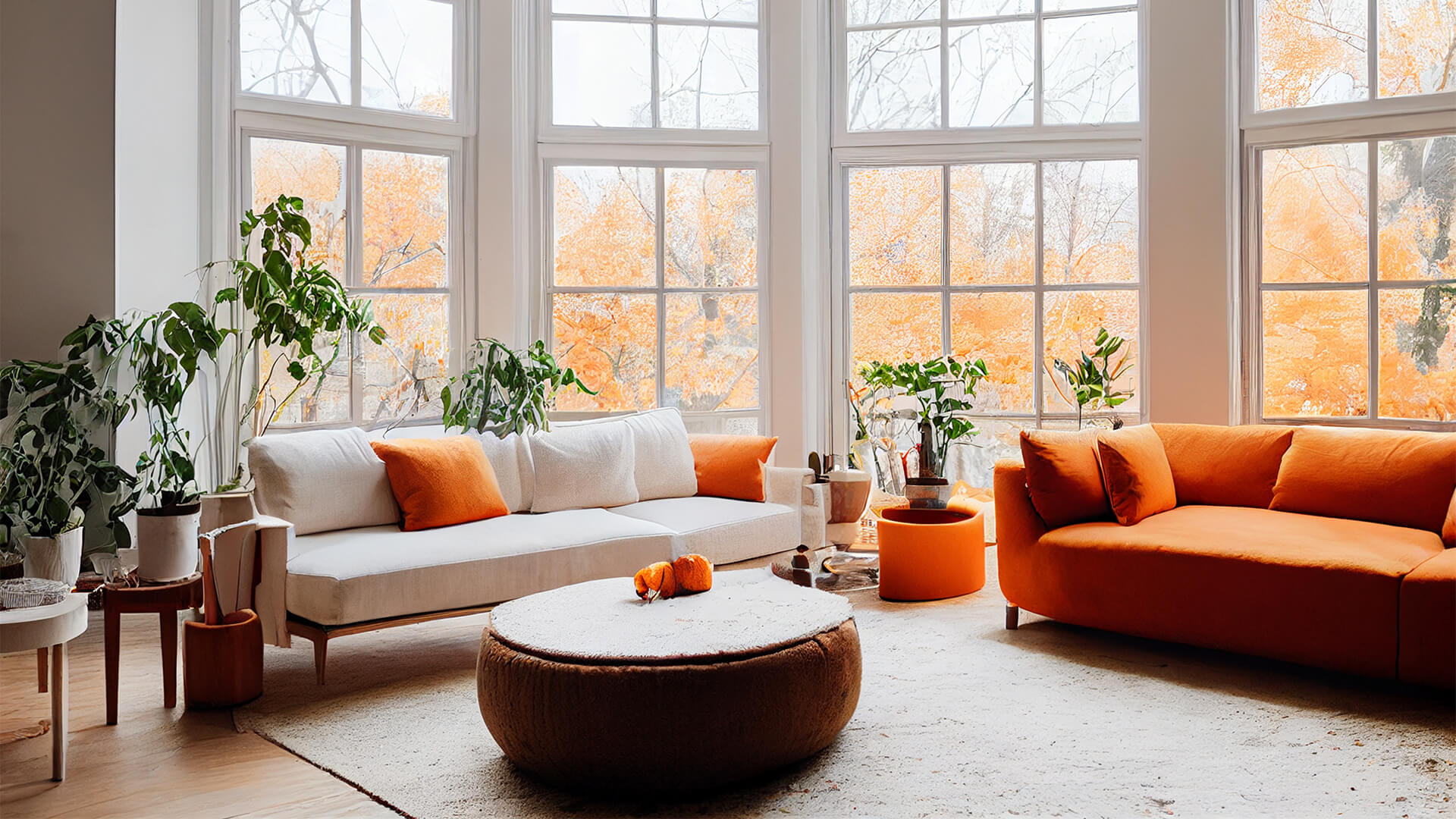 Whilst we are all a bit reluctant to let go of Summer, there is something exciting about the transition into Autumn as the leaves change and the temperature drops. We start to add extra layers to our outfits and our coffee shop order may change, but one of the most appealing steps in indulging in the new season is updating your decor to reflect the shift in weather and energy.
To help embrace the cosy vibes in your home decor whilst still keeping up with the latest styles, our experts have shared what they believe to be the next big interior trends this autumn/winter. 
Texture overload
All homes benefit from layering textures, especially as the months get colder, and we can see this increasingly with examples like linen bedding paired with luxurious sheepskins and blankets. But this year, more is more.
Amy Wilson, Interior Designer and Creative Director at 247 Curtains and 247 Blinds shares: "Texture doesn't just refer to soft furnishings but can also be seen in wall and furniture finishes such as plaster and concrete as well as contrasting woods and metals. This autumn/winter, expect to see homes that aren't afraid to build on and play around with more texture, embracing a plethora of styles."
"If your room feels cold or needs extra ambience and comforting touches then look where you can introduce contrasting textures. If you have wooden venetian blinds, soften your window with the addition of some luxurious velvet made-to-measure curtains."
Aubergine Girl Autumn
You might be familiar with the trend known as "tomato girl summer," which draws inspiration from the vibrant pomodoro-filled cuisine of the Mediterranean coast and revolves around a captivating combination of red and neutral hues. But how can you reflect a similar aesthetic when the season changes and summer is no more? Look no further than aubergine girl autumn.
Amy states: "Aubergine, wine and plums. No, this is not your shopping list, but instead a reference to the warm red and pink tones we'll be seeing more of in home décor this autumn."
"This colour palette perfectly complements the changing of seasons due to the rich tones that help to create an ambience that is cosy and inviting. Using this combination of feminine colours correctly can evoke an atmosphere of mature elegance and style."
"This trend would complement your home perfectly if it features a lot of wood throughout your floors and furniture – use these colours to accessorise and flourish against the backdrop of your home. Why not opt for some deep purple lampshades and pink curtains to build on the sense of warmth."
Whimsigothic
The countdown to Christmas is on with Pinterest Trends data revealing a 400%+ monthly change in the trend 'christmas bedroom' as we look to think ahead to the festive season.
Jonathan Warren, director and bed specialist at Time4Sleep comments: "The whimsigothic interior trend is a great option for those looking to redecorate with elements that will feed into both seasons of autumn and winter, and it's currently trending.
"According to Pinterest Trends, 'whimsigothic home' has seen a 10,000%+ yearly change and 200%+ monthly change and as we look ahead to the cooler months it's clear to see why! 
"The whimsigothic interior trend features celestial motifs against a dark colour theme of blues, purples, greens and reds. The trend also brings the outside in with plants, vines and botanical decor. 
"As the centrepiece of the room, opt for a wooden sleigh bed with a dark mahogany finish. The swooping headboard of a sleigh bed can be decorated with artificial greenery and the wooden finish will pair perfectly with the whimsigothic feature of incorporating elements of nature."
Bring in brass
Marlena Kaminska, designer at ValueLights says: "When it comes to seasonally switching up your interior decor, always begin by considering the colour palette of the upcoming season. 
"Naturalist design has featured as a central element in many of 2023's interior trends, where organic materials are incorporated into the interior space – as we've seen with the Japandi trend. Whilst the natural materials of wicker and rattan work well during the spring and summer, it's important to adapt these textures for the autumn months to maintain an authentic feeling home"
"For autumn, this means drawing on the earthy tones and rich hues we typically associate with the seasonal changing of leaves' colours. To replicate this in your home, opt for dense mahogany and caramel-toned woods over the light whimsy feel of oak."
"Brass is also a timeless choice for inviting a tonal warmth into your home, whilst staying true to the concepts of naturalism. Polished brass finishings in particular add a vintage, antique feel which instantly adds character to any room. Look to incorporate this via accent furniture, such as table lamps, vases and candle holders."