Posted on 1st June 2021
Classic Bedroom Design Ideas for Couples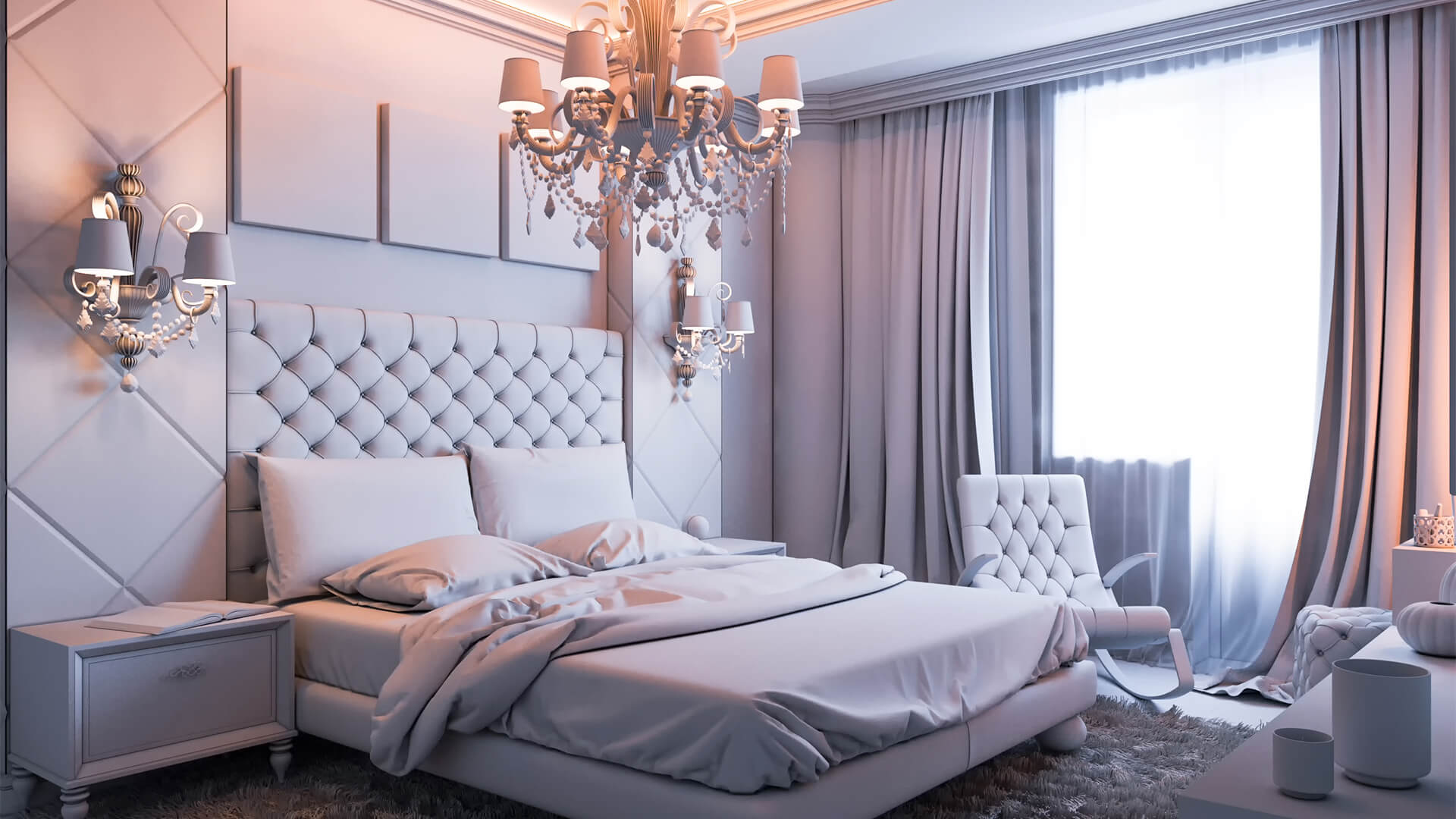 Are you getting married and super excited to start the new chapter of your life? While marrying the love of your life is exciting, couples go through varying emotions. Moving into a new space is not an inviting idea for many couples. The designing and planning of your new place along with your spouse can spark some excitement. Most couples decide to plan, design, and decorate their bedroom first; A bedroom is a space where couples connect and build dreams together. Hence, it should be an inviting space with the best king size mattress for added comfort and building memories. Here we are presenting you with the Classic Bedroom Design Ideas for Couples.
Before you design and plan the room, it is crucial to develop a middle ground. As a couple, both individuals need to agree to the design. Some couples have distinct tastes; hence, planning can take a lot of time. Considering the room dimensions, space, and aesthetics, you must prepare the list of items needed. However, some things are crucial and must-have, such as a good-quality mattress, comfortable pillows, excellent lighting, and a big mirror. Once you have the essential items out of the way, you can plan your aesthetics and decorate the room. If you and your spouse are confused about the decoration part, we have some classical bedroom design ideas for couples that you will undoubtedly love.
Important things to consider when designing a perfect room for a couple
When listing bedroom design ideas for couples, it is essential to consider personal style. We know it is hard to reach a middle ground when both individuals have different aesthetics. However, you must tackle a few crucial items at the beginning of the bedroom designing process. Here are a few things we have in mind:
1. The bed size
The bed size is one thing that most couples like to pay and emphasize on. There are a few factors one should consider when getting themselves a bed. A bed should perfectly fit in your bedroom without making it feel small or suffocating. If you have a small or medium-sized room, a queen-size bed would be a better fit. However, a room with ample space can easily fit a king-size bed. Some couples prefer big beds to have personal space, while some enjoy cozy queen-size beds. You and your spouse must decide what bed size to get before planning other elements.
2. Mattress
A mattress is one of the main things that will make you sleep better and wake up in a good mood. In a classic bedroom design, a mattress plays not an aesthetic but a crucial role otherwise. Both partners can choose if they want a gel-memory foam mattress, a memory foam mattress, an air mattress, a latex mattress, etc. You should never compromise on your mattress and only choose the best. Among all the categories, king size mattresses equip the ideal size to let your body fully relax and ideal size for making the bedroom look more appealing.  If you are new to buying a mattress and confused about which one to buy, do your research. Sleepingocean has some best recommendations for a king-sized mattress to provide comfort and value. If you are interested in some fantastic recommendations regarding the best king size mattresses, check their article for more information.
3. Lighting
One factor that can make or break the outcome of your room is the lighting. Most people do not emphasize lighting, but it plays a pivotal role in enhancing the look of the room. In a classical bedroom design, you will always see that lighting is strategically planned. Maximize the lighting by using soft yet intense bulbs. False ceiling with internal LED soft light is an excellent idea; however, it requires some extra budget. Apart from the main lighting, you must pay attention to the mood lighting as it helps in establishing a relaxing atmosphere. A budget-friendly way to have mood lighting in your room is by using pendant lights, lamps, and fairy lights.
4. Brighter themes
While dark themes are trending, it is always nice to have a bright and airy room. Some rooms are naturally dark or built in a certain way. However, you can brighten your room using external elements. Light is one way to brighten your room; however, there are plenty of other tricks. If you have a dark room, try to use white curtains with a breathable fabric. It adds more brightness and makes your room look open. Another thing that helps in brightening up your room is whitewash. Always play with muted white tones to add brightness. If you like color, you can choose a different color for the main wall and keep the rest white.
5. Flooring
If you are looking for classic bedroom design ideas for couples, we suggest switching up the flooring. If you want a neutral room, then marble flooring will help you accomplish your vision. Similarly, if you want a luxurious room, you must opt for a hard floor or a wooden floor. Most couples do not have enough budget for their room after spending on their wedding. If you are running low on money, you can always use a carpet or area rug to alleviate the look of your floor. However, ugly flooring makes you feel unsettled in a new space. Do set aside a small budget to spend on flooring and paint.
6. Storage space
Often a classic bedroom design lacks storage ideas. However, it is a crucial aspect of married life, and you do need a bigger closet for your bedroom. If you do not have a separate closet area in your bedroom, you must invest in a cupboard. Many carpenters make custom wardrobes at a cheaper rate. If you already own a cupboard and need additional space, you can get drawers made for the under-bed sections. Try to have multi-functional seating that matches your aesthetics while providing diverse use.
Classic bedroom designs that never go out of fashion
How to design your bedroom is the biggest question of the century. However, you can find some fantastic tips on this page. While there are thousands of unique ideas available online, it is challenging to integrate your taste into it. However, you can take inspiration and adjust it to make things work according to your liking and style. We have a few classical bedroom design ideas that never go out of style.
1. Neutral theme
Bedroom design ideas for couples can be hard to finalize because both genders or people, in general, have different preferences. However, A neutral bedroom theme works excellent to match the aesthetics while providing functionality. Neutral colors and subtle tones never go out of fashions; hence, you would not have to worry about changing your room after a while. Go for neutral wallpaper or simple white paint for a clean base. When selecting decorative items, go for white, beige, off-white, black, pastel colors, or earthy tones. If you wish to alleviate the look of your room, you can add pops of color through cushions, indoor plants, planters, bedding, and a throw blanket.
2. Industrial
The industrial theme is a mix of modern aesthetic with clean lines and a minimalist yet sophisticated décor. You will mostly see tones of brown, black, grey, white, and hues of green. People use many metals to finish decorative items, pendant light, soft lights, lamps, and frames in such rooms. The industrial theme is classy yet looks very luxurious. It is gender-neutral vibes that not only look good but provide functionality and cozy feels.
3. Bright and simple
If you do not like things often, a bright and straightforward theme will work great for you. A simple design has everything you need with a little bit of décor. To brighten up space, choose light-colored curtains, simple bedding, and many different textures to add personality to the room. It is an ideal choice for couples as you can experiment with your room a lot later.
Mistakes to avoid when designing couple bedroom
You can make quite a few mistakes when designing a bedroom, especially if you do not know about it. Here are some mistakes to avoid:
● Always choose the bed size according to your room. A king-size bed in a medium-sized room can make the room look cramped up.
● Do not forget to use mood lighting and maximize the natural light. Use light-colored curtains to enable the flow of sunlight rather than light-blocking ones.
● Always add some kind of artwork on bare walls to reflect your personality.
● Choose the right rug size, a minimalist design if you have too many decorative items in your room.
● If you are going for wallpaper, do not select wallpaper with a busy design. Choose a wallpaper with big motives strategically placed at large distances from each other.
● Always keep storage in mind when designing a room as it is necessary, especially for a couple.
Conclusion
A bedroom is a sacred space where dreams are born, and memories are made. Hence, it is crucial to invest in good-quality furniture and the best king size mattress as these things last you for ages. Always remember less is more; hence, do not over-stuff your room with decorative items. It is excellent to have your spouse on board for everything you do and respect each other's preferences.