Starting a construction company is no simple task, and many things need to be considered before starting, such as research of the current marketplace. Thankfully Workwear Giant have taken some of the hard work and analysed the regions of the UK to find the best places to start a construction company.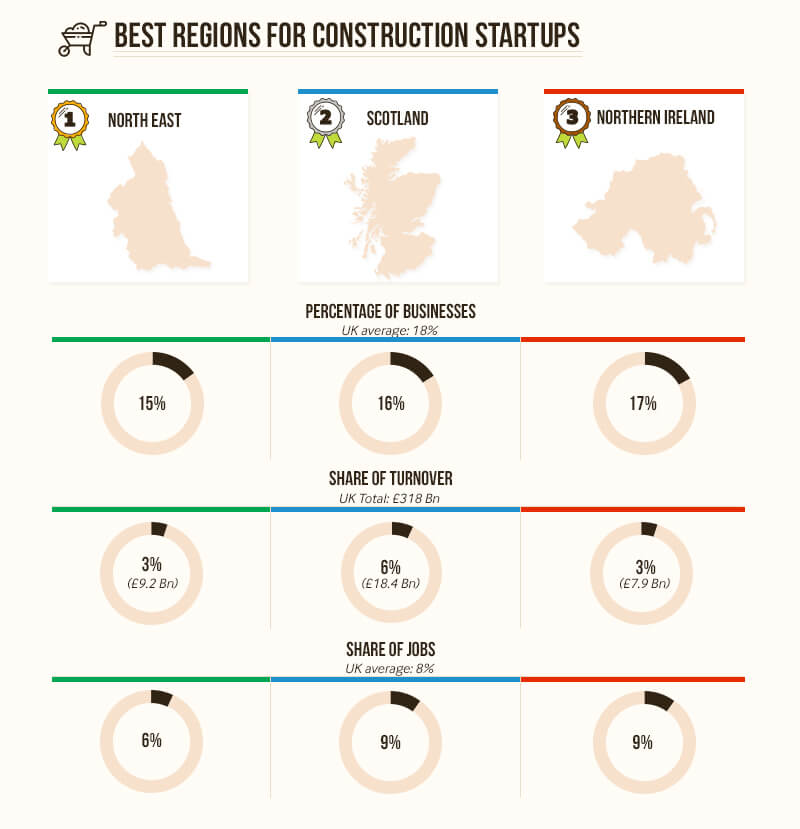 North East's Small Construction Sector Shows Most Profit Potential
Despite construction activity slowing due to Brexit uncertainty (output grew only 0.3% in 2018), the latest figures suggest construction is on the rise, with a 2.8% growth in January 2019. Meaning today could be a better day than ever to start a construction business. Workwear Giant's findings have discovered launching your business in either the North East, Scotland or Northern Ireland could give your company a better chance.
The Top Regions for Construction Startups
North East
The investigation shows the North East has the smallest amount of construction companies at 15%. What's more is that just 6% of the region are employed in this sector, which stands at 2% lower than the UK average. However despite the North East's construction industry being considerably smaller than other regions, it shares 12% of the area's turnover. From a wider outlook, it also contributes 3% to the British construction turnover showing the area is the best place for a construction startup with plenty of room to grow.
The latest data suggests that 51,680 new construction companies were created in a single year and the North East only accounted for 3% of them. But the region still witnessed a massive 9% increase in construction startups and with an 88% success rate of businesses, it indicates the area is prosperous.
Scotland
Despite an increase of 12% in construction startups in Scotland, construction only accounts for 16% of the businesses in the region. This is 2% lower than the UK average, making Scotland the second-best place for a new construction company. Additionally, the country contributes 6% to the UK's construction turnover as well as 9% of Scotland's turnover from all industries.
Northern Ireland
Although the region has the lowest turnover (£7.9bn) out of the three regions and only contributes 3% to the UK's construction turnover, recent stats suggest Northern Ireland could be on the cusp of a construction boom. Construction output in Northern Ireland has seen an upward trend since 2013 – growing 26%. In the housing sector the output is even predicted to surpass the UK's rate (2.5%) at 3%. The steady growth seen in this region, makes starting a business here more promising than ever.