Posted on 22nd September 2017
Achieving growth and driving standards in a demanding market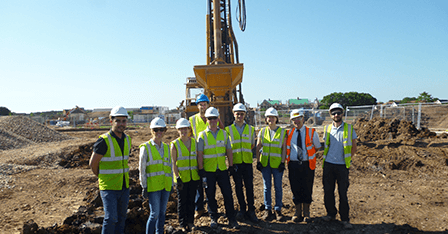 Achieving growth and driving standards in a demanding market by investing in skills, experience and technology
Geo-Environmental Services Limited offer a comprehensive range of services for a range of developments. Following their success in achieving the title Leading Experts in Engineering Consultancy, we interviewed the firm's managing director, Glyn Evans.
In Geo-Environmental Services Limited's 21st year as a business, the deliverables that it supplies range from desk studies, through to on-site intrusive investigations, which are used to provide ground models for contaminated land assessments, as well as foundation, pavement, road and drainage designs. In addition, the firm also undertakes slope stability analysis, basement impact assessments, building damage assessments, contamination remediation strategies and validation reports, together with preparing earthworks specifications and materials management plans.
Managing Director, Glyn Evans explains to us what sets Geo- Environmental Services Limited apart from their competitors, marking them out as the best possible option for their clients, and for providing beneficial, environmentally sound solutions.
'The company is currently in a great position, but it wasn't always like that. In 2007 after the stock market crash, it was a much more challenging business environment.
'However out of that adversity myself and core members of the team defined a set of key aims and a long term strategic plan to achieve them. The five core aims that we defined were:
'1. To be viewed as providing the highest standard of Geotechnical and Geo-Environmental Consultancy services;
'2. To have high quality systems, software and equipment to support our staff in delivering excellent services;
'3. To retain all of our existing clients and ensure that we are their Geotechnical and Geo- Environmental Consultant of choice;
'4. Attract new customers across our current catchment area, with an additional focus on a new customer base North of the M25 and in the South West and attracting larger customers; and
'5. Identify clients that are less susceptible to the boom and bust cycle in the UK market.
'In putting together these aims we considered in detail how we thought the industry would develop.
'At the time the industry was still very traditional, but it was our belief that IT would start to play an increasingly important part in our business.
'We commenced a programme of upgrading and expanding the capability of IT hardware and scoured the market for software packages that would improve our analytical capabilities, the presentation of our reports, our interconnectivity with other systems and the productivity of our work. We underpinned this by employing an IT managed service company to manage and maintain the systems, which reduced the amount of time lost from IT issues and allowed us to concentrate on our core business.
'As a result of these improvements, when challenges such as BIM came along, we already had systems in place that could meet them.
'We had found that there were barriers to us winning or even bidding for work for some clients. We invested heavily in ensuring that as an organisation we had all of the accreditations that we needed to compete in our chosen markets.
'The first step was to ensure that 'we were ISO9001, ISO14001 and OHSAS18001 accredited.
'Alongside this, we looked at the specific accreditations that we needed for different clients and sectors and achieved accreditation on Achilles RISQS, Achilles UVDB, CHAS, Construction Line, SMAS and CQMS.
'Of course, you can have all of the IT and accreditations in the world, but if you haven't got good quality staff you will not succeed.
'We already had an excellent core team who had supported us through the more challenging times that we had experienced.
'It gives me great pleasure to say that some of those members of staff are now members of the management team and have a key role in the development of the company. The principle of promotion from within our company is fundamental to how we operate, as it provides opportuni-ties for all of our staff to progress.
'However, we knew that if we were to realise the aims that we had defined, we needed knowledge and skills that were not in the business.
'So we recruited new staff with specific and expert capabilities, as well as a number of graduate engineers that would help the company achieve its aims. These staff brought fresh ideas and enthusiasm that have contributed to making us what we are today.
'Finally, we had an awareness that as a SME we were at a disadvantage to larger companies who had access to greater levels of industry information and professional advice. To counter this we obtained memberships of industry bodies such as the Association for Consultancy and Engineering (ACE), Association for Geotechnical and Geoenvironmental Specialists (AGS), Environmental Industries Commission (EIC), Institute of Environmental Management and Assessment (IEMA), Institute of Directors (IoD), Society of Brownfield Risk Assessment (SoBRA), Green Growth Platform (GGP) and CL:AIRE.
'Our memberships play a key role in supporting the direction of our organisation, providing access to the latest developments in legislation, industry leading training and a vehicle to raise our views on issues affecting our industry.
We asked Glyn whether he thought these measures had been successful.
'The numbers are impressive. Back in 2010 we had 11 staff and £1.1M Turnover. In 2017 we now have 20 staff and £2.6M Turnover. We now have have an office presence in Bristol and Birmingham, as well as our Head Office in Hurstpierpoint to the north of Brighton. I am proud of that achievement.
'We are also actively involved in many of the organisations that we are members of, having one of our Director's on the board of the ACE in the role of SME Chairman and Chairing a steering group for the Green Growth Platform.
'Our senior staff regularly participate in EIC and ACE working groups. So not only do we receive important information from these organisations, but through them we also have the opportunity to influence the direction that the industry is taking.
However, we are not complacent.
We are aware that we are still operating in a difficult and uncertain market and are that now we have created such an excellent team, we have to ensure that we keep that team together.
'On this latter point, we believe that flexible working will become increasingly more important in the workplace .
'The IT platform for remote working that we have put in place, enables staff to work as if they were in the office from anywhere.
'We now have 60% of the workforce working from home for some or all of the week, which helps immeasurably with worklife balance for our staff.
'Whilst this is an important benefit, flexible working has a much more fundamental role to play in the construction industry. It is my belief that efforts to drive greater diversity and inclusion within the workforce are not possible without it and attracting all members of society into the industry will be essential for its long term health and prosperity.
It was clear how important Glyn thought Geo-Environmental's staff are to the success of the company. Glyn elaborated on this.
'It is an overused cliche that a company's staff are their most important asset, but in a business where your core deliverable is professional advice that is most definitely the case.
'To ensure that our staff are up to date with the latest industry developments, we have developed a structured and continuous training programme.
'We also encourage and support all staff in working towards and achieving chartered status, improving their qualifications and gaining new skills.
'To support this we have assigned a dedicated budget for training and through the appraisal process, set objectives aimed at promoting personal improvement – which are reviewed bi-annually. There is a generous bonus worth up to 10% of salary for staff who can meet their objectives.
'After all if you have spent time and money in developing staff, you don't want to lose them.
'In addition to this we have introduced further measures to support and reward our staff. We recently launched our corporate benefits platform. This gives our staff access to private medical care, a confidential employee assistance programme, preferential rates for car leasing and a range of IT products, a bikes for work scheme and a range of discount shopping and dining offers.
'By creating an environment where staff feel that they have the opportunity to develop their skills are supported, valued, rewarded and have avenues for career progression, we hope to ensure that we continue to enjoy the low levels of staff turnover that we have experienced to date.
Continuing the theme of success, Geo-Environmental Services Limited were recently selected in the Business Excellence Awards, claiming the title Leading Experts in Engineering Consultancy. Discussing the firm's accolade, Glyn describes to us what it means for both him and the firm to have won this award, but also highlighting the ways the company create innovative solutions to maintain their success.
'When we heard the news, we were delighted. As we have discussed, we want to viewed as providing the highest standard of Geotechnical and Geo-Environmental Consultancy services. Being recognised for industry awards is a sign that you are meeting the standards that you are aiming for.
In closing, Glyn reveals what the future has in store for Geo- Environmental Services Limited.
'There is some uncertainty over the next 12 months, with the future of what environmental legislation will and will not be retained as a result of the ongoing Brexit negotiations. It is also uncertain how the industry will be impacted by the Brexit negotiations. Until we have more detail on these negotiations, it is very difficult to say just how we would be affected – positively or negatively. Longer term, we expect the future to be brighter.
'In the future, we anticipate greater levels of development to meet the shortages in housing, and to facilitate improvement to key infrastructure. However, we also anticipate a greater future emphasis on development of brownfield land, greater investment in environmental protection and in renewable energy. There is a lot of uncertainty in the market at the moment and I think that in the short term, and perhaps extending to the medium term, we could see peaks and troughs in demand. However, this is a scenario that has not yet come to pass and if anything, demand is increasing.
'One of the key challenges that the industry faces are skills shortages. The industry has chronically under invested, particularly in the last 10 years. We now face the crisis of an ageing workforce and a lack of new entrants to the industry. We are still a heavily male dominated sector and we need to reach out to the female population and ethnic minorities, another part of society that we are critically under represented.
'We need to encourage young people from all backgrounds to choose engineering.
'Finally, many commentators believe that the industry is on the verge of a revolution in terms of how its services are delivered, which will be IT driven. We need to ensure that we remain at the forefront of this revolution.
Company: Geo-Environmental Services Limited
Name: Glyn Evans
Email: [email protected]
Web Address: www.gesl.net and www.gesl.eu
Address: Unit 7, Danworth Farm, Cuckfield Road, Hurstpierpoint, West Sussex, BN6 9GL
Telephone: 44 1273 832972