Posted on 18th October 2022
7 Surprising Uses for Plywood in Your Home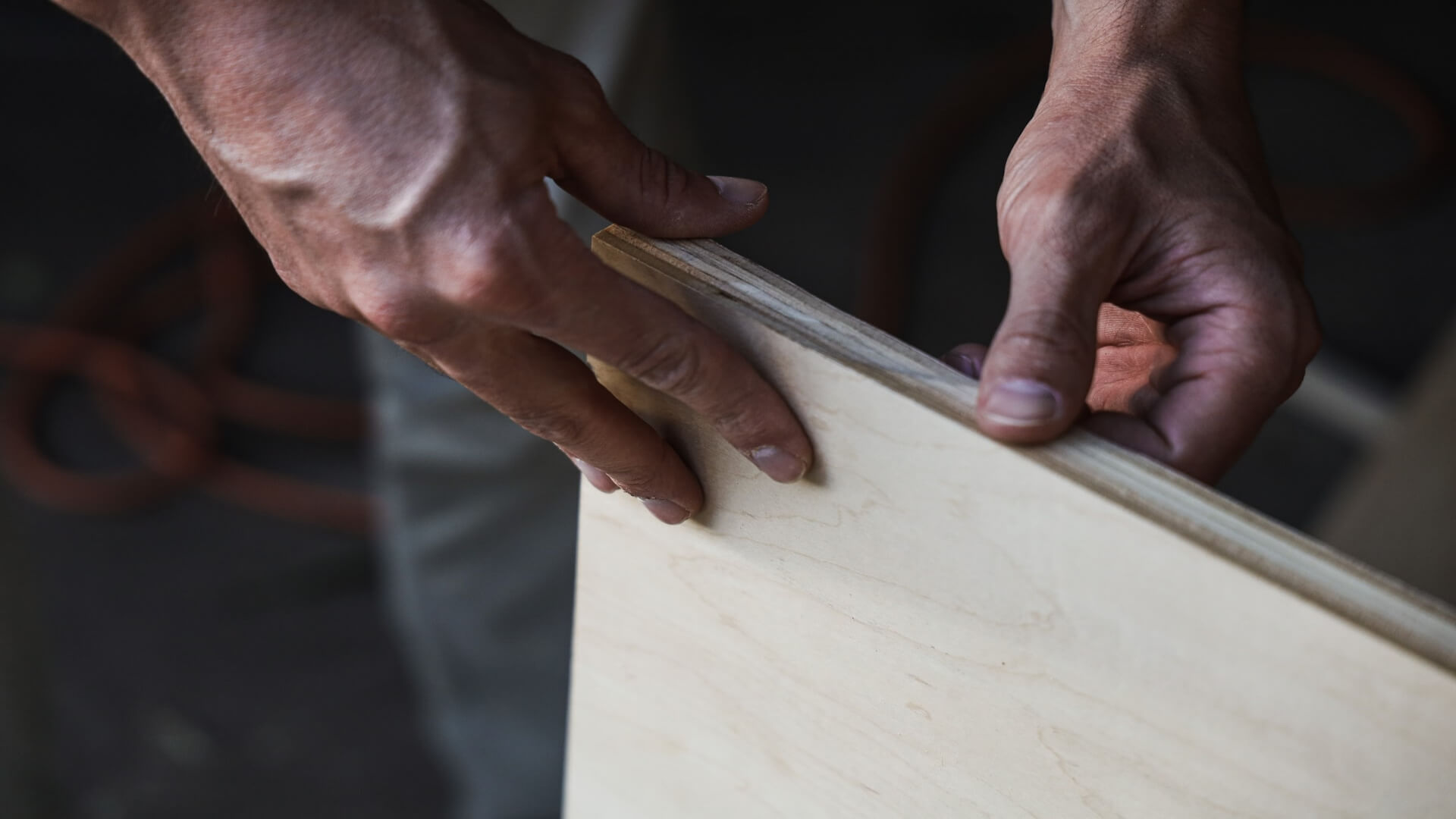 Plywood is described by some as waste wood. Log ends, sawdust, leftover peel, and wood bark are processed and glued together with an adhesive. The resultant product is a wooden board with multiple layers that can be used for interior or exterior projects.
However, not everyone knows just how versatile plywood can be and how many purposes it can serve in the average new or pre-existing home. If you're trying to be more sustainable, save money, or simply get creative, here are some of the many ways you can incorporate plywood into your next home project.
Kitchens
Kitchens can be wet environments, and you might not think plywood would be suitable since it's not waterproof. However, waterproofing plywood is easier than you think with the use of products like paint, epoxy sealant, drying oil, and varnish.
Once you have waterproof plywood to work with, you can create many standout features in a kitchen, such as cabinetry, walls, and ceilings. Plywood can be significantly cheaper than many other kitchen materials, and it can look like a high-quality wood product with something as simple as clear satin polyurethane to tie the look together.
Bathrooms
Bathrooms are one of the most expensive rooms in the average home to build and renovate. There are often more tradespeople involved in their creation, such as plumbers, builders, and electricians, and they require some of the most advanced products on the market due to the presence of water.
Plywood can seem like the last material you'd include in this space, but it can often be relied on to create a winning feature in a bathroom, such as a vanity. Alongside having the freedom to choose the grain and stain you prefer, you can also finish it with paint or several other products to help achieve your desired finish and ensure it's waterproof. You might even find plywood products, such as storage units, can often cost less than other building materials.
Ceilings
Drywall is one of the most common building materials used to create ceilings in homes. It's lightweight, easy to install, and readily available. However, there's no reason why plywood can't also tick those boxes.
When your new build or renovated home lacks warmth, and you know a white drywall ceiling isn't going to help with the situation, a plywood ceiling can be worth considering. The warmth of the wood paired with darker or lighter ceiling beams can often be a recipe for success. You can then finish the look with a stain of your choice and enjoy a new level of cosiness that simple drywall cannot always achieve.
Shelving and Storage
Shelving and storage can often be expensive, and many homeowners find themselves blowing their renovation budgets on cupboards, wardrobes, and bookshelves featuring robust but expensive materials.
While there's no denying that many storage and shelving materials are worth the money, plywood often gets overlooked. This material is strong, modern, and inexpensive, and there's no reason it can't be used for wall shelving, hallway closets, living room dividers, and much more. You can choose the grain and stain you prefer to suit the style of your home and enlist the services of an architect and joiner to create something extraordinary.
Flooring
Flooring materials like traditional timber, tiles, and carpet can often be expensive, and you might be eager to save money and achieve an out-of-the-ordinary finish in your home. In that case, plywood can be a material worth considering.
While some preparation can be required, you might be able to achieve warmth and a point of difference in your home by installing plywood sheets as flooring or even other engineered wood panel products like oriented strand board. Once in place, they can be sanded and finished with polyurethane to create a protective barrier.
There can be many benefits associated with such flooring materials, such as being inexpensive to replace at a later date and giving you the flexibility and freedom to add colour and warmth through rugs and accessories.
Furniture
If you've blown your budget on building your house, you might be worried about how to afford furniture you love and that will tie in with the aesthetics of your home. While plywood is an ideal material for walls and ceilings, it can also be helpful for building furniture.
Chairs, tables, entertainment units, bookcases, and even beds can be put together using plywood and a small amount of creativity. You might even find helpful guides on the internet for creating plywood furniture without experience, potentially saving you even more money.
There can be such a thing as too much plywood in a home, but if you haven't decided to use plywood ceilings, floors, and cabinetry in the same space, plywood furniture can stand out for all the right reasons.
Outdoor Products
After using plywood throughout your home, you're bound to have leftover offcuts and full sheets that you want to put to good use. Consider creating some outdoor products that can work in harmony with your new landscaping.
You might put together birdhouses with plywood that you finish with an outdoor coating to weatherproof them, or even planter boxes for the upcoming growing season. Some people even build garden houses, tool sheds, potting benches, and playgrounds for the kids out of plywood. This material is undoubtedly more versatile than you first thought.
Plywood is certainly not many people's first choice when they think about building their dream home, especially since it's considered by many as a waste wood product. However, alongside being easy to waterproof, it's a lightweight, strong, and inexpensive building material that can often prove more useful in the average home build than many people think.