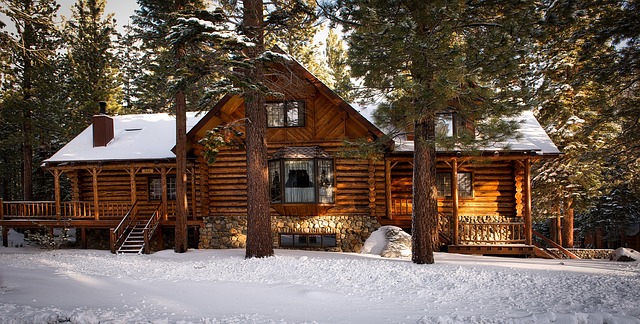 URL: https://pixabay.com/photos/log-cabin-house-home-rural-rustic-1594361/
A log cabin can be built anywhere you like, including a secluded place or in the woods, meaning the possibilities of where to stay are limitless. Their rustic appeal makes them aesthetically pleasing. Unlike traditional houses, log cabins are more energy efficient. However, some cabin building errors may result in a failed project, disappointments, and financial losses. Discussed below are six mistakes to avoid when building a cabin.
Building the cabin yourself
Cabin construction is a complicated process that needs the right expertise and experience. While you may be tempted to DIY the project to save some money, the outcome might not meet the local building code and your expectations. Constructing the cabin yourself requires you to take complete control of the project, which can be demanding and time-consuming. Hiring custom cabin builders can help turn your dream cabin into a reality. They have the skills and industry experience to help you build a cabin suitable for your lifestyle and needs.
Since professional builders are familiar with local laws and regulations, they'll ensure the cabin is constructed to code to avoid any legal concerns. They'll oversee, manage, and coordinate your project while ascertaining that your costs stay within budget. Since professional cabin builders have been in the field for a long time, they can negotiate with subcontractors to get you the lowest bids and best rates. They'll also ensure the cabin project's result meets your expectations.
Choosing the wrong cabin floor plan
Selecting the wrong cabin floor plan implies that the outcome won't meet your unique needs and might not be comfortable or efficient. Finding the right cabin floor plan is overwhelming because there are limitless options and configurations to select from. To pick the correct floor plan for your cabin, consider the following:
Lifestyle: It directly impacts your floor plan choice. When choosing a cabin floor plan, consider whether you like hosting, have young kids, or love spending your time outdoors or indoors. For instance, if you enjoy hosting, an open floor plan could be the best for your lifestyle
Part-time or year-round living: Less storage and living space would be perfect if you'll use the cabin for part-time living. The best floor plan should facilitate how you wish to spend your time. For year-round cabin living, go for a floor plan with sufficient storage, comfort and suitable for your functions
Location: Choose your cabin floor plan depending on whether you reside in cold or warm climates
Ignoring cabin building codes
Building code violations can land you in legal trouble and may even result in your project getting demolished. As such, it's important to understand building codes before building or selecting the plot of land upon which you intend to construct the cabin. Building codes usually specify the lowest construction standards your cabin construction should meet. They safeguard the safety and health of the public and anyone occupying the cabin.
Since local government authorities are responsible for issuing building permits, building codes are also meant to protect them from liability. They impose stringent codes to ensure that every building is safely constructed and meets minimum standards. Before building your cabin, research local building codes and reach out to the planning department for advice on the cabin you intend to build. Apply for a building permit to ensure your cabin meets all the local building and zoning codes.
Failing to select the right location
Building your cabin in the wrong location can harm your anticipated experience. Besides the peace you're looking for, you should prioritize the site's legality and practicality. While personal preference directs you to an ideal cabin building location, there are other factors to consider, including:
Purpose: The reason you're building the cabin is key to finding the perfect location because different areas have different features. You can find locations ideal for quiet getaways, and if you're a thrill seeker, there are cabin locations near adventure sites, like ski slopes. You can also find places accessible to outdoor activities like hiking and fishing
Land type: What you intend to use the land for is another key consideration. Is the location exclusively for a cabin, or would you like to grow crops or cultivate a garden? If you want a source of timber or trees, find a good woodland location
Accessibility: The best cabin location should have access to local amenities and roads
View: The primary purpose of constructing a cabin is to have a place to unwind and rejuvenate. So, pick an area with the natural beauty around it
Working without a budget
Without a budget, your cabin building costs can get out of control and even leave you in debt. Developing a realistic budget before building a cabin is important as it enables you to forecast expenses accurately while adequately managing your expectations. A comprehensive budget should include all the costs related to the cabin construction, including land costs, builder charges, and site costs (land preparation expenses).
Factor in taxes, government approval fees, and the cabin's interior furnishings and décor. Budget for surprise/ unexpected expenses to ensure nothing gets in the way of your project's timely completion.
Failure to plan your cabin construction
When building a cabin, most problems experienced at the site are associated with poor building plan documentation. A great cabin plan could be the difference between a seamless cabin building process/ delays, cost blowouts, and variations. Before building your cabin, ensure you have a good construction plan for the project to run smoothly.
Endnote
Cabin construction errors can negatively impact your project's outcome and anticipations. Avoid these building mistakes to ensure your dream cabin comes to life.