Posted on 14th June 2018
The future of housebuilding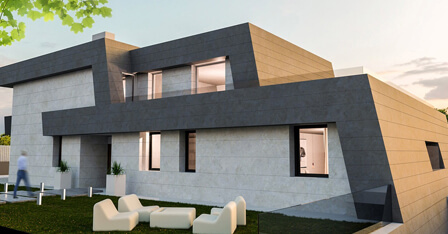 The future of housebuilding: where will we be living in 30 years?
An ageing population, increased demand and changes in the way we live in our homes will all dramatically change the face of housebuilding. Here we look at the key trends set to shape the industry over the next 30 years.
Houses will become more environmentally friendly
Housebuilders are starting to react to the need for more sustainable building practices: 31% of house builders are already constructing over 60% of their projects to green standards, according to a recent report. And of those that aren't, half expect to be doing so by 2020.
It couldn't come soon enough. Shockingly, 45% of the UK's emissions are produced by man-made structures and 32% of landfill is produced by construction and demolition.
We're seeing a rise in houses that use almost no energy at all. More than just being sustainable or eco-friendly, a passivhaus (German for 'passive house') leaves almost no negative impact on the planet. To achieve passivhaus status, buildings need to meet rigorous regulations and standards. There are currently 30,000 worldwide, some of which have been built in the UK.
Outstanding design and carefully selected materials are key to creating more environmentally friendly homes. Triple-glazed, thermally efficient glass features heavily, as it regulates temperatures inside the building. Natural materials such as timber, stone and brick are also ideal as they all retain heat well, and can often be sourced locally with a low carbon footprint.
Builders are also looking to use more sustainable components for projects, consolidating their suppliers, and choosing items that are made of recycled goods to further reduce the impact of house-building on the environment.
Design will reflect shifting demographics
Demographics are shifting in the UK, with a record-breaking one in four people aged 20-34 now living with their parents. The population is also getting older with 18% aged 65 and over – many of whom rely on their offspring for care in later life.
To account for this shift in family dynamics, houses will need to accommodate multi-generational occupation.
There are also more of us than ever, with over 65.6 million people living in the UK. It's vital that future residential building projects think about the increased demand for housing in urban, densely populated areas. We'll see more homes that have smaller footprints and reach upwards, with roofs and balcony spaces providing outdoor space.
The focus on 'micro-living' will see architects tasked with finding creative ways to make the most of small space. In Hong Kong, home to some of the world's most expensive housing, one firm has come up with an innovative solution: they've turned concrete water pipes into unique modular housing developments.
Communal living developments may continue to rise in popularity, particularly in cities. Perfect for young professionals, you can book a private room to sleep and share communal spaces with fellow residents. Bills, council tax and even cleaning are included in one payment.
The setup is flexible – you can stay for as long or as little time as you like. Some even have community events going on such as workshops, BBQs and parties, ideal for people who have just arrived in a new city.
Smart technology to change the way we live
By 2050, technology will transform our homes and how we live in them. Electric cars are likely to become commonplace – we may see every home with its own charging station. We'll also see a conscious movement away from fossil fuels and homes designed to collect and store energy to generate electricity.
Energy efficiency is to remain a priority. Responsive heating and cooling systems that respond automatically to changes in temperature are to become more necessary as weather patterns become increasingly erratic due to climate change.
Smart technology could also help to support care needs for vulnerable occupants. By tracking health and activity, smart homes could remind residents to take medication, alert agencies or family if they fall, or give warnings of an overflowing bath.
We can look forward to the automation of everyday chores. Instead of standard letter boxes, smart delivery boxes will receive packages securely when there is no one at the property. Food can be automatically ordered when stock is running low in the fridge and cupboards. We'll also see a rise in voice command technology.
Changes to the way we live in and use homes are set to shape how they are built. We require future homes to be flexible, environmentally considerate and designed with smart technology in mind. It's an exciting challenge for architects, and we're already starting to see innovative designs emerge as a result.
Author:
Thomas Moore
Graphic & Web Designer, Commercial