Posted on 15th August 2023
Your Expert Guide to Dumping the Debris – What You Can Put in Your Skip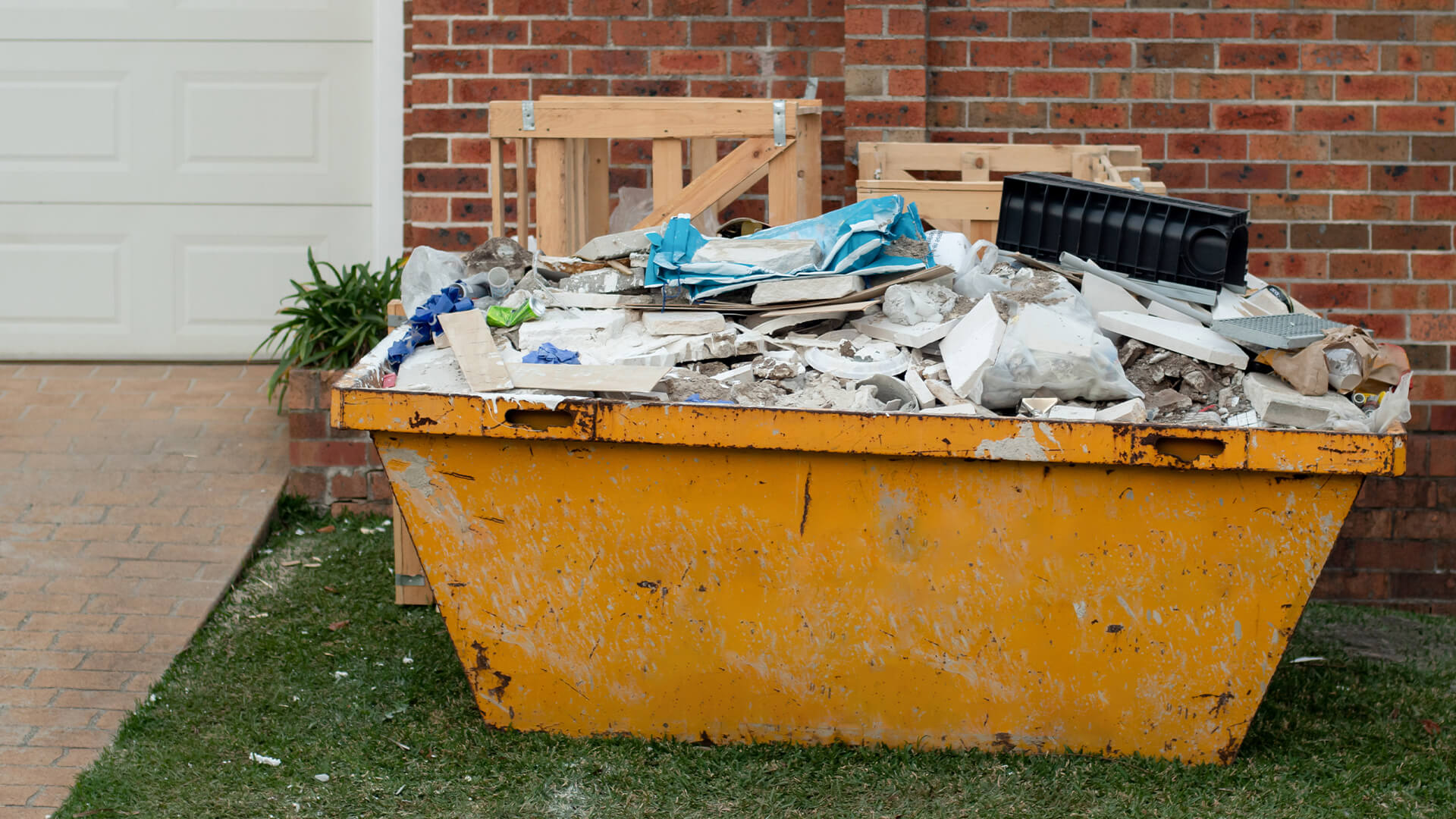 With rising mortgage prices, 10% of us homeowners have actually changed our minds of wanting to move, looking instead to remortgage and renovate instead.
The sign of a 4-yard skip outside our neighbours' house means redecorations and renovations are under way, and that they will be sticking around for that bit longer.
Scott Hawthorne, Managing Director at Skips & Bins, waste management experts, said: "Renovating your home takes a lot of effort and finding ways of disposing of the waste shouldn't be the most difficult part. Your energy needs to be focused on the important work you are doing, not what is left over."
What can go in my skip
Living room
If you are redoing your living room, there are a host of items which can best be disposed of through your skip. One large item which you will find across your house, but you might not have thought of, is your carpet. This cannot go in your household waste.
However, a skip is the perfect solution for your carpet, ensuring a licensed waste management team handle this bulky item. You can roll it up whole or cut it into pieces when disposing of this item – depending on how you have managed to get it out of your room.
Other items include your furniture. Whether it is the old sofa which has been sagging in the middle two cushions for the past decade, or the television stand which is too small for your flatscreen, wooden and fabric items such as these can be disposed of in your skip.
You might want to separate your sofa into smaller pieces to help you get this out of your home and into your skip.
Bedroom
Again, carpet and furniture here can be disposed of in your skip. You don't want your old make-up-stained carpet blocking the hallway as you are trying to assemble a new wardrobe, do you? So moving this out as soon as possible is a must to keep your home hazard-free.
Another good item to put into your skip is the old mattress you have been looking to get rid of for years. Investing in a new mattress can give you a great night's sleep and what is a better piece of mind than knowing your old mattress isn't stuffed into your garage until you find some other place to put it?
However, your used electrics shouldn't be placed into the skip. Instead, if they are in working condition you can consider donating them to a charity or a family friend.
If they are unusable then some manufacturers have recycling scheme for their old products which you can opt into.
Kitchen
Your kitchen is a haven and for all the foodies, it is the place you spend most of your time. So making sure this place is looking the way you want it is key. It can be a daunting task, with many being worried about the size of the units and even the gas appliances.
But your units can be placed into your skip. Whether you or a professional are starting to tear these apart, these can be broken down into smaller pieces or ever kept in whole sections and placed into your skip.
Gas items can also be safely placed into your skip, but make sure to check that the main gas line is off before you try to start removing that heavy hob!
Bathroom
So you have decided to spruce up your bathroom and get a whole new suite put in, but you don't know where to put the old bathroom set?
Well, your ceramics such as the toilet, toilet seat, bathtub, old showers, and wash basins can all be put into your skip. You can also put the old bathroom wall tiles into the skip too – making for a hassle-free clean up.
With the old suite removed, you can renovate the space exactly how you want it. From adding a shower where there wasn't one before or installing a high-tech toilet with multiple cleaning functions – the bathroom should be a relaxing space which truly reflects who you are.
Garden
Old garden furniture can also be disposed of in your skip hire. If you have a rusting bench, old and unused bikes, or a swing set which is getting no use then it might be time to get rid of these.
By opening up the space in your garden from these additional pieces, you can focus on brightening the space and even adding some more flower beds to really spruce up the space.
What can I dispose of elsewhere
There are many items from the home that you can dispose of elsewhere, however. You want to keep your skip space for the important waste and so items such as paper and cardboard should be placed in your recycling bin.
One thing you shouldn't be putting into your skip is paint, or paint cans which aren't empty. Not only can you store the paint for use later down the line (including those important touch-ups), but it can also be problematic for removing the rest of your waste.
Instead, consider sharing unwanted paint with local community groups who might need some additional supplies or if there is only a little bit, you can brush this onto paper or cardboard and leave to dry. Once dry, place this with your usual household 240 litre bin.
Furniture which isn't broken beyond repair can be given to charity shops looking to sell used furniture. Or if you are looking for a new DIY hobby then why not consider upholstering old pieces of furniture and selling them on – making you a pretty penny too.
Renovating your home is a busy job. And whether you have just bought your first home to do up or you are having a renovation to your dream home, finding a place to remove your waste to is crucial.
You don't want to be tripping over or blocking your path with dirty carpet, old furniture, or broken down units.