Posted on 9th February 2023
Top 7 Amazing Ideas For Upgrading Your Patio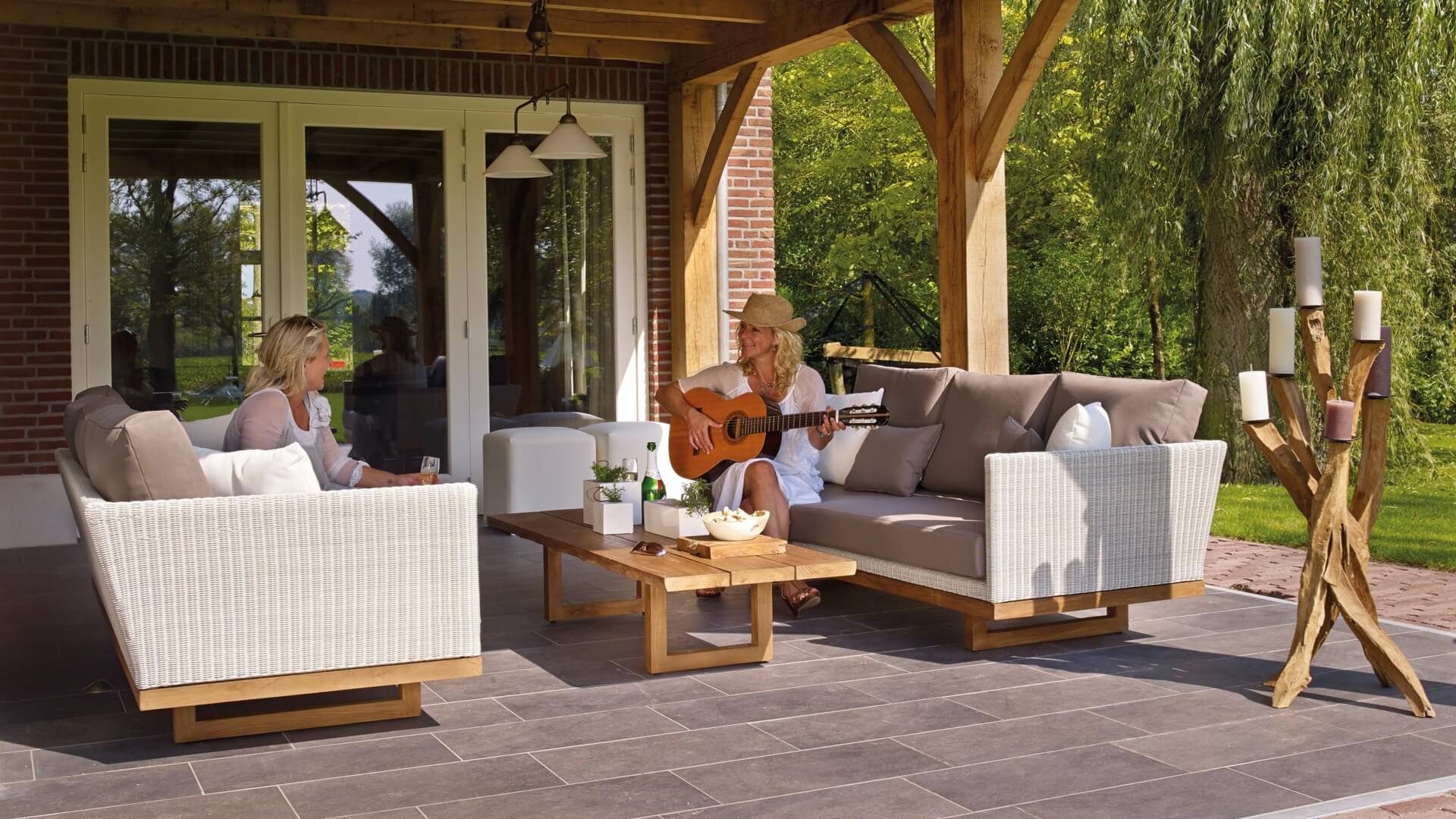 Who says that you can enjoy your outdoor space only during spring and summertime? I mean, of course, that it's much more comfortable to sit outside when the sun is shining, however, with one blanket and a few pillows, you can curl up and enjoy cold weather as well!
On the flip side, if you're not in the mood for it, then that's fine as well. But then you can use your free time to spice things up a little bit (referring to your patio) by implementing some refreshing ideas.
If you agree with us, yet you're not sure what needs to be done, then don't worry. With a little bit of creativity and advice from experts (us of course), you will completely transform your patio. So let's uncover these great tips below!
First, Let's Do Some Cleaning!
You cannot focus on enhancing your outdoor space if it's not properly cleaned. Bear in mind that just like any other space, it also requires some tidying up. If you have a stone patio, wood deck, cement patio, or any other hard surface, then you should definitely opt for some good pressure washing.
You'll see how something that's simple as this can make a huge difference in the appearance of your outdoor space. When it comes to wood decks, you will most likely have to reseal the wood once you're done with pressure washing.
Although this may be a bit time-consuming (don't worry, it's not going to take forever), it is still something that's relatively simple to do. By far the least demanding outdoor space of all is a cement patio. If you want it to sparkle, then pressure washing will get the job done!
While you're still outside, you should take some time to trim your plants. Getting rid of dead limbs will definitely encourage new growth and will ensure your plants look lovely and healthy. For dirt regions, you can purchase some affordable plastic borders or rocks to develop neat areas for pathways. 
Achieve Serenity With Outdoor Fountains
I know that no place can calm you down like the space you live in. However, if you would like to take this sensation to a higher level, then we would most definitely recommend you purchase a lovely outdoor fountain.
Over the past couple of years, outdoor fountains have become insanely popular. Why is that? According to aesthetes at OutdoorFountainPros.com, that's because they offer a focal point to any outdoor space, including a patio, and without a doubt add beauty to these areas. That's precisely one of the main reasons why they are a great addition to every property.
Hello Plants!
A patio without plants is like a woman without jewellery. Now, that doesn't mean that a woman is not beautiful without it, but it's just that with a piece of breath-taking jewellery, she looks way more radiant and elegant.
Therefore, if you want your patio to be more inviting, then you should definitely bring in some wonderful plants. Their main role will be to refresh this space and turn it into a peaceful oasis that will make you feel like you live in a secluded, quiet place.
So what is the best choice for these purposes? For starters, you can employ ornate container gardens and patio planter pockets. One of the main advantages of adding plants to your patio is the fact that they will successfully hide any physical flaw that your patio has, meaning that you won't be forced to replace it every now and then.
A Weather-Proof Furniture Is A Must!
Of course, this segment is not intended for homeowners whose patio is enclosed. If that's not the case, then keep reading. Keep in mind that if you do not have water-proof furniture (plus your outdoor area properly protected from various weather conditions, then your furniture will quickly be destroyed.
Therefore, you have two options at your disposal. You can either completely enclose your patio, or you can opt for water-proof furniture. If the second suggestion seems like a better option, then make sure to obtain wicker furniture or wrought iron.
Create Splashes Of Color
If you're in the mood to fully alter your patio, then you have to be inventive and add some splashes of colour and turn your outdoor space into something that exudes liveliness. And don't worry, this isn't as complicated as it may appear to be at first glance.
For starters, you can do something simple like putting painted wood panels on the walls. However, if this idea seems too plain to you, then you can spruce things up by painting the patio with a durable option. 
Apart from all of this, you can also refresh your raised garden beds by using some of your favorite colors. If you ask us, we would personally opt for something that's bold and dramatic, like red, orange, green, etc. You get the gist.
For Hot Summer Days – Outdoor Curtains
Yes, we do know that it's still early to think about summer (but is it ever too early for that?), however, a great idea just crossed our minds and we couldn't resist sharing it with you. Namely, one of the best ways to glam up your outdoor space and, at the same time, add some shade (which is going to be necessary once the sun decides to burn our skin with its rays), is by obtaining outdoor curtains.
Not only will they be able to successfully block the sun, but they will also provide you with privacy and keep the noisy neighbours at bay. 
Ready To Warm Things Up?
We wouldn't be able to properly finish this article without mentioning something that's useful during winter time. On these cold, chilly days, one of the best ways to warm yourself up (and anyone else who loves to sit outside) is by putting blankets on chairs. This way, you'll be able to spend some time on your patio without worrying that you'll freeze to death.
One of the best ways to relax and chill is by spending some time outside, however, if your patio doesn't look nice, you won't be able to fully enjoy it. So be sure to incorporate some of the aforementioned tips, and you'll immediately notice the difference.