Posted on 6th April 2022
Tips on Building the Best Exhibition Display For Your Business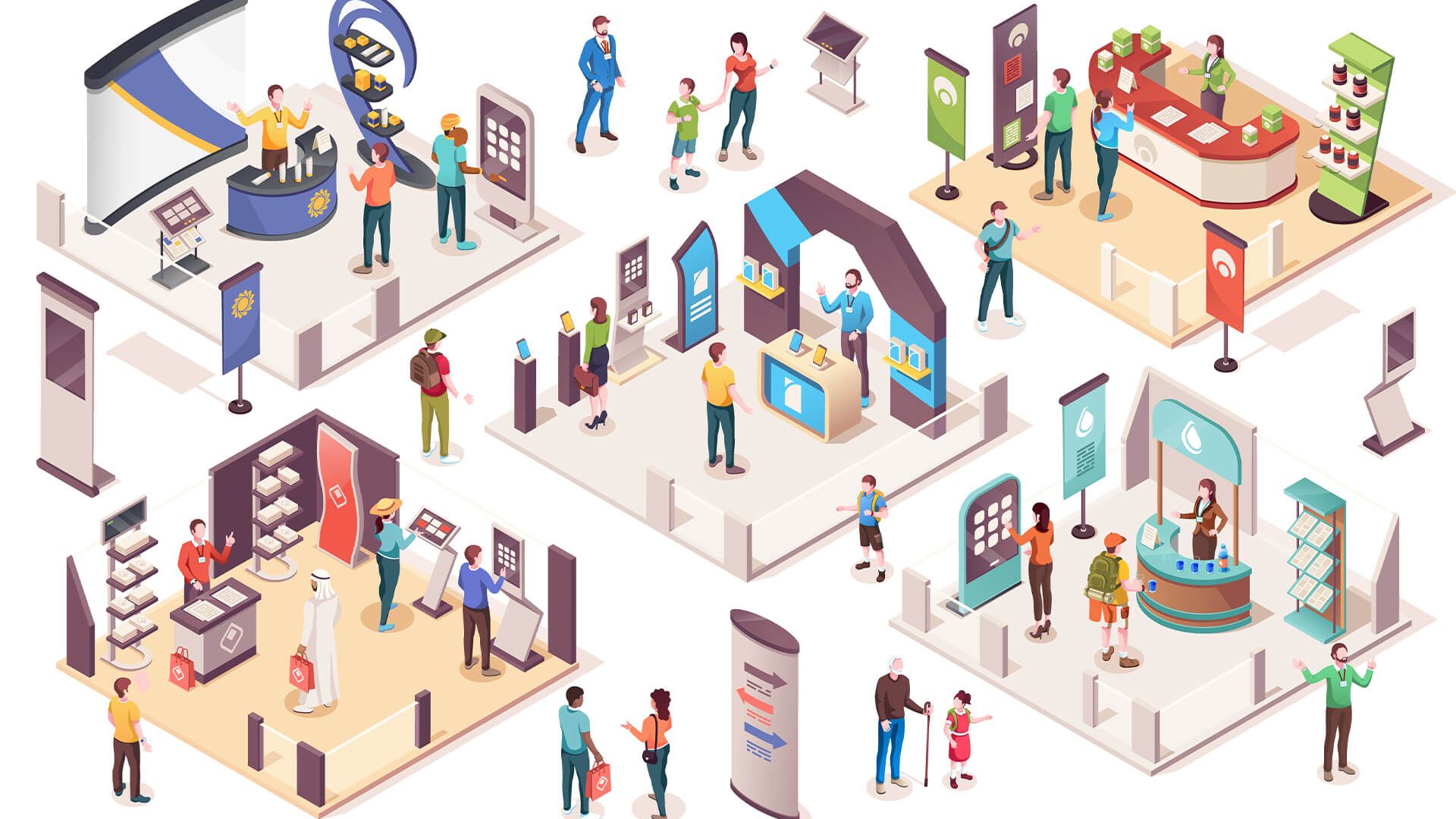 Exhibition stand materials and design are inseparable. While certain materials are more durable than others, refurbishing them might be more expensive or complicated than it was the first time.
Consider your long-term aims and whether or not you want to keep the very same booth and store it or create a new one for each event. It would be best if you thought about how you want prospective customers to feel whenever they see or are in the stand and how this might assist you in reaching your desired results.
Budget constraints will restrict your booth design alternatives, but you can do so much more if your budget is flexible or extensive. You can click here to consult specialists to find out what your options are.
It's essential to be realistic about your budget and be as precise as possible. Take a quick dive into some of the ideas we have for you;
1. Flooring materials
The sort of flooring you employ depends on several factors, including your budget and the type of aesthetic you're going for and how visitors are likely to feel when they're in your exhibit.
The tiles are installed with double-sided tape firmly on the arena. Logos can be printed on the carpeting to match your corporate colours if you're looking for a fully integrated booth. Custom printed carpets are one-off and have a high initial outlay.
For a more luxurious effect, melamine flooring may be used in the shape of raised flooring.
2. Construct a well-coloured exhibit area
White is the most common colour. However, black and grey are other options.
However, because of the enormous demand for white, it is the most cost-effective colour.
Other distinctive colours like blue, yellow, and red can also be used to match your brand's colours, but their availability means they may not precisely match your brand's colours.
3. Structure of the Booth
The structure will account for most of your booth's cost because it will be the primary location for creating spaces, architectural elements, product displays and storage etc., above the floor.
MDF, made of wood, is the most widely used material. While working with MDF is a breeze, it's important to note that the raw material is rarely utilized as a completed surface. Therefore it will nearly always be painted or coated with vinyl graphics.
With its solid structural capabilities and natural wood finish, plywood is a more durable and long-lasting option for a raw finish than most other materials.
You may use solid wood as the architectural aspect of your booth or as an exposed structural part. It's possible to achieve the look of a high-end product without spending a lot of money if you use vinyl. It's expensive to use hardwood, but it's worth it because it has a high-quality, professional finish.
4. Consider your metals
As bare exposed architectural components like posts, aluminium is a fantastic structural material because of its low weight. Furthermore, its robust construction is frequently employed as a structural reinforcing material for wooden structures.
Steel is robust, but it also tends to be somewhat heavy. Steel's galvanization or powder coating is required if it is exposed to the elements for long periods.
Consider mirrors for cladding surfaces in both indoor and external areas, making a room appear larger and more visually appealing.
5. Finishing products
When it comes to the framework of your booth, you can choose from MDF, laminates, roll painted, or vinyl-wrapped options.
If done proper, raw may be considered inexpensive and fashionable because it eliminates the need for any additional finishing on your construction.
As a finish for your booth's structure and architectural components, roll painting is the most popular, most cost-effective, and most adaptable option. If you're planning on reusing your booth, this is an excellent alternative because the paint can be sanded down and redone to appear brand new.
Because of the thin layer of hard-wearing substance and smooth finish, laminated surfaces are far more resistant to wear and tear than roll-painted surfaces.
6. Branding design
Your guests will be able to recognize you based on your signs, and you want to distinguish yourself from the competition.
In terms of display signs, there are a broad variety of materials to choose from, each with its advantages and disadvantages. Vinyl Graphics are a great option if you have a lot of wall space.
When it comes to the design, you have complete control over the artwork, which is printed onto vinyl rolls and then professionally put on your walls. The most common usage of Vinyl Cut Lettering is for logos and other writing.
It's possible to save money on your booth's signage by painting the wall roll and then applying VCL on top of it. This is a simple solution that performs the job without any fancy effects.
Conclusion
You must inform your booth designer upfront about any unique materials or goals you have for your exhibit before construction begins.
You need to make the most of your company's time, money, and effort invested in exhibiting at an event. You'll be better able to implement your exhibition ideas if you do your homework and prepare meticulously
Keep in mind that a well-run event with a decent return on investment necessitates meticulous attention to detail and thorough preparation and searching for the newest exhibition stand design ideas
Work on a precise strategy that will draw people into your booth and leave a lasting impact on those who see it