Posted on 5th May 2016
The Specialist Series: Ground Engineering – The Abbey Pynford Group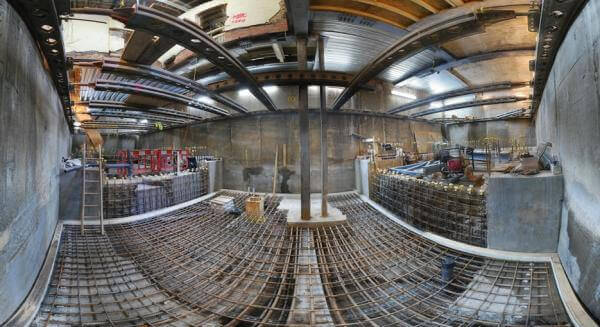 Abbey Pynford Geo Structures was created in 2012 to give independence to two of the Group's divisions: Basement Engineering Specialists and Underpinning and Geo Structures. We invited Nicola Pinkstone to provide us with a unique overview of the group and the techniques it employs to achieve industry leading success.
The Abbey Pynford Group began operations in 1988 as Abbey Foundations, with the activities of Pynford incorporated in 1991. Since inception Abbey Pynford has been established as a benchmark for excellence within the ground engineering industry with a reputation for outstanding quality and service renowned throughout the South East.
Drawing on the collective experience of our highly skilled team of engineers and the experience as well as techniques developed over 26 years of design and build foundation works; Abbey Pynford Geo Structures was established in 2012 to provide innovative solutions to all ground engineering challenges in the built environment.
The skills within our Basement Engineering Specialists and Underpinning and Geo Structures units have successfully merged since the creation of Abbey Pynford Geo Structures to become a recognised market leader in the foundation and complex geostructural engineering sector with the full spectrum of engineering solutions offered from multi storey retro-fit basements through lifting and moving buildings to piled or excavated underpinning. With build only or design and build capabilities several business adjacencies have been established in the design consultancy market including concept design, basement impact assessments and party wall checking engineer services.
Significant changes have occurred since the unit's creation in 2012, most notably in planning regulations especially in London as well as Health and Safety particularly in relation to CDM 15. In order to adapt to these changes we have always sought to align our business with those external factors that have substantial influence upon our market and remain active throughout the industry to achieve this.
Alongside adapting our own business, we also contributed to the consultations on drafting the changed CDM and Planning regulations and during these processes adapted ourselves accordingly as well as educating our supply/ client chain. Overall the changes we have seen lead to improved competitiveness for us as those external factors are intended to improve construction impact and this has always been part of our core principals.
Our approach to client services is to engage with the whole client team to develop a clear and complete understanding of the stakeholder requirements whilst also developing positive and open working relationships. We undertake an extensive project review modelling the construction process to identify the best bespoke solution to each circumstance. With a full time Health and Safety Team as well as an in-house design department of chartered structural and civil engineers, Certified Surveyors or Structural Waterproofing as well as Geologists and a Geotechnical engineers, we are able to develop concept designs to ensure our proposals are realisable with as efficient as possible design and build processes. Our aim is to avoid all unnecessary delays or confusion on site during the pre-construction phase and will only progress to contract phase where we know the project can be delivered in a safe and efficient manner.
Looking ahead, the coming year will be an exciting one for us, with many of our achievements in the past 18 months leading us to projects that shall enable us to repeat our methods and innovations on larger more complex scales; these projects include lifting and moving a building, construction of a very large basement using resin stabilisation and injection techniques through 4m of saturated sands and gravels as well as a new piling technique that we have developed with zero spoil away.
Ultimately our future aspirations are to continue the development of our team and become the best at what we do. To do this we shall increase our investment in staff training and continue to work with our associates to undertake complex and demanding projects that exercise all our abilities. We are currently in the process of publishing a suite of instructional H S videos filmed with our staff and a digitalised H S system linking sites directly to the office for documents and information. All of these projects and plans will provide us with exhilarating opportunities which we look forward to taking advantage of.
Company: Abbey Pynford Geo Structures Ltd
Email: [email protected]
Web Address: www.apgeos.co.uk
Address: IMEX, 1st Floor West Wing,
575-599 Maxted Road, Hemel Hempstead,
Hertfordshire, HP2 7DX
Telephone: 01442 212 112