Posted on 23rd May 2023
The NHS is Going Green with Commercial Heat Pumps for Their Buildings, Leading the Way in Decarbonisation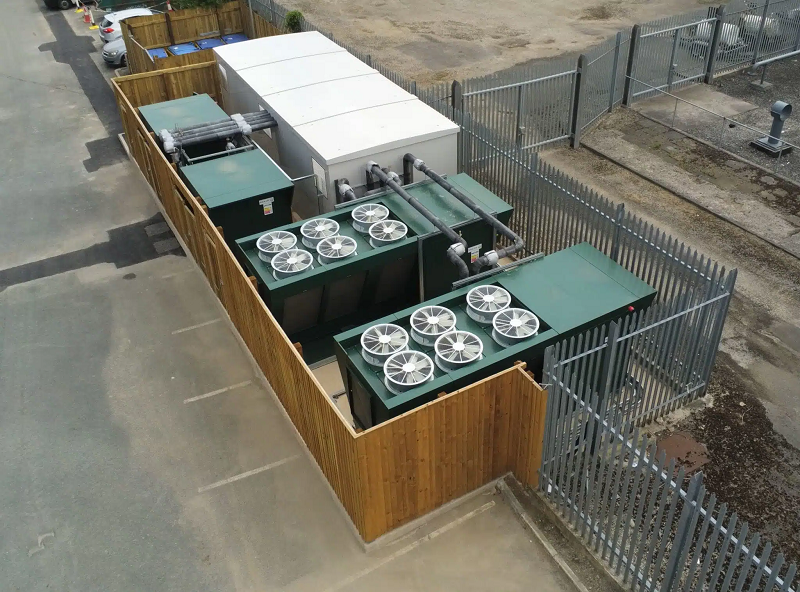 The NHS needs a substantial amount of heat and hot water to keep patients healthy. Commercial heat pumps are the only technology that can easily scale, is available and is a reasonable, low carbon heat generation option.
Natural refrigerant heat pumps provide a very efficient and sustainable heating solution. CO2 heat pumps can produce temperatures that are appropriate for hospitals where cleanliness and hygiene are critical.
The NHS has a sound track record of being an environmentally responsible organisation. Many NHS facilities have taken steps towards sustainability through a variety of measures, such as reducing carbon emissions and increasing recycling rates.
To support greener sources, financial support from the Phase 2 Public Sector Decarbonisation Scheme is bringing the heat pumps to NHS facilities.
Let's look at the NHS steps towards decarbonisation across all hospitals.
Introduction to commercial heat pumps as a green solution
Commercial heat pumps are an excellent option for hospital facilities, as they combine the benefits of heating and cooling in one system. Heat pumps can provide both hot water for hospitals or space heating for offices and other facilities, meaning that there's less need for separate boilers.
Air source heat pumps can draw heat from the environment even if temperatures get freezing. It passes extracted heat from the environment into the interior and warms the building.
Ground-source heat pumps are powered by heat from the ground through pipes. The pipes, made of either plastic or copper, are filled with antifreeze and water, which is sent around the pipes to draw heat from the ground.
The NHS has set a goal of achieving net-zero carbon emissions by the year 2040. This will require further investment in green technology to reduce energy consumption and lower operational costs.
Installing a heat pump in NHS hospitals will:
Help reduce energy bills, -Improve local air quality, and,-Transitioning away from dependence on fossil fuel imports can help increase energy security.
Tim Rook – Chartered Engineer at Clade Engineering, explains the processes involved behind the NHS installing heat pumps:
"Heat pumps are the only scalable, available and viable low carbon heat generation technology. In particular natural refrigerant heat pumps – r290 heat pumps and CO2 – offer a very low carbon sustainable heating option. CO2 heat pumps can generate very high temperatures suitable for hospitals where cleanliness and hygiene are of vital importance."
Heat pumps can reduce energy use and cost by transferring heat from a lower temperature to a higher one (like the air). This means that less energy is required to keep the building at a comfortable and dependable temperature.
This has positive effects for the staff and patients.
Heat pump systems are essential in aiding the NHS and other organisations reach their net-zero goals. For the first time, temperatures in Britain last Summer soared above 40°C and this served as a powerful warning of the dangers of climate change. We are still in the dark about how this will affect us in the Winter months of the future.
Take a look at how heat pump technology can help to decarbonise the NHS
Implementing Commercial Heat Pumps in the NHS: Three example projects of heat pumps in NHS facilities
The North Bristol NHS Trust will reduce the carbon footprint of two buildings at Southmead Hospital in Bristol. Engineers will fit air source heat pumps in the Antenatal Clinic and its Elgar building. These will lower the amount of electricity needed while giving financial savings to the Trust.
The Humber Teaching NHS Foundation Trust has plans to make East Riding Community Hospital and the Humber Centre carbon-free. They will install air source heat pumps to provide renewable energy.
A ground source heat pump system has been fitted in St. Mary's Hospital in London to give both heating and cooling to its critical care unit. The hospital has reduced its carbon emissions by over 40% and expects to save around £1 million per year in energy costs.
Read more about the NHS decarbonisation scheme benefiting many NHS trusts with the use of commercial heat pumps and other renewable energy sources.
Challenges faced during implementation and solutions
Implementing commercial heat pumps in NHS hospitals can pose several challenges, including:
NHS hospitals often have limited space,- The initial cost of installing a commercial heat pump can be high,- The maintenance of a commercial heat pump can also be complex.
To address these challenges, the following solutions, when implemented, will allow NHS facilities to break through installation challenges.
Engineers can install the heat pump in a compact design that minimises its space requirement. Using a heat pump installed outside the hospital can save valuable indoor space.- NHS hospitals can explore financing options, such as grants or loans, to offset the initial cost of installing the commercial heat pump. As mentioned, the £635m Public Sector Decarbonisation Scheme is already helping NHS facilities.
Hospitals can partner with companies that specialise in the installation of commercial heat pumps. This ensures that the installation is done correctly, reducing the chances of breakdowns and maintenance issues.- Hospitals can implement a regular maintenance schedule to keep the heat pump functioning at optimal levels. This will help reduce downtime and prolong the lifespan of the system.
The NHS continues to show its commitment to sustainability and decarbonisation through commercial heat pumps. The significance of the NHS's leadership in adopting green technology is amplified because it is an influential organisation.
This will help to raise awareness of the benefits of commercial heat pumps and encourage other organisations to follow suit and decarbonise their facilities.