Posted on 1st February 2018
The National Homebuilding & Renovating Show returns! Claim your free tickets with BUILD Magazine!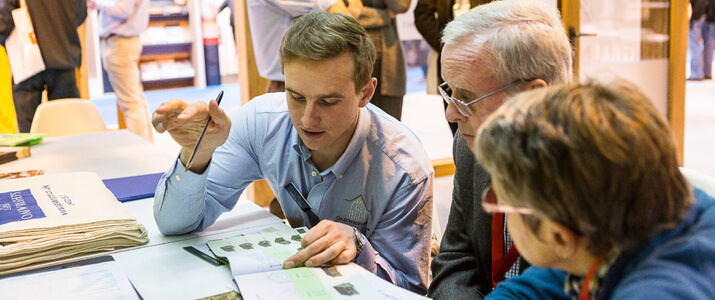 Latest figures released by the National Custom & Self Build Association reveal that 33,000 people have already signed up to the Right to Build register since October 2017, which means that at least half of the demand for serviced plots will have to be authorised by October 2019. To support more people in their desire to build homes in the region and inspire remodelling projects, The National Homebuilding & Renovating Show is returning to the NEC, Birmingham from 22-25 March 2018. Over four packed days, visitors will benefit from more than 500 exhibitors and 16 free daily seminars and masterclasses in the extended venue.
As we know that this event is very important to our readers, we have secured an exclusive offer just for you! Click HERE to take secure two free tickets to the event! Tickets using this offer must be redeemed before 3PM on the 21st March 2018, full T&Cs can be read HERE.
The event is a best-in-class marketplace for all the latest products and services provided by specialist companies in industries ranging from kitchens; bathrooms; doors and windows; heating; energy efficiency; architecture; design; financial services; planning permission and much more. Aside from providing advice and guidance, real case studies will be at the show to discuss the dilemmas they faced during their self-build/renovation experience, helping visitors with similar problems.
On site, visitors will be able to book bespoke consultations with celebrity experts who present their favourite TV property programmes. Charlie Luxton, sustainable architectural designer and presenter of Channel 4's 'Best Laid Plans', will be on-hand to discuss homes of the future, new architectural ideas and eco living. Julia Kendell, interior design expert for BBC's 'DIY SOS The Build' and ITV's '60 Minute Makeover', will also be there to meet with visitors and talk about trendy interior adaptions and offer inspiration to anyone who wants to revamp their home.
The Advice Centre, a drop-in hub for one-on-one impartial guidance, is open to people who are interested in running ideas past property specialists with years of experience in their field. This show area will see the return of the Ask the Builder zone, where visitors will be given tips on locating approved construction workers from members of the Federation of Master Builders.
Visitors who are interested in free one-on-one appointments with chartered specialists from RIBA (Royal Institute of British Architects) will want to stop by the Ask the Architect area, which will cover a wide array of topics such as extensions, new builds, internal alterations and much more.
For objective tailored advice, the Ask the Expert zone will provide 15-minute consultations via interactive sessions with some of the UK's leading property specialists. Visitors will be able to talk through their plans with Michael Holmes (director of content and product development for Homebuilding & Renovating magazine); Jason Orme (editorial director of Homebuilding & Renovating magazine; Mariana Pedroso (interior designer and architect); Hugo Tugman (chair and founder of Architect Your Home); Tim Pullen (eco-expert of Homebuilding & Renovating magazine); Bob Branscombe (building expert of Homebuilding & Renovating magazine); Allan Corfield (self-build expert of Homebuilding & Renovating magazine) and Sally Tagg (an expert on planning permission).
Across the four days, Oakwrights Design Consultation and The Potton Lounge will be offering free consultations with members of their design teams. They will help visitors envisage, create and deliver their own tailored new home from scratch. Attendees who are interested in these consultations can pre-book an appointment on the event's website.
The show app is also available for download on Android and iPhone. The app will facilitate consumers visiting the venue, having the option of scheduling and sending alerts for key seminars and masterclasses, browsing through the list of specialists available at the Advice Centre, and accessing the latest offers and travel information.
Standard tickets are £12 in advance or £18 on the door (children under 16 go free). For further information visit www.homebuildingshow.co.uk/national or call the ticket hotline on 0844 854 0503 (calls cost 7p per minute plus network extras).