Posted on 4th July 2018
Smash Stereotypes to Bits- IET launches new campaign to get more young people into STEM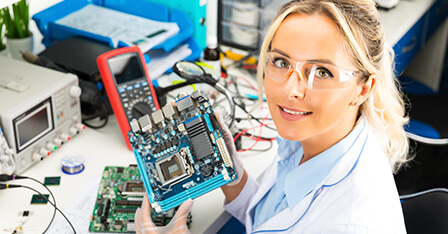 – Institution of Engineering and Technology launch new campaign designed to smash stereotypes associated with careers in STEM
– Just 26% of girls are considering a career in STEM compared to 43% of boys
– More than one in 10 girls think that STEM careers are more suited towards boys
A new campaign has been launched by the Institution of Engineering and Technology (IET) designed to 'smash stereotypes to bits' as new research suggests that there is still a disparity between boys and girls, as well as other demographic groups, considering a career in STEM.
According to the research, just 26% of girls are looking to pursue a career in STEM compared to 43% of boys, highlighting the stark difference between the sexes in this field. More than one in 10 girls surveyed say the reason they have opted against pursuing a career in this field is that they believe STEM subjects are more suited towards boys.
It isn't just girls who have fears over starting a career in STEM. Over a quarter (29%) of respondents who identified as LBGTUA (Lesbian, Bisexual, Gay, Transgender, Undefined, Asexual) opted against having a career in STEM due to worries they would be discriminated against.
With International Women in Engineering Day approaching this weekend, the IET is releasing a new video designed to smash stereotypes associated with careers in science, technology, engineering and maths.
The video features five female engineers turning the idea of a stereotypical 'pillow fight' on its head by using their skills in engineering. It aims to inspire young people to consider STEM and engineering as a career – only 12% of those surveyed said their current study of these subjects makes them want to pursue it.
The IET believes that more needs to be done to ensure that STEM is being promoted as a viable career path for everyone, a belief shared by many, with over a quarter of people (27%) surveyed for the campaign saying the responsibility lies with our teachers, and over one in 10 (14%) thinking the Government needs to step in and do more. A further 1 in 10 believe this responsibility lies with parents.
The research also looked at the things most likely to encourage young people in considering a career in STEM with the ability to work in interesting fields (34%), the large number of job opportunities available (26%) and greater earning potential (20%) coming out on top.
Dr Larissa Suzuki is one of the stars of the video and is available alongside the IET's Diversity and Inclusion Manager, Jo Foster, for interview to chat through the research and discuss the importance of making STEM a viable career option for everyone.
Jo Foster, IET Diversity and Inclusion Manager, said: 'Engineering in the UK suffers from a huge image problem. The research backs up fears that gender stereotyping within STEM careers is alive and well, potentially damaging the diversity of talent coming into the industry. This coupled with the fact that there is an estimated annual shortfall of 59,000 engineering and technicians to fill engineering roles, clearly demonstrates a need for action.
'The IET is one of the world's largest professional bodies to promote engineering to multiple audiences and we want to continue to utilise our position to raise awareness of this issue. The #SmashStereotypesToBits campaign is one of the ways in which we can achieve this by flipping stereotypes on their head and spreading the message that engineering is a cool and recognised career choice for women."
The video can be viewed here where five young women engineers have a 'pillow fight' using drones and explosives, turning the typical stereotype on its head.