Posted on 24th August 2023
Rise in Pink Kitchen and Bathroom Searches in the UK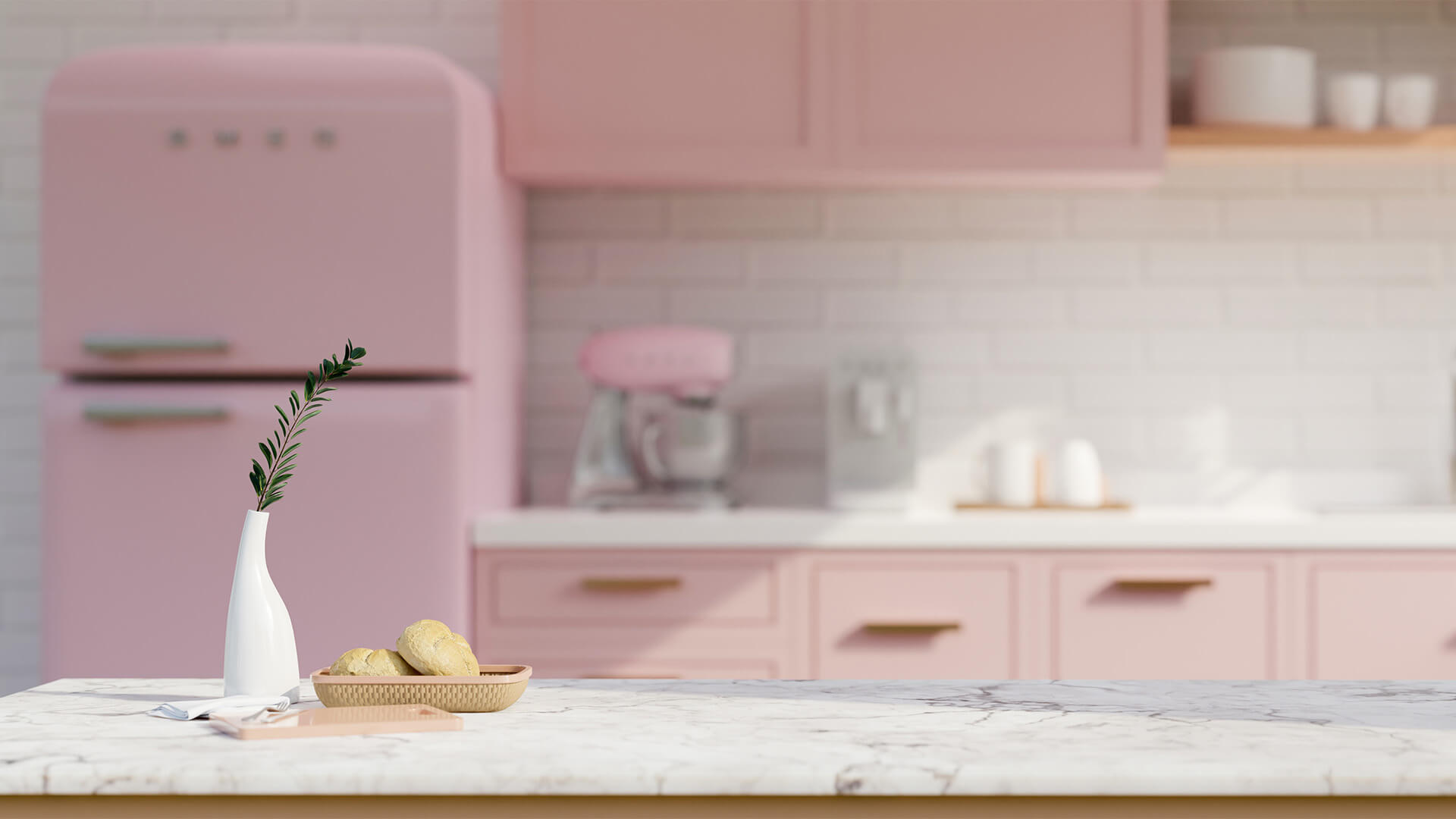 With the recent release of the new Barbie movie, the famous Barbiecore interior trend is continually increasing in popularity as everyone strives to achieve the perfect Barbie dreamhouse at home. However, it's not just this year that this trend has been increasing in popularity.
According to research by the experts at MyJobQuote.co.uk, searches for pink kitchens and bathrooms have soared over the past five years in the UK. Let's take a closer look at each of these trends.
Pink Bathrooms
Pink bathroom searches are currently over 2500 per month. Over the past five years, the 'pink bathroom' search has risen by an astounding 900% in the UK. But what is the pink bathroom trend all about?
Incorporating the colour pink in a bathroom can be challenging. However, with the right elements and toning, it can look great. It's best to opt for softer pink tones in this room, such as bubble gum or candyfloss pink. For a more dramatic and varied look, consider installing some bathroom wallpaper on the walls with floral patterns in various pink shades.
Following on from the main décor, you then want to think about the accessories and fixtures. Retro-style fixtures and accessories work well with pink, helping to inspire the nostalgia of the Barbie era. A freestanding glossy pink bathtub could look amazing in this setting, providing you have enough space – This could make the perfect focal point for the room.
Gold and brass fixtures are a go-to when it comes to pink décor. Imagine a pink bathtub paired with gold or brass taps, and you'll be picturing something straight from Barbie's dreamhouse. Lighting also plays an important role in a pink bathroom as this helps to create the right ambience in the space. In a larger bathroom, you could create the ultimate luxurious space by adding a beautiful, ornate chandelier in the centre of the room. For smaller bathrooms, choose smaller pendant lights with pink accents. Consider adding a dimmer switch so that you can adjust the lighting as desired.
When it comes to accents and smaller décor items, you want to choose fun and playful elements. Consider adding some framed pink artwork or even perhaps some framed Barbie images for the ultimate Barbiecore experience. Include some smaller, comforting accents such as fluffy pink towels, a plush rug, or decorative storage solutions filled with pink bath products.
Pink Kitchens
Pink kitchen searches have also seen a huge increase. With over 3200 monthly searches in the UK, this search term has seen a rise of around 300% in the past five years. Let's take a closer look at the pink kitchen trend.y
Pink is an incredibly versatile colour with many different shades, allowing you to achieve a range of different looks. Studies suggest that pink has a calming effect, which can work well in both the kitchen and bathroom setting.
When it comes to creating a pink kitchen, colour drenching is one of the best things you can do. This involves including various shades and tones of pink over as many surfaces as possible. If you want to go all-out with your pink kitchen, choose a bold, bright shade of pink for your kitchen walls and cabinetry. You can prevent the pink from becoming too overwhelming by pairing it with some more neutral accessories, such as a white backsplash or neutral countertop.
White marble countertops work very well in a pink kitchen and will provide that added bit of luxury. Wood tones also work very well in a pink kitchen. Consider choosing wood for the flooring, as this goes very well with pink – particularly softer shades of pink.
Similar to a pink bathroom, brass or gold fixtures work very well. When it comes to your sink, consider installing brass or gold taps for the ultimate luxurious aesthetic. Gold or brass handles on your pink kitchen cabinets can also look incredibly sleek and sophisticated.
Final Thoughts
As you can see, there are many ways in which you can embrace this rising trend in your bathroom or kitchen. The most important part of the Barbiecore trend? – Fun! Be adventurous and fun with your pink kitchen and bathroom décor ideas, and you'll soon see what works for you and what doesn't.