Posted on 27th August 2021
Remodelling Ideas to Modernise an Old-Fashioned Kitchen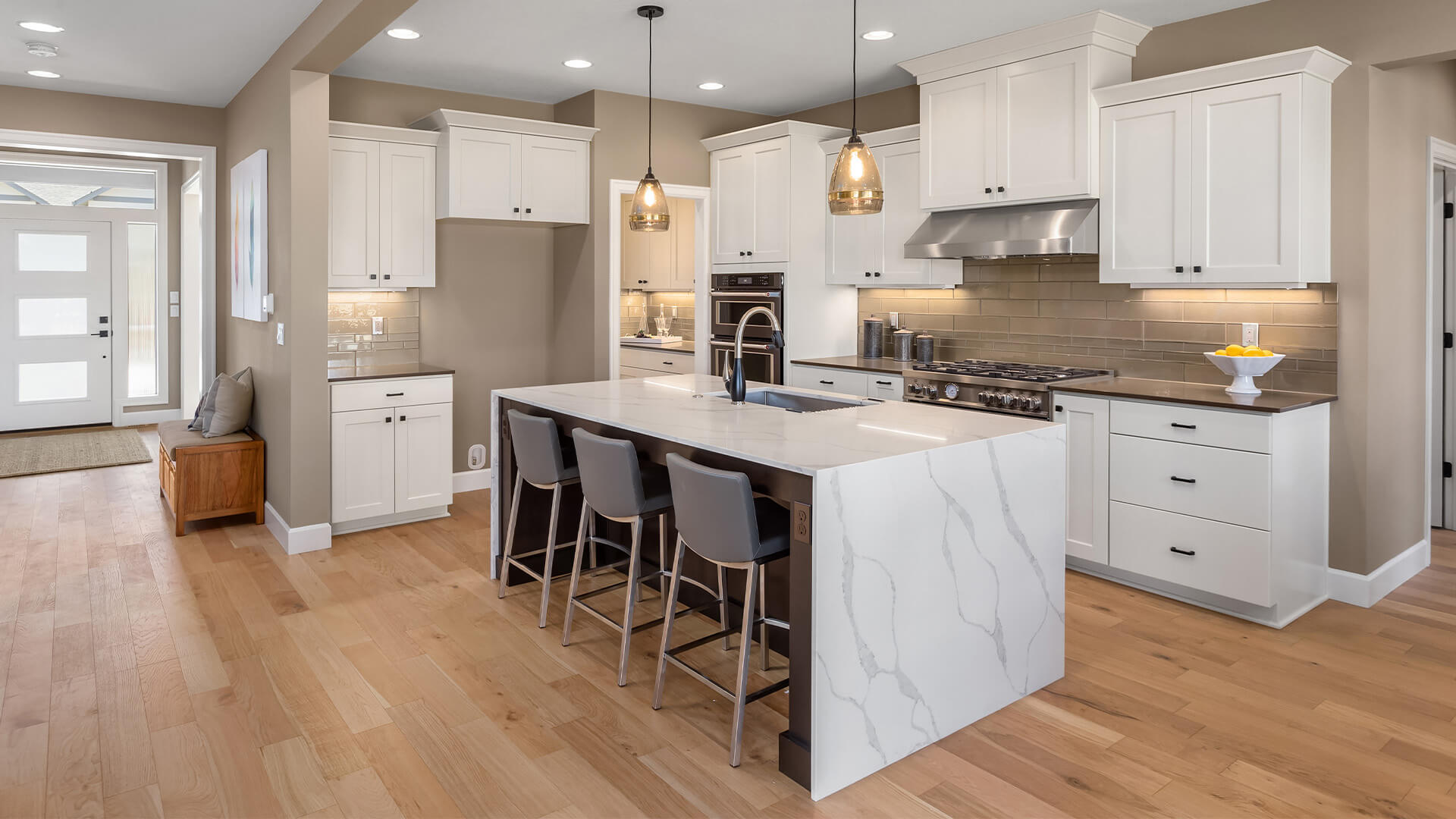 Many homeowners purchase historic houses for their charm. However, the kitchen may have outdated features, making cooking more inconvenient. Instead of buying a new home, consider remodelling to add some modern touches to your space. Here are seven renovation ideas to update your older kitchen.
1. Upgrade to Metal Hardware
Outdated kitchens are often designed with materials popular at that time, such as wood. However, many modern kitchens incorporate metals, such as aluminium and stainless steel. Consider upgrading to stainless steel appliances to give your kitchen a sleeker appearance. Along with looking trendy, they are also durable and long-lasting.
Another tip for upgrading your appliances is to select Energy Star-rated ones. This can help the environment while reducing your electricity bills. Along with your devices, add metal touches to your cabinets, lighting, and range hoods.
2.  Replace Your Flooring
Flooring helps tie the space together. So, consider replacing the original material with a more contemporary one. Ceramic tile and slate have become popular choices for kitchen flooring. Here are some more modern flooring options to consider:
Vinyl: This type of flooring comes in various styles and colours, and you can purchase it in sheets or tiles. Vinyl sheets are waterproof and stain-resistant
Porcelain tile: These tiles are both durable and aesthetically pleasing. They come in either glazed or unglazed options
Hardwood: Hardwood can create a feeling of warmth and beauty. It's also a durable and low-maintenance
Cork: This material is perfect for eco-conscious homeowners since it's made from tree bark. Although, you will need to reseal it to prevent scratches
Linoleum: It's made from renewable and biodegradable materials, like cork powder. It is also moisture-resistant but susceptible to stains
3.  Create Open Shelving
Open shelves are popular in many updated homes. To create this look, remove some of your upper cabinets. This can free up wall space for open ledges. These shelves are perfect for storing your dishes or displaying more traditional decor. Also, when having guests over, these mantles make it easy to locate and grab items. Along with convenience, open shelves make your kitchen feel larger and more inviting.
If you want to keep some of your cabinetry, consider doing some minor updates. Painting is a great way to freshen up your cupboards. Here are some popular cabinet paint colours to try out:
White
Dark grey
Navy blue
Beige
Sage green
4.  Update Your Countertops
Countertops take up a significant portion of the kitchen. Although, older homes may use more outdated materials. Consider upgrading to a stronger and more appealing one. Here are some of the different materials to choose from:
Quartz: It is similar to the look of stone but requires less maintenance. It's also a durable material that can withstand heat and stains. Although, the edges can chip over time.
Granite: Each slab of granite is unique and also heat- and scratch-resistant. If properly sealed, this material can handle most stains.
Limestone: This classic material has a natural stone appearance and resists heat. It can scratch easily, though, and some stains are tougher to remove
Laminate: If you're looking for an affordable and easy-to-install material, this is a good choice. However, cutting directly on it causes damage to the surface
Recycled glass: This material provides a fun and contemporary look. It's also heat-, stain-, and scratch-resistant. The quality can vary among different brands
5.  Design With Natural Tones
Using warmer hues and softer neutral colours is becoming the new trend. These shades can help make the space feel cosier and welcoming. Cooking can sometimes be chaotic, so having calmer tones can make you feel more relaxed.
6.  Add Additional Seating
Your kitchen is probably a space where people tend to gather. It's the perfect place for children to grab a snack while doing homework or host a dinner party with friends.
So, consider adding some more stools, seats, or benches to the space. Many modern kitchens have an island, which is a great way to incorporate extra seating. Backless metal stools in vibrant colours can provide a stylish accent.
Try adding some gold- or copper-hued light fixtures. These can create a stunning focal point among the subtle browns and greys. You can even buy copper cookware to contrast with the more subdued shades.
7.  Decorate With New Lighting
A well lit-room can make the space feel more open and inviting. Also, proper lighting is essential for cooking meals. Adding new light fixtures can even enhance your more classic design styles.
Install a dimmer switch to create the perfect ambience while conserving energy. Also, pendant lighting, under-cabinet lighting, and chandeliers are becoming more popular lighting choices. If you're going for a more glamorous look, try combining white and gold hues.
Here are some more ideas to upgrade your kitchen lighting:
Incorporate rose gold fixtures
Hang a light over the sink
Add lights with cutouts
Light up the space with glass orbs
Decorate with colourful patterned shades
How to Create a Contemporary Kitchen Look
The kitchen is a space many homeowners spend lots of time in. They are also important rooms for potential buyers. So, having an outdated kitchen can be inconvenient or decrease your home's resale value. Consider these remodelling tips to give your kitchen a modern appearance.
By Evelyn Long, Editor-in-Chief of Renovated.