Posted on 21st April 2021
Refurbishing a Property Cost-Effectively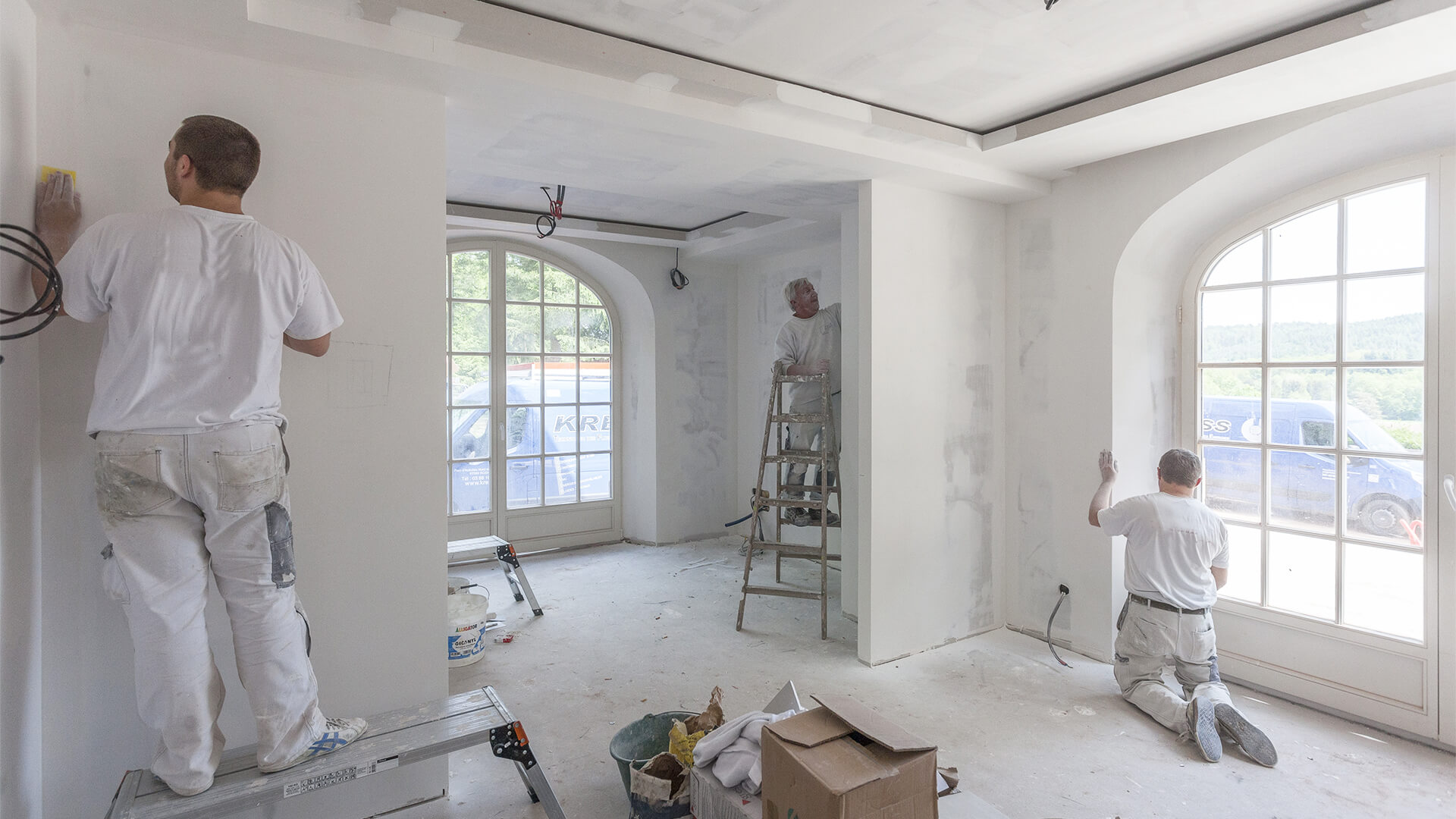 Whether you want to add more value to your property by improving its appearance, or you simply crave the comfort and enjoyment of living in an up-to-date home, planning a refurbishment can be very exciting.
Unfortunately, many homeowners are put off making changes to their property by what can look from the outside to be a prohibitively expensive and upheaving process.
However, giving your home a new lease of life can be far cheaper and less complicated than you may think. In this article, we look at just a few ways in which you can transform your home while sticking to a tight budget.
1. Reuse / Upcycle
Many people make the mistake of disposing of perfectly functional furniture and fittings simply because these items do not match their intended theme.
However, if you wish to reduce waste and avoid overspending, there are plenty of easy ways to upgrade pieces that you already own so that they fit in with your new vision.
To expose beautiful natural wood, sand back painted furniture or carefully use a specialist paint stripper, then treat and varnish the item.
You can also paint over an existing finish with matte chalk paint or furniture paint.
Replace hardware such as handles and feet and take time to tighten wobbly bolts or rectify chips and other areas of damage to future proof a piece further.
This is likely to significantly reduce the amount you spend on new furniture.
2. Seek Out Clearance, Ex-Display or Second-Hand Items
When retailers discontinue a product, they may reduce the price of the remaining items in that line significantly. Be sure to check out the clearance section of any household or furniture website as a first port of call whenever you are looking for a new piece.
You can find "big ticket items" like mattresses or wardrobes for surprisingly low prices.
The same goes for ex-display items. Very often, these are in pristine condition – but, because they've been out on the shop floor for an extended period of time, the retailer has no choice but to offer them up for sale at a reduced price.
There are even some specialist websites devoted to ex-display and clearance items.
You can also browse the internet or thrift shops for second hand items. Some may have been listed for sale or donated to charity unused, simply because they were a gift that was unsuitable or not to the previous owner's taste.
3. Use Social Media and "Gifting Groups"
There are a number of websites and social media platforms that allow members to list "preloved" items for free, or for a heavily reduced price.
Baby and child-sized furniture is particularly common here, as little ones will continuously grow out of old items – and mums and dads understand that other parents are always on the lookout for things that are free or cheap.
However, there are people who prefer to get rid of plenty of other unwanted furnishings and materials quickly by simply listing them online. It's often much easier than a trip to the local tip or paying the council to remove these items.
For this reason, you're likely to find anything from mint-condition beds to leftover tiles, gardening tools and a range of other items on these sites, many of which are free to a good home as long as you can collect them from their owners.
4. Use a "Colour Match" Paint Service
It seems typical that the paint colour you love the most is always way out of your price range.
However, there is a clever trick you can use. If you can find a swatch of that particular colour, a number of hardware stores can "colour match" it by mixing their own pigments together and replicating your desired hue.
This is often a much cheaper alternative that means you won't ever have to settle for second best.
5. Make a Few High-Impact Changes
You don't need to strip every room back to the plaster at the same time and give each an expensive, in-depth makeover. You can often make a huge difference just by changing a couple of "high-impact" elements.
Changing the carpet or adding striking paper to one wall – making it a "feature" – can really transform a room.
You could add exciting light fittings; a change in the feel of the light in a room, as well as the fitting itself can make a huge difference.
Take time to declutter, revise your use of storage or garage space and choose certain key items to leave on display. You could invest in a little art – or even make your own!
6. Do It Yourself
One of the best ways to save money on a refurbishment is to tackle every change yourself, or with the help of friends and family.
Of course, you need to know exactly what you're doing before you start. After all, rectifying mistakes can be even more expensive than simply hiring a specialist in the first place!
There are plenty of free tutorial videos online that will teach you how to approach most DIY projects. Just make sure you have the right tools and safety equipment, and try to seek the help or advice of an experienced friend if it's your first time taking on a certain task.
According to James Durr, of online auction house Property Solvers: "especially over the various lockdowns during the COVID-19 pandemic, with more time on their hands, many more of our buyer clients were rolling up their sleeves and getting the works done themselves rather than take on independent tradespeople and contractors."
Just a few cosmetic changes can raise the value of a property significantly – which is particularly handy if you're planning to sell soon.