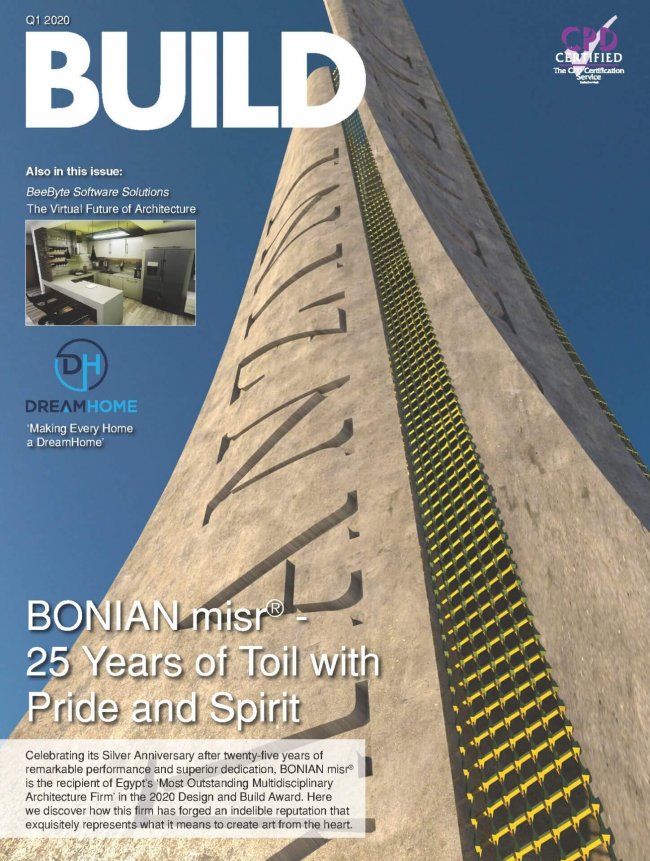 Happy New Year and welcome to the Q1 issue of BUILD Magazine. As always, we endeavour to be your source for all the latest news and features from across the global construction and property industries. This issue has a rather fitting theme for the first instalment of 2020 – new approaches, innovation, and forward thinking. After all, having one eye turned towards the future is one of the keys to weathering uncertainty in business.
Innovation is certainly one word that encapsulates BONIAN misr, our cover feature for this issue. Despite working in the architectural sphere for some 25 years, they have grown and thrived through a unique ability to showcase constant creativity. Through their impressive and prodigious work, they have continued to push the boundaries of the industry with projects that enrich the environment around it.
Elsewhere, we profile the work of BeeByte Software Solutions. BeeByte are guiding the future of architecture through their ground-breaking technological applications. Utilising the power of Epic Games's Unreal Engine 4, they can render highly detailed visual environments that guide architectural and construction development. Whilst this is an area of the industry that is just beginning to be capitalised on, it's an area with an incredibly promising future ahead of it and BeeByte look set to be technological harbingers to a new era on the greater build landscape. Read inside to find out more.
Meanwhile, the team here at BUILD magazine sincerely hope that you enjoy reading this issue. We hope to hear from you soon.