Posted on 7th April 2016
NIBE Announces Partnership with Grafton Merchanting GB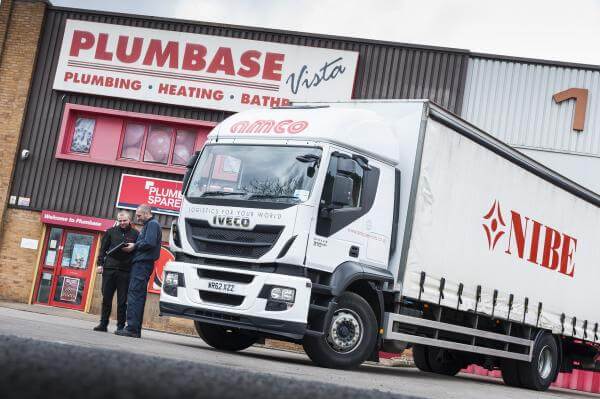 Renewable heating specialist NIBE has diversified its national distribution network following a new listing partnership with Grafton Merchanting GB. The manufacturer's market-leading range of air source and ground source heat pumps, biomass boilers and solar thermal systems is now available in more than 380 branches of Plumbase, Buildbase and Secon.
Robin Adderley, sales and marketing director at NIBE, says: 'The new partnership with Plumbase, Buildbase and Secon has come at an exciting time for us, and marks an important step forward for NIBE on a national scale. We're very proud to have secured listings with three of Grafton Group's key plumbing, building and renewables brands – making NIBE products available to even more tradespeople across the UK. Enhancing our presence on the ground at a local level is a central part of our marketing strategy for 2016, as we look to strengthen existing relationships, support those installers interested in moving into the renewables market, and welcome new recruits to the NIBE VIP accredited installer family.'
The partnership has seen NIBE's RHI-eligible air source and ground source heat pumps, wood-fuelled biomass boilers and solar thermal collectors become available at Plumbase and Buildbase stores nationwide, and at Secon in Sunderland. Also available are NIBE heat recovery ventilation units, hot water storage solutions and easy-to-use system controls.
Commenting on the partnership, Paul Bullivant, commercial director at Plumbase, says: 'With external factors like the RHI driving demand on both a domestic and commercial scale, renewable heating products have become an integral part of Plumbase's portfolio, so we're very pleased to have NIBE on board. It's vital that our stock offering continues to evolve in line with trade requirements, and welcoming a trusted, high-quality brand like NIBE as a supplier is all about providing our customers with the best possible product range.'
Ken Hood, commercial manager at Secon, concludes: 'Secon has already made a name for itself as the largest dedicated solar thermal distributor in the UK, and as we strive to become the number one for renewables, it's crucial that we work with manufacturers of the highest calibre. As an industry leader, NIBE is the ideal fit. Its heat pump, biomass and solar thermal systems complement our expanding renewables range perfectly – and, as with all of Secon's stock, they are now available backed by expert support from our in-house technical team.'