Posted on 30th October 2019
New housing projects out performed all other categories in the third quarterly UK Construction Contract Performance Report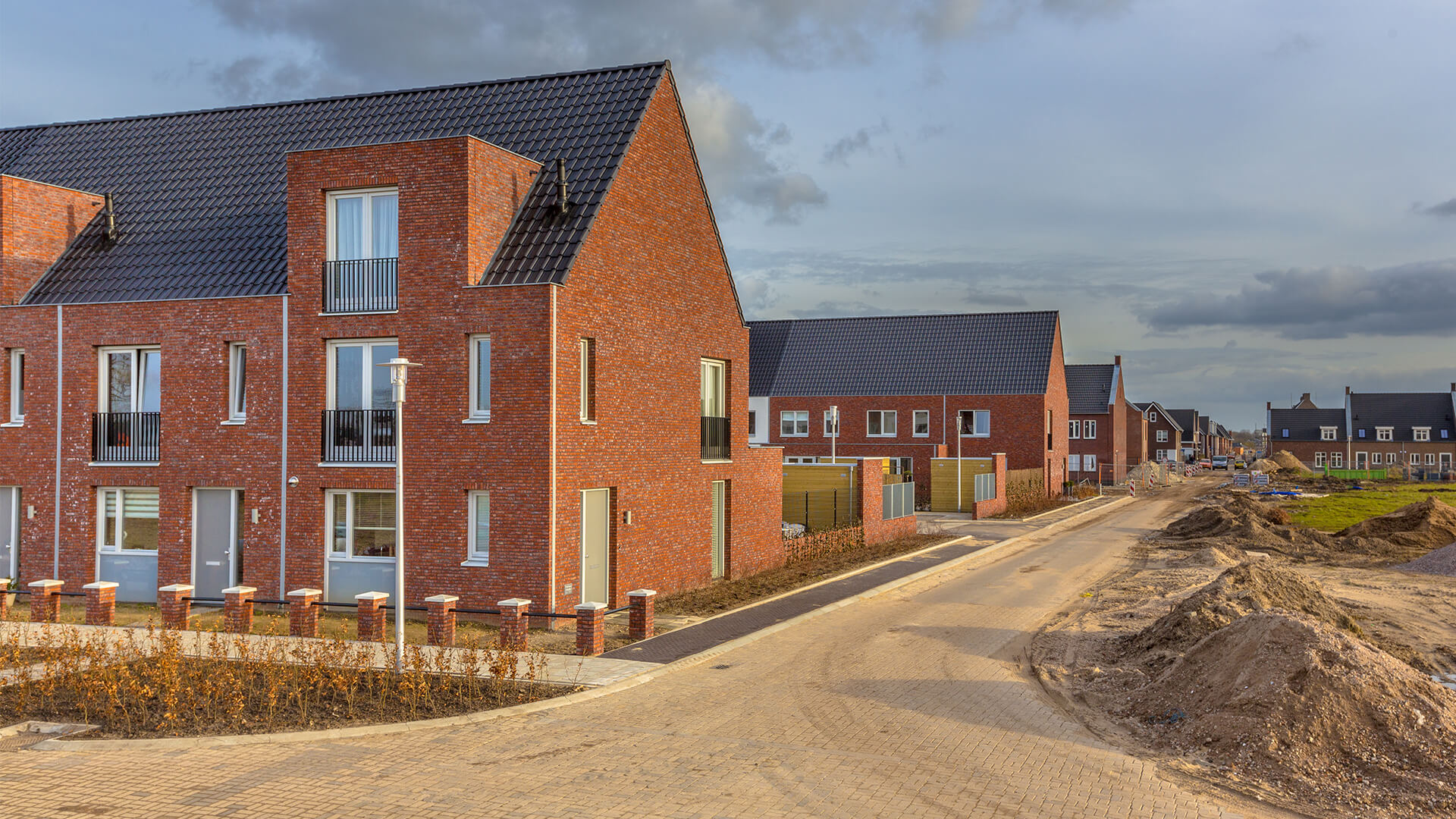 The UK construction industry has long been plagued by highs and lows in demand. Yet, after more than 18 months of unbroken and unprecedented stability, the fluctuations in demand experienced over the past three months have felt oddly jarring according to data collected by Builders' Conference.
Against a backdrop of political upheaval and economic uncertainty, the very fact that the sector emerged from Q3 down only 12% by value compared to Q2 shows a possible new-found resilience. External pressures might ultimately trigger a return to peaks and troughs in productivity, but based on a bounce back in September from the slump in August, the sector seems to be coping admirably at the moment with a fluctuating and unpredictable marketplace.
It could all have been so different and so much worse. Having reported an upbeat 613 individual contracts valued at a combined £4.7 billion in July, the results in August felt very much like the rug was being pulled from beneath the sector's feet. Admittedly, August is traditionally quiet as the industry swaps boardrooms and building sites for beaches and barbecues. Even so, a monthly total of just £3.3 billion split across 513 individual contracts carried with it a sense of foreboding; as if the spectre of Brexit finally had the industry in its icy grip.
However, just as some began battening down the hatches in preparation for what looked to be a long, cold winter, September rode to the rescue. And even as the monthly calendar flipped to October and the beginning of a 31-day countdown to Brexit, the UK construction sector still had much to smile about. Buoyed by the award of the latest tranche of HS2-related works – the construction of a new station at Old Oak Common, construction contracts researched by Builders' Conference passed £6 billion in September eventually notching up a monthly total of £6.5 billion.
Although Q3 fall recorded a 12% percent dip in the value of construction contracts awarded, more ominous was the 23% decline in the number of contract awards – down to 1,669 in the quarter. However once again context is everything, with the first three quarters of 2019 representing a 28% percent increase in value of contracts & 9% percent increase in number compared to the same period in 2018.
Build UK contractor members contributed to over a third of all new construction contracts with a total value of £5.5 billion (38%) in Q3. Balfour Beatty topped the list with 14 contracts valued at approximately £870 million, largest of which was a six-year highways contract starting in April 2020 and will include road and pothole repairs, winter maintenance, signs, road markings and grass verge cutting. Balfour Beatty were also awarded a JV with Vinci for the £1 billion Old Oak Common Station in North West London part of HS2 scheme.
Other projects in Q3 include the £400 million mixed use development in Nine Elms Square awarded to Mace Ltd comprising a cluster of towers: two buildings rising up to 46 and 36 storeys; a 10 storey building to the south east and 10 further buildings between seven and 29 storeys. Another mixed use development, £130 million this time in Hull, awarded to Vinci and an £89 million logistic centre in Durham awarded to the retail division of ISG.
With 2019 fast coming to an end the UK construction industry requires a clear & focused route map of expenditure for infrastructure, housing, health and education projects to avoid a return to the boom & bust days of 2008. The General Election in December means that any party with a strong manifesto guaranteeing the delivery of such projects could well be a vote winner.
New housing projects out performed all other categories in Q3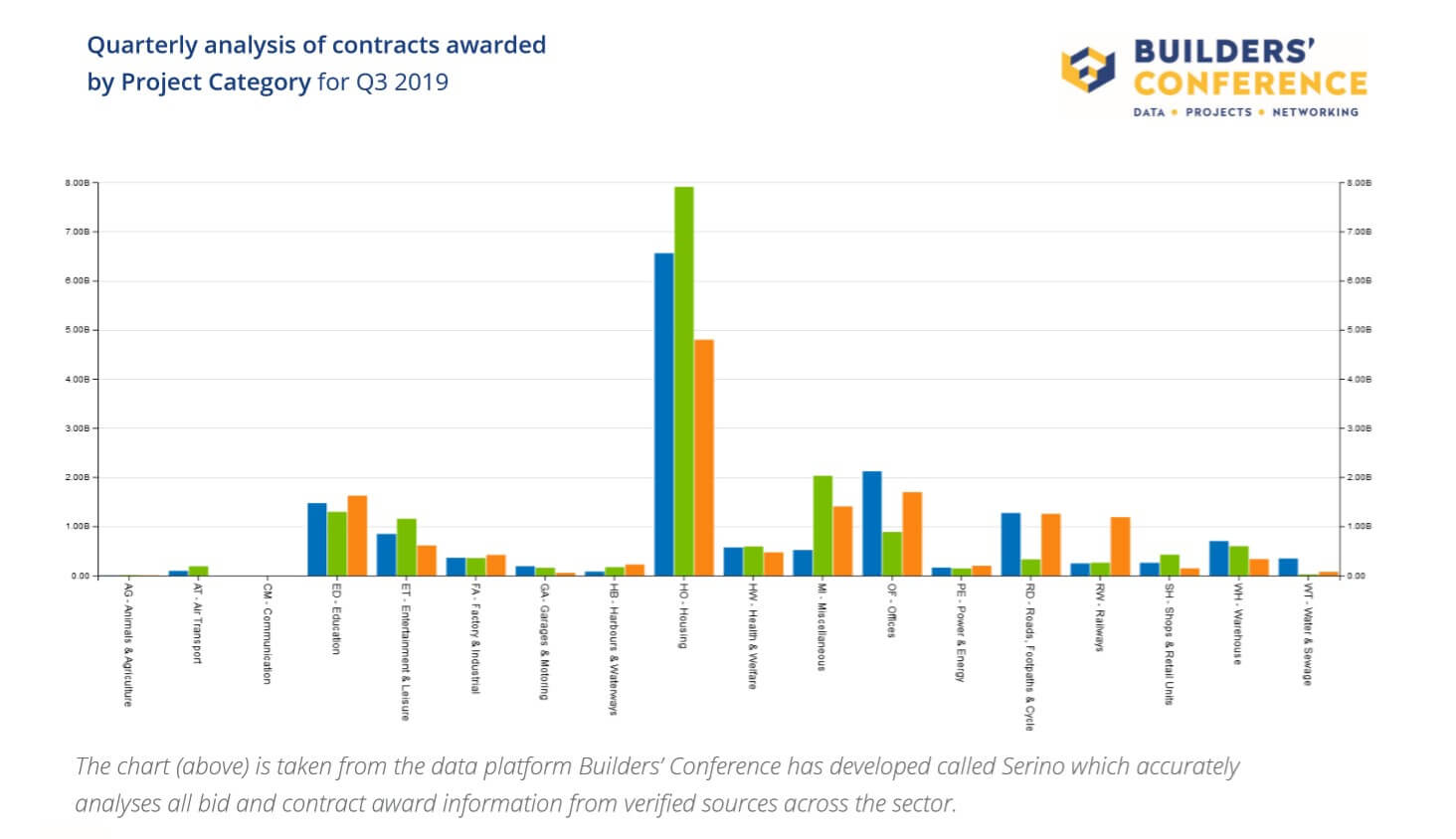 New housing projects outperformed all other categories in Q3 delivering £4.7 billion by value (33%) and 535 by number (32%) excluding mixed use developments (Miscellaneous category) where definitive data of each element of the project is unavailable.
More in-depth analysis of the housing shows 74% of new projects were privately funded and, with Government UK house price index for August 2019 growing by 1.3%, it seems this sector will remain key to the UK construction industry in the foreseeable future.
Adding the sub-categories of Air Transport, Harbours & Waterways, Power & Energy, Roads, Railways and Water together under the Infrastructure heading, provided £2.9 billion (20%) of new projects, significantly greater than Q2.
With an Office category of £1.7 billion (12%) pushing Education into fourth position with £1.6 billion (11%), there was a different look to category performances in Q3.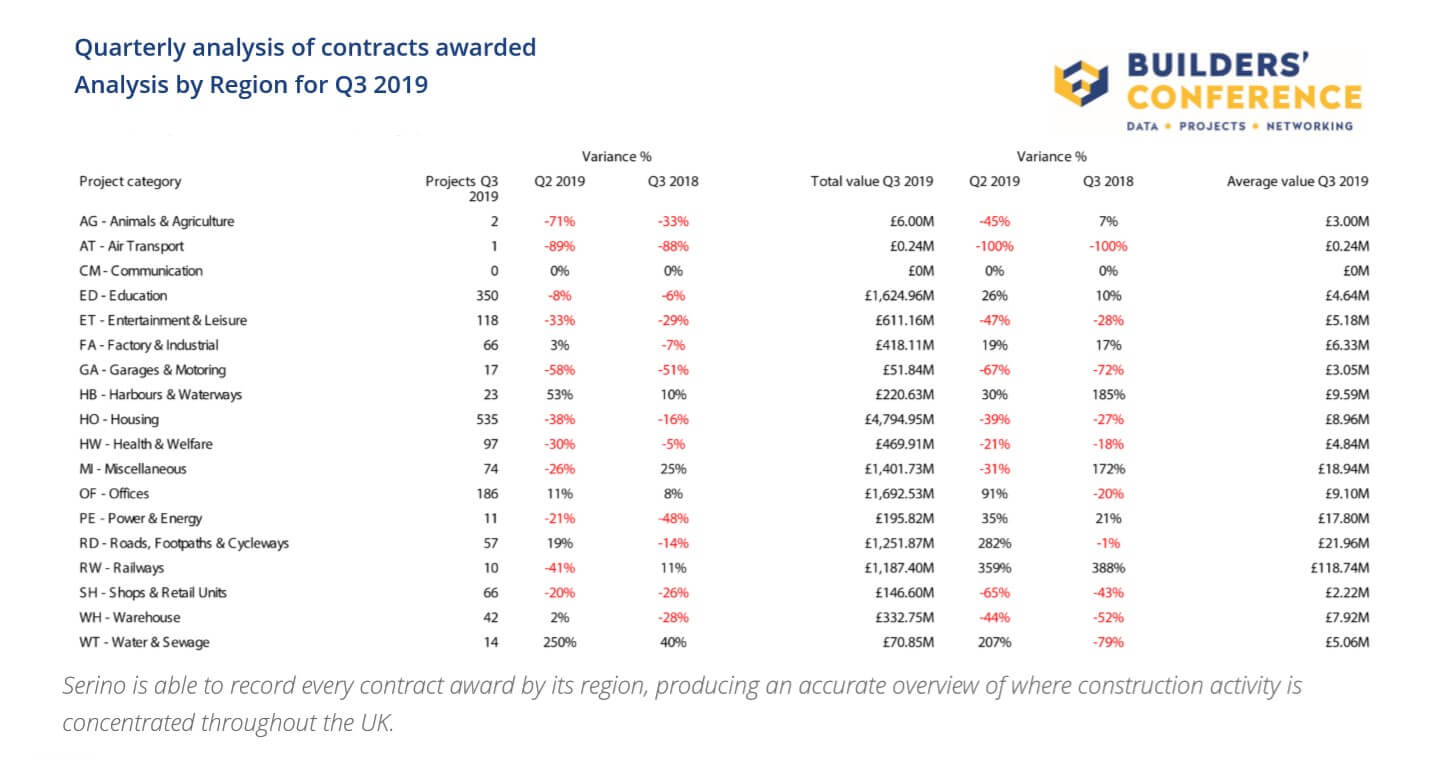 London remains the largest region for new construction activity. Of the £14.5 billion of new projects across the UK in Q3 made comprising 1,669 no projects, 20% by number and nearly 29% by value were in this region. Build UK contractor members were responsible for approximately £2.1 billion by value (49%) of the London quarterly total the largest project win was Old Oak Common train station.
The East & West Midlands regions delivered £2.6 billion of new projects awarded in Q3 due significantly to a number of infrastructure projects getting the go ahead.
After a small increase in value of contracts last quarter in Scotland, Builders' Conference research showed a 22% decline in Q3 giving rise to significant concerns about the robustness of the Scottish economy.
Regions in the Home Counties declined in value of contracts to £2.7 billion in Q3 a fall of 18% with one of the largest contracts awarded to Build UK member Morgan Sindall for a £20 million international quarters of US pharmaceutical business Eli Lilly & Company in Basingstoke, Hampshire.
Key projects this quarter
Old Oak Common station London part of HS2 project awarded to Balfour Beatty/Vinci JV (approx value £1 billion)
6 Year Highways & maintenance contract Lincolnshire awarded to Balfour Beatty Ltd (approx value £638 million)
Mixed Use Development Nine Elms Square London awarded to Mace Ltd (approx value £400 million)
Mixed Use Development Albion Square Hull awarded to Vinci Ltd (approx value £130 million)
A19 Norton to Wynyard Doncaster improvement Scheme awarded to Balfour Beatty Ltd (approx value £100 million)
Logistic Centre, Durham awarded to ISG plc (approx value £89 million)
Upgrade M6 Motorway J10 Walsall awarded to John Sisk & Sons Ltd (approx value £78 million)
Housing Scheme Brixton London awarded to Galliford Try Ltd (approx value £75 million)
All England Club Wimbledon London awarded to Willmott Dixon Ltd (approx value £70 million)
A46 Road Improvements Coventry awarded to Osborne Ltd (approx value £62 million)
Fit Out Office Bishopsgate London awarded to ISG plc (approx value £60 million)
Brexit? A Second Referendum? A General Election? At this moment who knows?
What is definitely happening from research carried out by Builders' Conference, is a substantial slowdown in the bidding of construction projects across the UK against a background of new planning applications remaining constant, which gives rise to the question of; how can we unblock the log jam?
Whatever happens the UK construction sector needs clarity so it can invest in the future thereby increasing productivity, securing jobs and reducing inefficiencies.