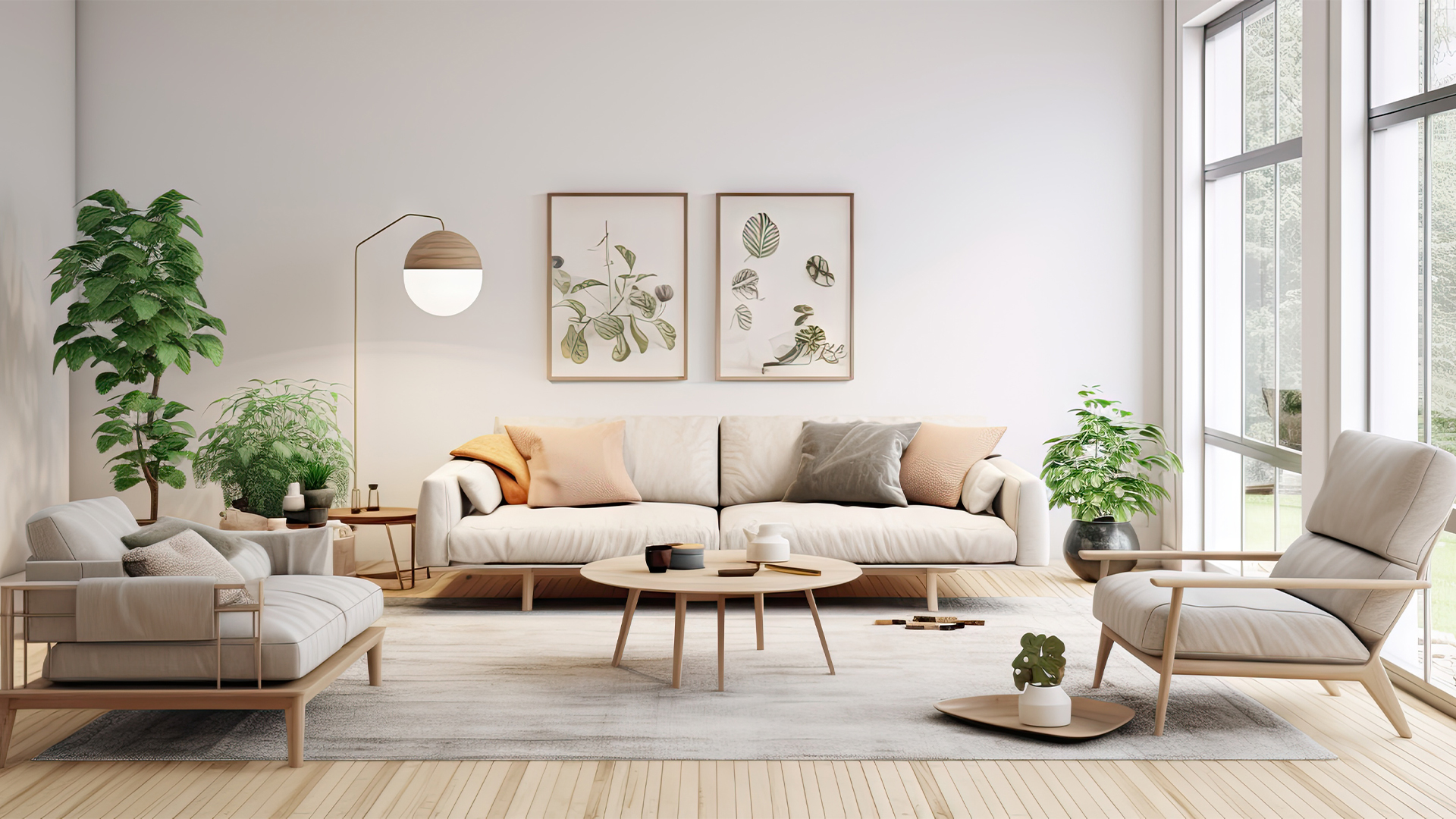 If there is one thing to be learnt from this year's AW23 London Fashion Week, it is that timeless colours and classic designs are dominating the runway.
From the subtly chic, quiet luxury trend from the likes of Miu Miu and Prada, to the swathes of red that graced the Alexander McQueen and Christopher Kane stages, these trends are set to trickle down from the minds of the world's most prolific designers to everyday wear and interior design.  
With the cooler seasons approaching, premium fitted furniture brand, Neville Johnson, has shared the most topical interior trend predictions, also showcasing how to emulate them within the home.
1. LUXURIOUS MINIMALISM
It's time for fashion lovers and homeowners to take a step back from the dopamine dressing and maximalist movement, as a more paired-back approach is taking hold. Casually chic and neutral tones are this season's craze, intertwined with a subtle nod to luxury and relaxed undertones.
To introduce quiet luxury into your home, think along the lines of indulgent pale wooden features for a softer effect. The boutique dressing room from Neville Johnson transcends the boundaries of conventional fitted furniture, taking a classic wardrobe design and adding an indulgent twist. The white larch bespoke finish brings an understated elegance to the room, ideal for those who prefer a more neutral touch.
2. SWATHES OF RED
Red is a shade that will always stand the test of time, as a timeless colour that remains a staple across the seasons. This year, the catwalks were painted red and saw many crimson toned dresses taking centre stage.
Red can be perceived as a controversial colour to introduce into the home. However, when used correctly, it can act as a head turning statement within your living space. The red library from Neville Johnson utilises a commonly unused space within an alcove, which is an optimal space for implementing a statement colour. The bespoke juniper shade exudes sophistication, whilst providing an eye-catching element to a once bare area.
3. STATEMENT METALLICS
There is a misconception that metallics are for festive occasions, as they are in fact a seasonal transcending addition to the home. A metallic addition creates an instant flair, ideal for those who like to modernise specific areas within the home.
The hidden home office from Neville Johnson features a sleek design, using the slim arlo handles as a contrast against the inky sky shade. The home bar is an example of the two-tone metal effect, utilising the kala half-moon gold handles and a silver railing above for extra gilded glamour.
Cari Bateman, Furniture Designer at Neville Johnson said: "Fashion and interior design go hand in hand, meaning the trends we see on the catwalk are always likely to filter into our homes.
"Quiet luxury, red and metallics are the key trends to watch out for in AW23, and despite what people may think, these can be easily implemented into our living spaces. Although different, each trend will add a unique feature to any area – guaranteed to create a talking point for any guests visiting your home."
With over 35 years' experience in designing fitted furniture renovations, Neville Johnson is the market leader in bespoke furniture renovations. Offering free design visits and free design brochures, the brand's furniture renovations combine the flair of the UK's top designers with the time-honoured skills of traditional craftsmen, all brought together with your personal selection of materials, colours, and finished.