Posted on 23rd June 2023
Meeting Educational Space Demands; Premier Modular Solutions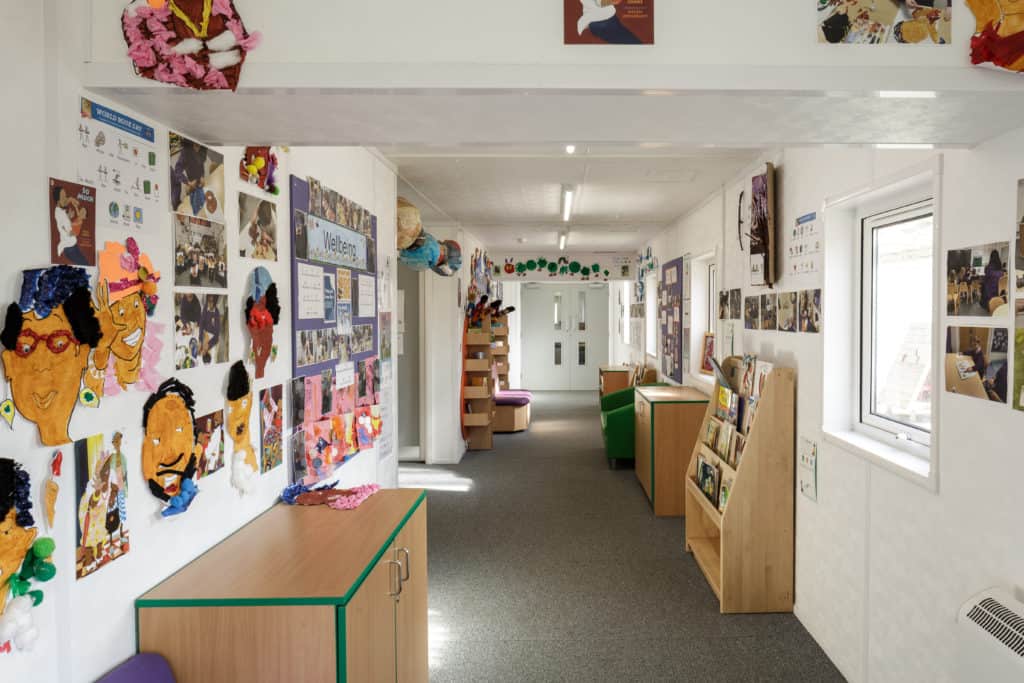 With the growing need for more educational space, decision-makers are increasingly embracing long and short-term rentals as an effective solution to expedite the construction of high-quality buildings.
Mark Rooney, divisional director for Premier Modular's rental business says, "Many educational institutes we speak with need additional space in the short-term, for example, when they're upgrading current buildings. Our buildings provide all the comfort of a permanent building but they're able to 'send it back' when it's no longer needed.
Installations are meticulously planned to ensure children's safeguarding and keep disruption to teaching to a minimum, whether that's by installing at weekends or during term breaks."
Moreover, the adoption of reusable and temporary buildings helps educational institutions reduce their carbon footprint dramatically.
Tailored Solutions for Brambles School
When Brambles School required temporary educational space for children with special educational needs (SEN) during the construction of their permanent academy, an efficient solution was swiftly implemented. Within a span of eight weeks, a purpose-built therapeutic environment was designed and installed, encompassing various essential elements. This included intricate groundworks such as landscaping and drainage, the construction of five modular classrooms with dedicated sensory areas, provision of cleaning facilities and changing rooms, complete mechanical and electrical (M&E) installations including customised toilets with automated basins, and the addition of a playground canopy.
Minimising Disruption
Ensuring minimal disruption was a top priority during the implementation of the project. The construction works were strategically scheduled to take place primarily during the summer holidays and weekends, allowing the facility to be fully operational by the start of the September term, thus minimising any interruptions to the school's regular activities. Recognising the concerns of the local community regarding delivery and crane operations on the site, Premier Modular took proactive measures to address these issues. They collaborated closely with the school and engaged in open and transparent communication with the community, actively addressing their concerns and providing reassurance throughout the process. By fostering a cooperative and inclusive approach, Premier Modular successfully alleviated the community's apprehensions and ensured a smooth and well-accepted execution of the project.
Building Sustainability
By adopting an offsite approach, Premier Modular effectively reduces the number of vehicle movements to the construction site, resulting in decreased carbon emissions. The use of low carbon products, materials, and technology throughout the construction process is prioritised, further minimising their environmental footprint. This commitment to sustainability not only aligns with Premier Modular's goals but also contributes to a greener and more eco-friendly construction industry. By embracing modular construction, they continue to pave the way for more sustainable building practices in the quest for a greener future.
TEDI-London, Canada Water
TEDI-London required a temporary facility to fulfil its vision of providing transformative engineering education for the next seven years, until it could establish a permanent home. The modular unit chosen for this purpose offered numerous environmental benefits that aligned with their sustainability goals.
One notable advantage of the modular unit was its reusability or recyclability once the institute relocated. This approach minimised waste and promoted resource efficiency. Additionally, the lightweight steel frames used in the construction eliminated the need for intrusive deep pile foundations, reducing the project's environmental impact. The offsite construction process ensured zero waste to landfill, further enhancing sustainability.
During the pre-construction stages, TEDI-London collaborated with acclaimed architects Hawkins/Brown to develop the architectural framework. Attention was given to optimising material usage, particularly for the timber cladding. Precise setting out of the cladding minimised material waste, while wider gaps in the upper areas of the structure reduced the overall material requirements.
Internally, the temporary building focused on energy efficiency to maximise sustainability. It incorporated low-energy LED lighting with motion sensors to minimise electricity consumption. Highly efficient heating and cooling systems utilising air source heat pumps were implemented for climate control. Mechanical heat recovery ventilation, integrated with the building management system, ensured efficient air circulation. The choice of Siberian larch cladding not only provided an aesthetically pleasing appearance but also offered the advantage of being reusable or recyclable.
As a result, the client and its tenants achieved cost efficiency, enjoying premium facilities, whilst simultaneously practising sustainable solutions.
Final Thoughts
The forward-thinking approach of embracing modular and portable solutions not only meets the immediate requirements for additional space but also sets a sustainable foundation for the future of education. By combining flexibility, functionality, and eco-consciousness, the integration of modular classrooms offers a pathway to both educational excellence and environmental responsibility.