Posted on 14th June 2023
Making The Most of Your Outdoor Space With a Wooden Garage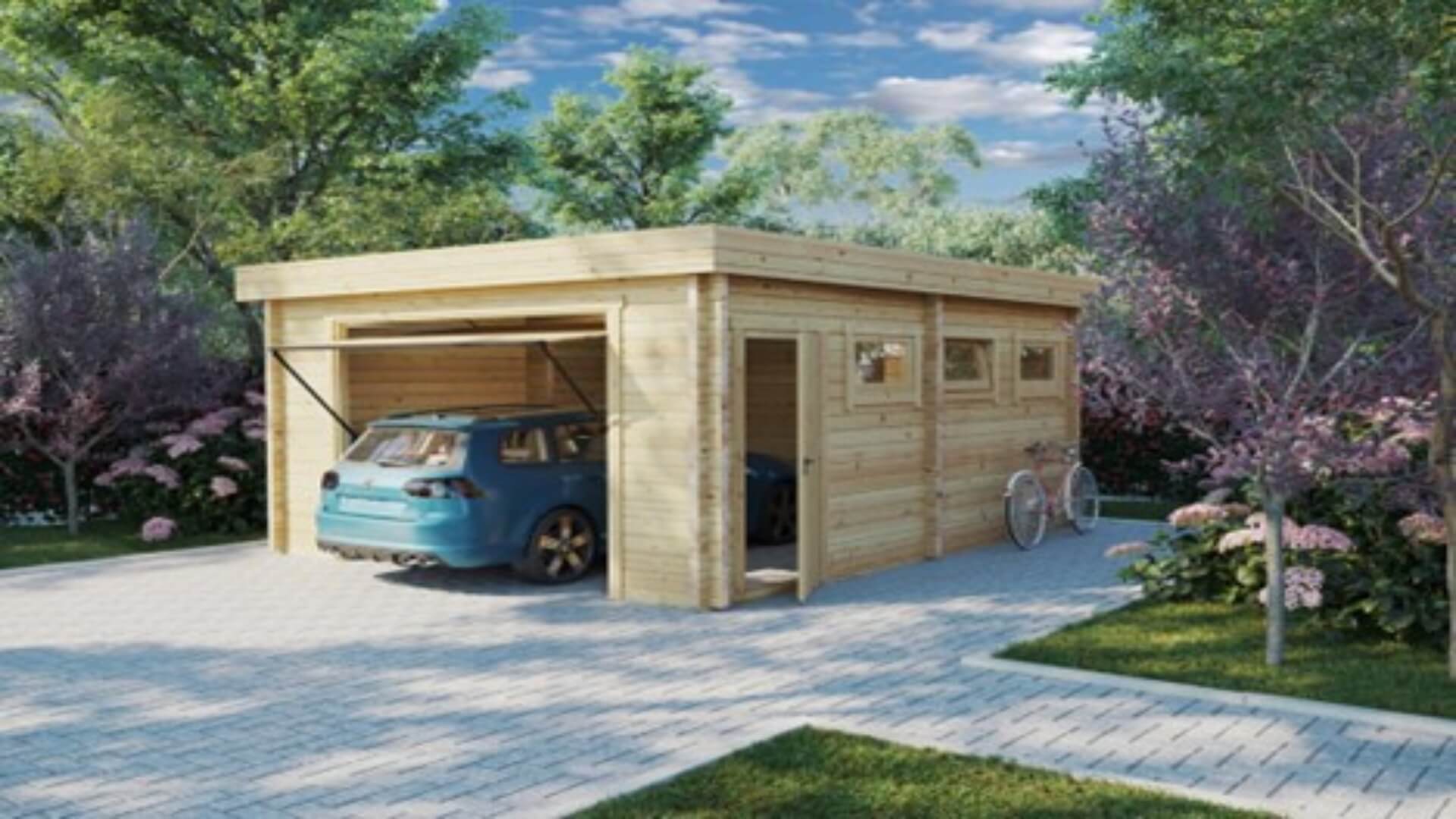 Are you searching for ways to make the most of your outdoor space?
Perhaps you need a garden building that offers plenty of valuable floor space, some room for outdoor living, but also a place where you can store your vehicle overnight.
Rather than spending all your hard-earned cash on a fancy extension or investing in a garden shed that only solves half the problem, you should consider a wooden garage.
Why are Wooden Garages so Popular?
Wooden garages are incredibly popular and for a good reason. Not only do they offer plenty of wall space to have your garden tools or a place to store your garden furniture in the winter, but wooden garages are also beautiful structures that will help you save space and money.
The best part? Your garage door allows you to store your car alongside your gardening equipment, so when the weather takes a turn for the worst, your car will be safely protected.
But a wooden garage doesn't have to just store your cars or garden items. It can also be used as a home gym, a place to relax, or even a place to work.
It is this versatility that has led to a large increase in the popularity of wooden garages in recent years.
What to Look for in a Wooden Garage
High-quality garage doors
Chances are, the main reason you are considering investing in a wooden garage is because you want somewhere secure to store your car when not in use.
Therefore, it is vital that the garage doors and other materials used are of the highest quality. At Summer House 24, they use slow-grown Nordic spruce for all their wooden garages to ensure you get the best quality for your money.
Additional outdoor storage space
On top of storing your car, investing in a wooden garage is also an excellent opportunity to get more storage space, whether it be for garden tools, outdoor furniture, or even Christmas holiday decorations.
A sturdy garage ceiling
Finally, you need to ensure the wooden garage you opt for has a suitable ceiling, one that will withstand all the weather types that the UK will throw at it!
What type of roof you choose is completely up to you, but whichever option you choose, you must ensure it adequately protects your garage and doesn't allow water to sit on top of it.
Wooden Garage Storage Ideas
Create a storage wall.
One easy way to ensure there is enough room in your wooden garage for outdoor toys, power tools, and other essential items is to create a wall specifically dedicated to storing smaller items.
Maximise your vertical space.
Many wooden garages come with a larger roof, giving you plenty of space to pack away camping gear or sports gear in the rafters until you need it again next year.
Install a shelving unit.
Finally, putting up shelf brackets will allow you easy access to any important equipment while also allowing enough floor space for all the furniture you want to store.
Final Thoughts on Garden Buildings and Wooden Garages
As you can see, there are many benefits to investing in a high-quality wooden garage. At Summer House 24, they provide you with the best quality summer houses and wooden garages at affordable prices.
Get in touch with them today to find your perfect wooden garage.
Frequently Asked Questions About Wooden Garages
Do I need planning permission for a wooden garage?
Whether or not you need planning permission differs depending on your circumstances. Always check with the experts before making a purchase, just to be on the safe side.
Other than car storage, what does a wooden garage offer you?
A wooden garage can be incredibly versatile, offering a place to store garden equipment and tools and even as a hobby room or home office.
What should I look for in a wooden garage?
When searching for a wooden garage, keep in mind that this should be seen as an investment. That means choosing a wooden summer house within your budget but is also built with materials that are meant to stand the test of time.