Posted on 16th December 2019
Luštica Bay, Montenegro: Over 100 Percent Increase In Prices In Seven Years And Highly Competitive Rental Yield, Among Highest In Europe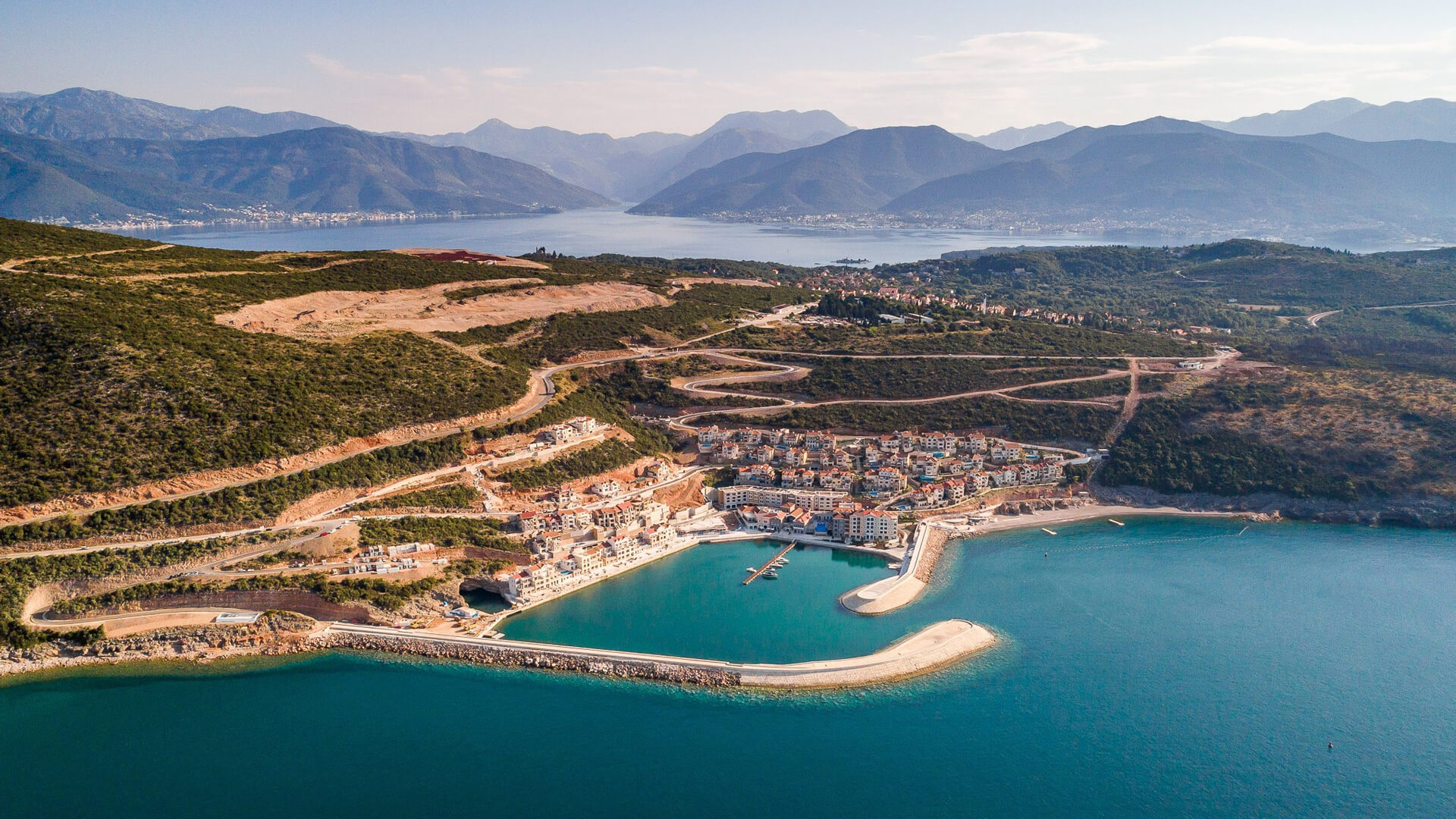 Property buyers flocking to Montenegro as the government launch a new citizenship by investment scheme, where buying property in Montenegro, whatever the value, comes with a one-year residence permit.
Luštica Bay, the rapidly expanding Montenegrin marina town, is reporting a staggering 100% in average prices in the completed Marina Village since sales started in 2012. Construction is now focused on Centrale, the commercial and administrative hub, and culture centre. Upon completion, the coastal town will feature 1,500 residences, seven hotels, two marinas, an 18-hole golf course, and lifestyle facilities.
The €1.1 bn Luštica Bay marina development, the first greenfield development in Montenegro, boasts some of the lowest square metre prices in Europe, with average rental yield in Montenegro reaching approximately 7.5%. These returns compete with many European countries, and are even higher than Croatia, Spain, Portugal, Cyprus and Greece, and only beaten by Moldova and Ukraine, neither of which can compare with Montenegro's natural, tourism and economic potential. According to industry sources, such as Dream Montenegro (Savills Associate), the prices of non-prime homes in the coastal region, have risen from 1000 to 3000 EUR per sq m due to the influx of luxury residential developments.
A key attractive benefit is that buying property in Montenegro, whatever the value, comes with a one-year residence permit. Additional financial perks are that the tax system has become one of the most attractive in Europe, with a flat-rate income and 9% corporate tax. Buying and registering property is easy, and foreign investors are treated as equals with Montenegrin citizens. Furthermore, buying and selling is always conducted in Euros, so there is limited foreign exchange risk. Another alluring factor for some is that Montenegro is likely to be the next country to join the EU, although their currency is already the Euro.
Ahmed Zaki, Head of Sales & Marketing at Luštica Bay commented on the impact of this exponential increase in interest in Montenegro on the world stage: "There has been a staggering Y-O-Y increase in sales at Luštica Bay of more than 100%, with a significant shift in demand for more expensive units, and surge in leads of 385%, which is more than the last three years combined. We are delighted to have now sold over 300 units to buyers from 39 different nationalities.
In Montenegro, we are unrivalled terms of what we are offering – this isn't just a destination for holidaymakers, we are building a town with all the facilities you could imagine, including the country's first 18-hole golf course designed by Gary Player with triple aspect views of azure coloured waters. We are truly redefining the residential landscape not just in Montenegro, but across the Balkans."
International buyer demand is expected to continue rising, due to the launch of new flight routes, especially from the Middle East with the launch of direct flights from the United Arab Emirates, and from across Europe such as from Brussels, Krakow, Munich, Frankfurt, London, Oslo and Stockholm, and the Far East (through Belgrade).
Currently, Montenegro is attracting a lot of international attention due to the government's launch of a new citizenship by investment scheme. Citizenship by investment offers individuals the opportunity to obtain Montenegrin nationality, in return for investment in the country's real estate, plus a donation to fund an aspect of its development. The Montenegro Citizenship by Investment programme* is limited to just 2,000 applications and is set to run for only three years, ending by 31st December 2021.
As regards travel, Montenegro is now one of the fastest-growing tourist economies in the world, with approximate 10% Y-O-Y increase with number of tourists reaching 2.3M in 2018 according to Montenegrin Statistical Office, and 11.9 million overnight stays last year. It was also ranked by the World Travel and Tourism Council (WTTC) as no. 3 in the world for tourism growth, with a 12.7% Y-O-Y increase in visitor numbers, plus it has an ever-growing reputation as a high-end luxury destination, which the launch of the five-star Chedi is testament to.
While owners and guests at Luštica Bay enjoy embracing the Montenegrin saying: Samo Polako – to slow down and live in the here and now, the construction rate will continue to increase at pace until The long-term vision reaches its planned completion timeline, with its seventh hotel aimed to complete by 2032.
Luštica Bay's developer, Orascom Development Holding (ODH) continues to build on its portfolio of destinations including UAE, Oman, Morocco, Egypt, along with Switzerland and the United Kingdom. Orascom expanded its horizons to the UK with with Eco-Bos, a joint venture with Imerys (a multinational industrial minerals company) to develop a series of sustainable communities in Cornwall with over 6.5 million sqm of land over six separate sites. The Eco-Bos proposals will offer a mixed portfolio of around 5,000 properties across all market sectors, along with associated retail and office spaces. Leisure and recreation facilities are also planned, with proposals for an ocean-facing site including a five-star hotel and marina development. 
For more information please visit: www.lusticabay.com
*A donation of €100,000 will be required, followed by a real estate investment of €450,000 in the coastal region of the country and the capital, alongside a processing fee of €15,000. The benefits of the scheme can be extended not just to the individual but also to their family.
The donation will be used to help funder underdeveloped local government departments, while the investment funds will support development projects in the country's northern and central areas, with the largest amount reserved for projects in the capital Podgorica, and the coastal region, including that around our own Luštica Bay. The programme will also benefit tourism, agriculture and manufacturing, create new jobs and help to improve the quality of life of all citizens.