Posted on 27th June 2023
Interior Designer Shares 6 Stylish and Contemporary Ways to Decorate Your Home with Green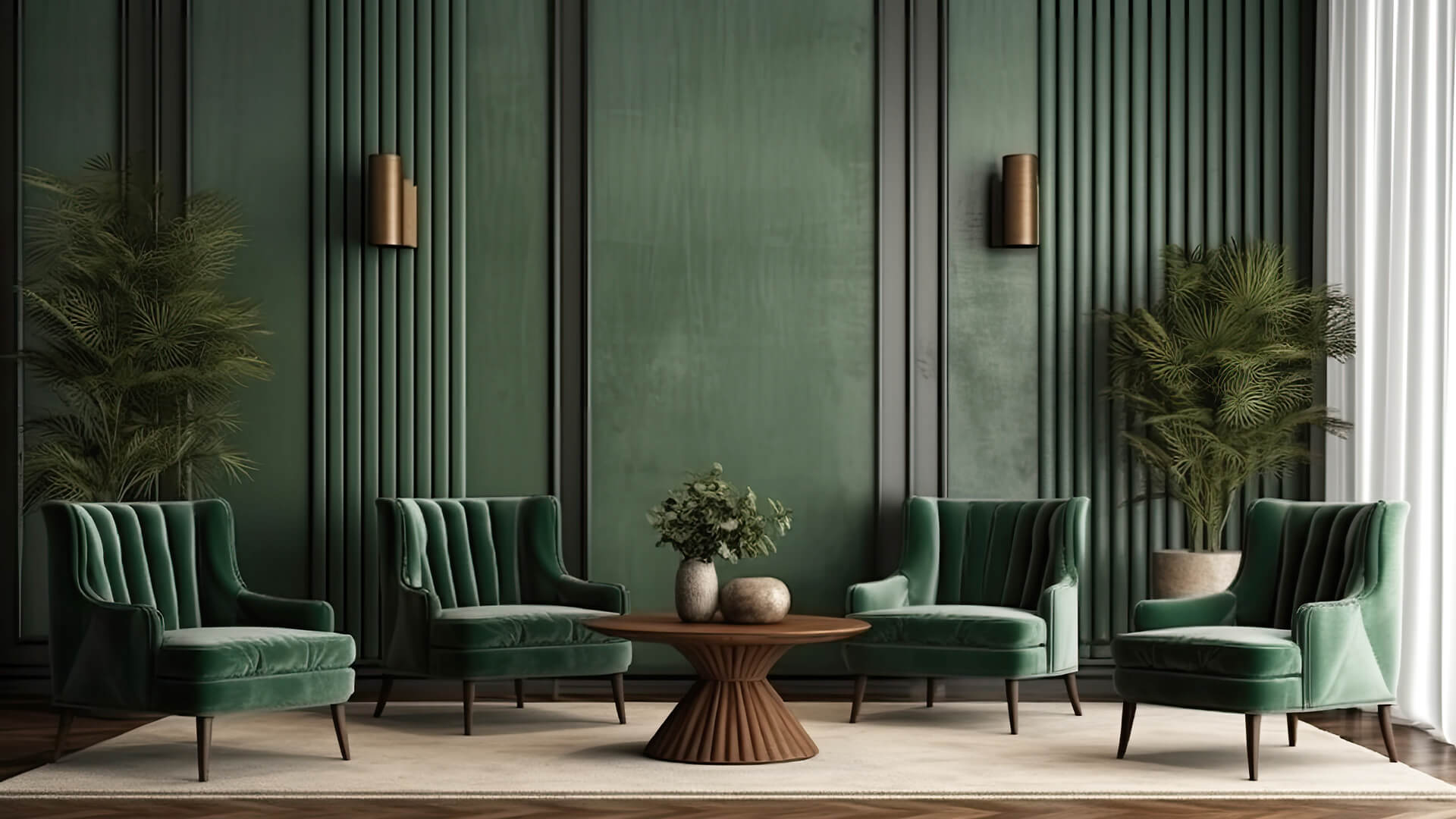 Below, Amy Wilson, interior designer for 247 Curtains shares why green should be in every home and offers advice on how to decorate using the different shades.
1. Be inspired by the colours and textures of nature
Looking to nature is a great place to start when searching for a new colour scheme for your home. Colours that work in harmony are often found in nature and as such can provide a perfect solution to finding that perfect base neutral.
Amy shares: "Soft sage green is a great example of a colour that can work as an alternative for the beige, grey and even greige shades that have dominated the neutrals market for some time. However, sage green has all the same neutral appeal as these colours but is more on trend and arguably a warmer choice."
"Sticking to the earthy neutral tones and then paring up sage green with deep browns, terracotta and other deeper shades of green is a really complementary scheme. Alternatively, you can opt for a more contemporary aesthetic by combining with black for a really punchy and bold style."
Amy adds: "To keep fresh and clean looking, stick to simple whites with green combinations and add textures in the form of wood, rattan, wicker or bamboo to create interest. Large baskets for blankets or kids' toys are both a stylish and useful accessory for this scheme."
2. Balance your favourite green shades with complementary colours
Many people struggle to pair colours together confidently in the home,  and this can result in people shying away from colour altogether. This is very easy to resolve with the use of colour theory.
Amy explains: "To know what colours go together, turn to the colour wheel – colours that sit opposite together are considered complementary, which is why green and pink are such a beautifully matched combination."
"The key to getting these two colours balanced is sticking to similar tones either softer hues of pinks and greens or bolder shades that pack some serious punch and suit a maximalist scheme."
"Whilst there are patterns and fabrics that feature these colours harmoniously, it is also worth considering blocks of colour. One great way to do this is to opt for soft green curtains in a pink-painted room.
3. Bring back the avocado bathroom – but do it right
Think twice before you pull out that avocado bathroom suite as green bathrooms are officially back in again.
Amy shares: "It is somewhat of a shame that so many of these 70's style bathroom suites were ripped out in the pursuit of minimal schemes."
"As we see the introduction of pastel-coloured bathroom taps, colour-match radiators and tiles of every persuasion, it could be argued that a green bathroom suite would actually be a great addition to your home if accessorised and decorated correctly."
Explaining the effect of green, Amy says: "Green bathrooms create a feeling of calmness and serenity, helping to create a sense of sanctuary that is reminiscent of a spa. Using green in your bathroom alongside lots of real plants that will thrive off the humidity and then perhaps switching up your window dressing to a green botanical print roller blind will give you a quick refresh and update."
4. Jump on the 70s wave and go retro
70s interior design is really popular at the moment, with the help of viral online content such as the "Wes Anderson" Tiktok trend and hit shows such as Daisy Jones & The Six.
Amy explains: "If you're looking to embrace the 70s aesthetic this year, green is essential, matched with warmer wood and orange hues. To allow for a more timeless take on the trend, stick to colour blocking over patterns. Doing this through soft furnishings such as green curtains or rugs is a quick and easy way to achieve this style. 
"Finish with some pops of orange and yellow, if you're looking to update any larger furniture, choose deeper and warmer woods."
5. Don't be afraid to layer
If you want to go for a minimalist look that is still interesting to the eye, try carrying one colour throughout your home.
Amy insists: "Don't be afraid to match the colour of your curtains to the wall to achieve a sleek, streamlined look. Tone-on-tone and colour drenching is very big at the moment, and works really great in smaller homes as it gives the illusion of your space looking bigger."
"However, I would always suggest going a shade lighter or darker with your curtains, to help create dimension and avoid your room looking flat. Green's look especially nice layered on top of each other and creates a really calming effect."
6. Introduce green  through your favourite patterns
From biophilic tropical prints to fun and modern geometrics, there are so many patterns to choose from which can help tell a story within a room. 
Amy shares: "Introducing colour patterns is a foolproof way to introduce your favourite green shades in a way that is fun and exciting."
"A banana leaf pattern, for example, is a perfect print to use during these warm summer months and for those who love tropical bold designs. However, if your style is more modern and finessed, turn to patterns that  feature clean shapes and curves."
"The idea is to keep it cohesive by deciding one or two elements in a room to feature these patterns, such as curtains and cushions. I'd recommend going for brighter colours that pop to add intrigue and dimension to your space."