Posted on 9th May 2023
Interior Designer Reveals How to Do Wes Anderson's 70s Aesthetic the Right Way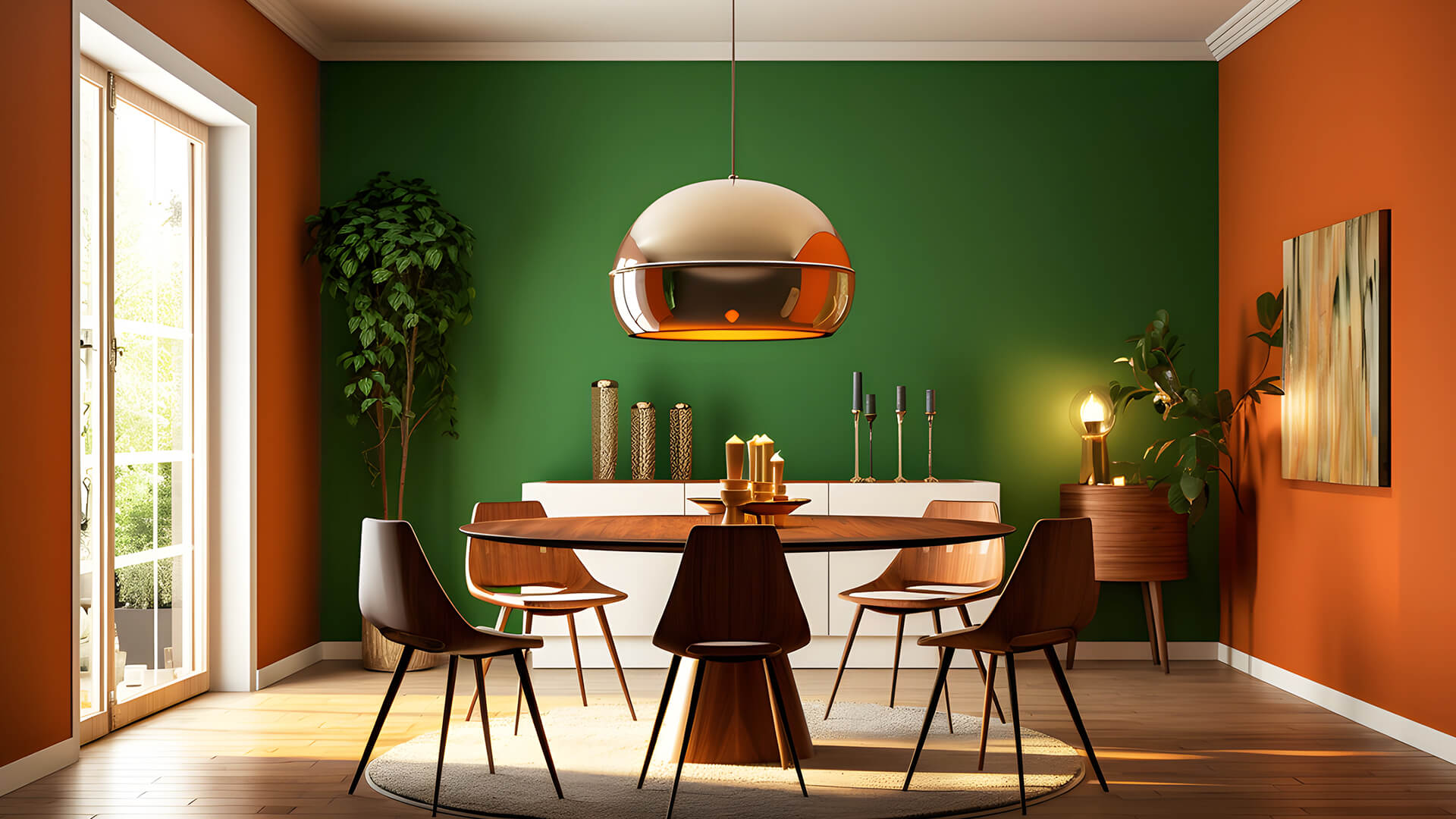 With #WesAnderson reaching over 642.1 m views on TikTok1, interior experts from Graham and Brown, ValueLights, Luxury Flooring & Furnishings and 247 Blinds have revealed how you can achieve the 70s-esque style and unique colour palettes in your home… 
1. Choose a unique colour palette
With Anderson's films hugely identifiable by their unique colour palettes, Paula Taylor, Head Stylist at Graham and Brown, advises how we can recreate this in our own homes…
Paula says: "Start by underpinning a unique, memorable colour palette. To achieve this, choose a distinctive paint shade to decorate your living space with such as forest green. Add variations and complementary shades before accenting with contrasting colours such as pink for a retro effect."
2. Incorporate bold wallpaper and patterns
"One of the easiest ways to add colour and eccentricity to a room is with patterned wallpaper. Opt for bright, vibrant wallpaper designs throughout your home and pair with striking, personable touches such as statement vintage furniture or quirky artwork and frames to resemble a 70s design."
3. Choose decor with shape and structure in mind 
Marlena Kaminska, Designer at ValueLights, advises: "To achieve a nostalgic flair which still feels modern, look to incorporate the subtle features; solid shapes, clean lines, dark wood and bold pops of colour are all timeless staples which tastefully add that retro look to your home."
"One way to bring these features into your home is through experimenting with interior accessories which are easily changeable, such as through your lighting solutions. Table lamps with yellow or orange lampshades are a small but impactful addition which will inject a burst of Wes Anderson spirit into any room. 
"Similarly, choosing a tall floor lamp which has a distinctive arc or curve will help to construct bold, clean lines without the need for decking your room out in geometric patterns" 
4. Think timeless 
Wes Anderson's movies feel like 'self-contained' worlds and one of the factors playing a large role in this style is the carefully thought-out visual design used – particularly the way in which it plays on nostalgia while maintaining timelessness. 
Carolina Hansson, Head of Design at Luxury Flooring & Furnishings comments:
"70s interiors are typically associated with vinyl flooring in bold colours and geometric patterns. These eye-catching floors were often used in kitchens, bathrooms and hallways and became real design focal points. We're seeing a resurgence in 70s style with a modern twist – less maximalism and more neutral colours and textures. The best flooring type to get this updated retro look is parquet solid wood flooring. 
"Parquet flooring was a big trend in the 70s and is a choice that really stands the test of time. Whether herringbone or mosaic, parquet flooring makes a subtle statement whilst remaining easy to pair with other interior design features."
5. Add character with accents and accessories 
Amy Wilson, interior designer at 247 Blinds suggests: "Grey and beige interior trends are becoming more dated and people are turning back to bright and bold colours in their home interiors. That being said, some of the maximalist trends from 50 years ago may not be for everyone.
"A fun geometric pattern can be easier to incorporate into your existing home style than you might think. Start small, creating accents with accessories like roman blinds, curtains or cushions. It can bring a lot of character and depth to a room without overpowering the space."