Posted on 3rd May 2023
Interior Designer Reveals 4 Hallway Ideas to Transform the Entrance of Your Home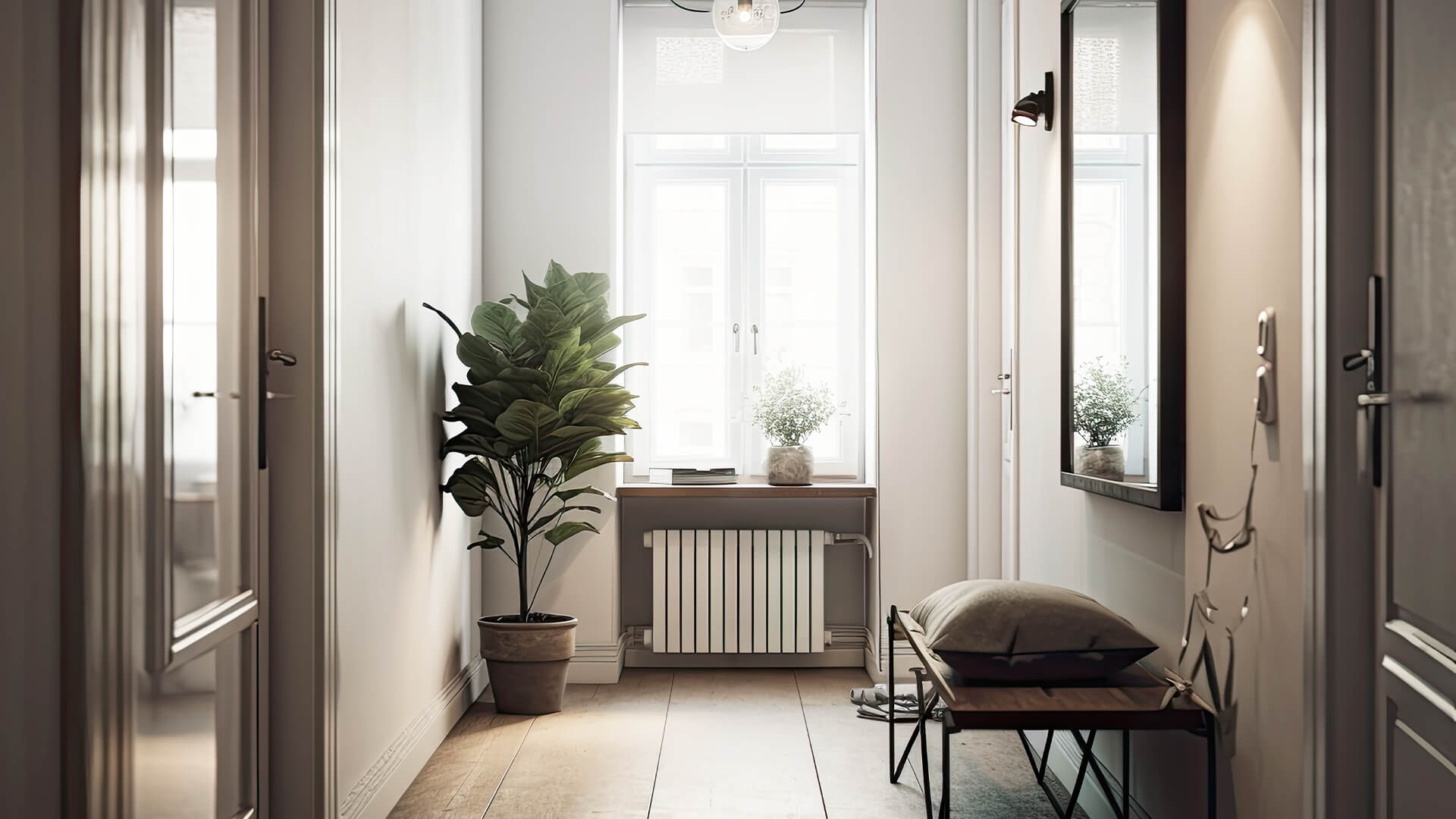 Hallways are often overlooked when it comes to interior decor, despite being the place where you and your guests first enter the house. If you're looking to easily revamp your home this spring, why not show the space a bit of love and put your hallway at the top of your DIY tasklist?
To give you some interior inspiration,  Paula Taylor, Head of Design at Graham & Brown, reveals four ideas to transform the entrance of your home: 
1. Inject some energy with warm yellows 
Paula says: "It's a good idea to pay special attention to making your hallway an inviting space to set the tone for your whole home. Before selecting your paint colour, we suggest first thinking about the mood you want to create.
"Hallways are often the narrowest part of your living space and don't receive huge amounts of natural light. A great way to brighten up this part of your home is to choose reflective, warm colours which will exaggerate the available light and immediately inject positive energy into your home. 
"Yellow exudes a joyful energy, making it the ideal colour to welcome cheer into your home. However, be sure to take care when selecting your shade to avoid the colour looking too loud or abrasive. Opt for mellow, warm  yellows, such as Soft Ecru or Tuscan Sunshine, as they're more liveable shades that will still bring light and life into your home."
2. Choose bold colours with warm undertones 
Paula says: "Seen as incredibly empowering, bold colours have soared in popularity over the past few years and we're expecting this trend to continue throughout 2023 and beyond. While this might require a bit of decor-bravery, bold colours can be a great way to immediately make a statement with your interior style. 
"While bolder paint colours lean into interior rebellion, there is one rule we suggest following when using in a hallway; no matter the colour, opt for something with warm undertones. This way you can use the paint in shadowy hallways without worrying about creating a harsh, dark space"
3. Go timeless with calming neutrals 
Paula  says: "Sometimes simplicity is your best friend and opting for a neutral colour palette will ensure that your hallway will never go out of style. Neutrals work particularly well for hallways as they offer a sense of calm, helping to cleanse the mind of all the day's stresses the moment you walk through your front door."
"Choosing a neutral base also gives you the freedom to get creative with your other furnishings. Why not experiment with different textures and tones to bring in visual interest elsewhere." 
"Hallways are high-traffic areas, to ensure this colour maintains its clean look, be sure to opt for a durable matt paint which can withstand scrubbing" 
4. Paint your front door 
"As a transitional space, hallways hold the weight of vivid shades well. However, if you are worried about fully committing to such a dramatic colour, look instead to areas you'd want to highlight. In the hallway, a great way to bring in a statement colour is by painting just your front door"
"I'd suggest looking at the colour of your walls and aim to go a couple of shades bolder. Jewel tones, such as our Jewel in the Crown paint, would work well here, as they have a powerful effect no matter the size of the space."