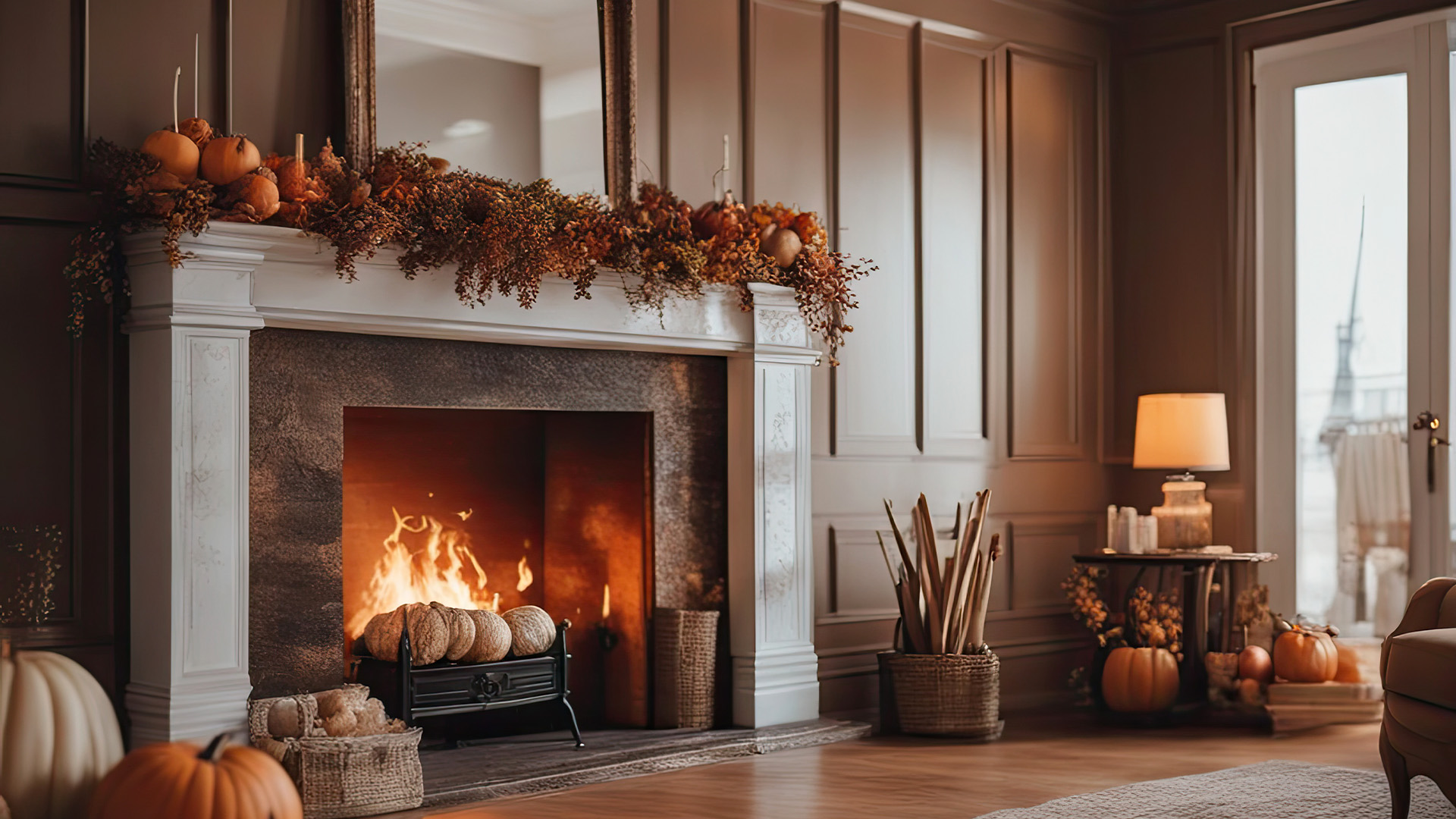 There is nothing quite like snuggling up in front of the fireplace on a cold autumn night, and it's even better when you style your fireplace for the season. An autumn fireplace can make your living room feel so much cosier and homely. Imagine having a family gathering where you're all surrounding a beautifully decorated fireplace.
There are so many things you can do with your fireplace to make it look more autumn-themed. From choosing the right colour palette to adding some autumn-themed accents, it's easy to upgrade your fireplace to suit the season. Below, interior design expert Ryan McDonough at MyJobQuote.co.uk has teamed up with a range of other home and interior experts to create this ultimate guide on how to style your fireplace for autumn. Read on to find out more.
Layered Mantel Décor
If you want to achieve maximum cosiness with your fireplace, layering is very important. " Instead of sticking to traditional fall decorations like pumpkins and leaves, I would suggest you try layering different textures on your mantel," says Henry Brook, home expert and founder of The Page. "Start with a few chunky knit blankets or wool scarves draped over the mantel to add warmth and cosiness. Then, add in some natural elements like dried flowers, branches, or pine cones for a touch of autumnal charm," Brook continues.
"Finally, top it off with a few candles of varying heights and sizes for a cosy glow." The more layers you can add to your mantel, the cosier it is going to look. Consider using various materials and accents in all different shapes and sizes for the most impact.
Incorporate Scents
Your fireplace décor doesn't have to be all about what you can see in front of you – you can also add an autumn vibe by choosing the right scents. "Lanterns with pillar candles can be placed symmetrically on either side of the hearth. Opt for candles in seasonal scents like apple cider or spiced pumpkin to further enhance the autumnal atmosphere," explains Zakhar Ivanisov, interior decorator and founder of Soul & Lane.
"To add an ornamental flair, consider placing a rustic basket filled with a mix of pinecones, dried orange slices, and cinnamon sticks adjacent to the hearth. Not only does this engage the sense of sight, but the subtle scent of cinnamon and dried orange wafts into the room, creating a multisensory experience," Ivanisov continues.
Decorative Firewood
"I recommend using decorative firewood to add a rustic touch to your fireplace," says Henry Brook, home expert and founder of The Page. "You can find decorative bundles of wood at many home decor stores, or you can create your own by painting or staining regular firewood in autumnal colours like orange, red, and brown. These can be stacked neatly next to the fireplace for a cosy and functional decoration." 
Not only does firewood look great as a decorative element, but it can also help to bring in some warm feelings to the room, making it feel even cosier. Plus, you have the freedom of arranging it how you like and decorating it in any colour that you like. You could even paint some autumn-themed designs on them, such as little pumpkins or fallen leaves.
Bring the Outside Inside
"To truly capture the essence of autumn, bring the outdoors inside," says Rich Mullins, interior design expert and founder of H2O Plumbing. "Consider adding a decorative wreath or garland made of dried leaves and twigs above the mantle", Mullins continues. Alternatively, you could create an extravagant garland for draping over the mantle, made from natural elements such as dried leaves, twigs, and pinecones.
"For an elegant touch, place some small, gourd-shaped ceramic or glass vases on the mantel filled with seasonal flowers or branches", Mullins adds. No matter what you choose to do, bringing the outside in is a great way to add some nature to your home, making it feel homier.
Choose a Warm Colour Palette
As with any type of home décor, colour is important for setting the right vibe. "To set the stage for a cosy autumn atmosphere, focus on a warm colour palette", explains Kyle Leman, an interior expert at Crossroads Foundation Repair. Warm colours will help to set the scene and amp up that warm and cosy feeling that you're trying to achieve.
"Earthy hues like rustic reds, deep oranges, and mustard yellows evoke the colours of fall foliage. Incorporate these tones through decorative elements such as throw blankets, cushions, and area rugs to infuse your living space with the warmth of the season," Leman continues. You can also use these colours in accent pieces around the mantle and fireplace to help boost the autumn tones in this area.
Go For An Enchanted Forest Look
"Try using the Enchanted Forest method to transform your fireplace for the autumn", suggests Jason Wyrwicz, owner of Pots, Planters & More. Create a wonderful woods environment by first covering the mantel with fake vines and fairy lights. For a mystical touch, scatter a variety of fake mushrooms, acorns, and enchanted animals like owls or fairies throughout the vines. Create shimmering toadstools out of candles in various heights that are autumn-coloured to create a cosy, ethereal atmosphere."
"To reflect and emphasize the theme of the enchanted forest, hang a mirror with a worn frame above the fireplace. Add floor cushions and a faux fur rug to the area behind the fireplace to finish off the design and promote cosy gatherings akin to picnics in the woods. With this distinctive motif, your fireplace is transformed into a cosy haven for the autumn," Wyrwicz adds.
Go For a Halloween Vibe
Finally, autumn wouldn't be autumn without Halloween. You can decorate your home for Halloween in many different ways, and one of those ways is with Halloween-themed fireplace décor. For example, you could create a Halloween-themed garland with mini pumpkins, fake spider webs and small plastic spiders. You can also surround your fireplace with carved pumpkins in various sizes.
Another idea includes draping some Halloween-themed string lights over the mantle. You can purchase Halloween string lights in a range of designs, such as little ghosty lights or pumpkin lights. You could also place a witch hat in the centre of the mantle to the top of the design.
Final Thoughts
As you can see, there are many things that you can do to add an autumn touch to your fireplace. Autumn is the heating season, so this is the time of year when you'll start wanting to use the fireplace. With this in mind, there's nothing better than sprucing it up for the season with some festive decorations. Try some of the tips above and see just what a difference it makes in how your home feels during this season.