Posted on 22nd June 2023
How to Enhance Your Home with Barbiecore and Master the Art of Chic Pink Styling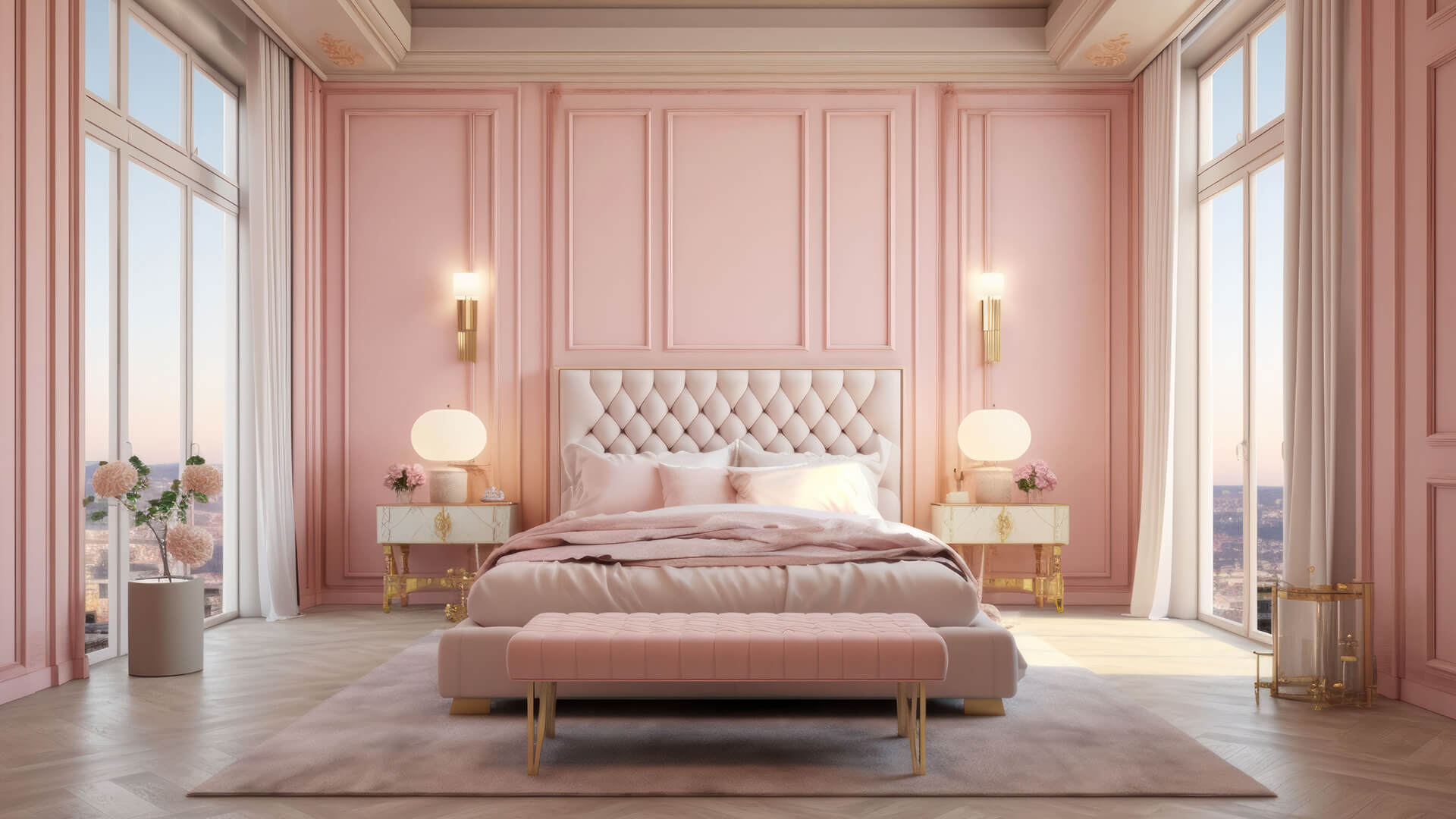 If you are inspired by Barbiecore for your interior design but want to steer away from the 'plastic but fantastic' style most notably compared to the Barbie brand, then Lucy Ackroyd, Head of Design at Christy is here to help. Lucy shares her top tips on fun ways to use pink throughout your home in a way that is still fun but more elevated for a modern interior.
Lucy says: "Pink is having a real moment this year. While hot pink and fuchsia are most commonly related to Barbie, there is a way you can play with shades and stylistic choices to make the colour work to your style. Quartz tones for example, such as rose or baby pink, are a more subtle way to add colour to your home without disrupting your existing home decor and colour palette." 
Revitalise with pink accessories
Soft rose pinks revitalise and heal forming a sense of balance and harmony in the home making it the perfect colour to accessorise with, especially in the bedroom.
Lucy advises: "Using a plain white duvet, sheet and pillows as a base bedding set and adding pink accessorising furnishings such as blush cushions and a cosy Jaipur throw positioned at the end of the bed, will help create a sophisticated and luxurious look without overpowering the rest of the room.
"Softer pinks and neutral tones work well in a bedroom because the colour palette offers freshness and serenity throughout the whole day to ease you when waking up and help you wind down at night. Highlight the blossom tones in the rest of the bedroom by using candy-coloured accessories and furniture such as lamp shades, side tables and faux flowers." 
Embrace pink walls in your living spaces
Pink walls can often be seen as childish, however correctly incorporating this colour into the living room can bring a touch of sophistication and decadence, transforming your space into a chic hub.
Lucy shares: "Pink walls work beautifully within the home to create an energy that is fun and inviting. When the walls of your living spaces are drenched with pink, you can choose to play it safe by opting for more neutral furniture and accessories or elevate the space further with more colour."
"If you're a fan of maximalism, complimenting pink walls with a yellow or green sofa in soft velvet will inject an instant dopamine hit and really pop against the backdrop. Add layers to a space by adding your favourite vibrant cushions, or, if you are a Barbie fan but want to create a more mature take on the classic dreamhouse,  why not go for deep navy blue accessories."
Lucy adds: "When you have pink walls, I would recommend choosing more warm-toned lighting to bring out the romance of the colour, softening the room around its edges to create the perfect ambience to cosy up in."
Use the colour wheel to master the perfect colour combo 
One easy hack which can help to advise what colours work best to create cohesion and the perfect colour pairings, is by utilising the colour wheel.
Lucy states: "Green and pink work beautifully together as they are opposite each other on the colour wheel and achieve a wonderfully fun yet balanced aesthetic, creating a space that is full of character."
"One trend that is really popular at the moment as people start to become braver with their interior style is green tiles in the bathroom, and you can enhance this trend even further with pink".
"If you have committed to the green tile trend, opt for some playful and flirty pink towels. Or why not go against the grain and flip this trend on its head by choosing pink tiles and decorating with green towels and accessories? To further enhance this, display flourishing greenery that thrives in steamy and humid environments such as ferns and prayer plants to create your own tropical oasis."
Get your DIY on and take paint to your furniture
If you have wooden features in the home and are not afraid of a bit of sandpaper and a paintbrush, take the plunge and repaint the furniture to fit your desired aesthetic.
Lucy suggests, "I love seeing kitchen cabinets in soft pink shades like champagne or blush. This will work really well if your kitchen already features a lot of pale wood, for example across your flooring or within the existing furniture. If you're brave enough, find the perfect pink and add a pop of colour to your kitchen."
"Other more subtle ways of utilising pink paint whilst still getting creative is painting the legs of your dining table, chairs and coffee tables. This choice may be unusual but is intriguing and enticing to the eye whilst still playing it cool. Tie it all together with pink painted picture frames in various shades across the walls and shelves of your room."
Opt for warm-toned metal fixtures
Something as simple as metal fixtures, such as light switches and door handles, can really change the essence of a room.
Lucy recommends: "Choosing the right tone and finish of the metal is really important and is often a looked-over step. When decorating with pink I would suggest opting for metal finishes in warm tones such as brushed brass for an overall finish that is elegant and warm."
"Whilst cooler tone metals such as aluminium and chrome do go with pink, choosing those warmer-toned features is a lot more timeless and understated."