Posted on 8th June 2023
How to Add Value to Your Conservatory with These Simple Decor Changes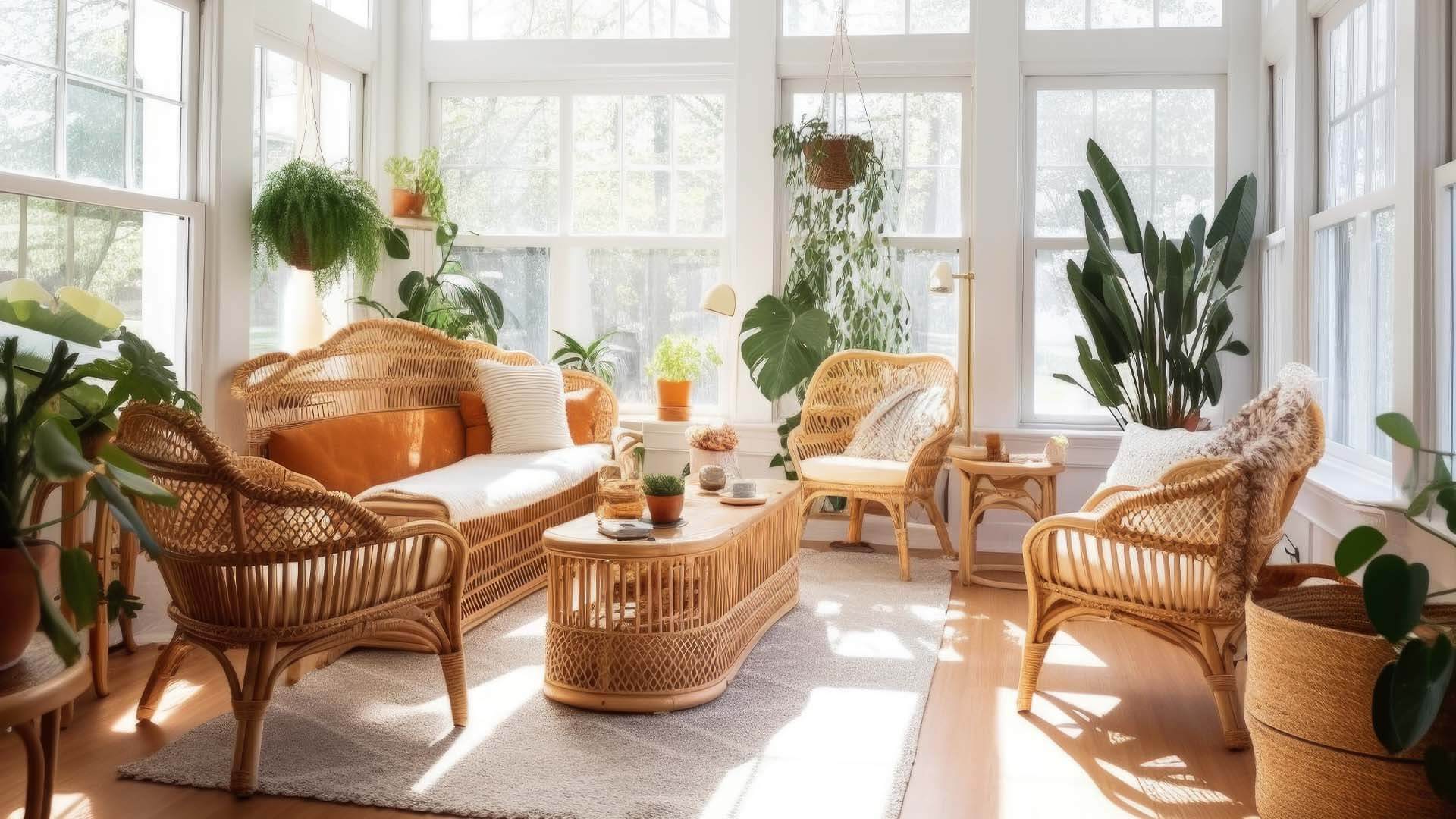 Conservatories are one of the interior world's biggest opinion dividers at the moment, with reports that an ugly conservatory could knock up to £15,000 off the value of your home.1 For those with conservatories, you'll want to ensure you have the right design in place to maximise your investment. As we roll into the summer months, well-designed conservatories can be transformed into a versatile space to host weekends with friends or utilised for a lazy afternoon reading in the sunshine. 
Since conservatories usually consist of lots of glass (making them very bright open spaces) you will want to ensure that your interior design choices emphasise light to offer a modern space for any occasion.
Amy Wilson, one of the UK's leading interior designers and Creative Director at 247 Blinds, shares how you can make small internal design changes to your conservatory to add value to your home and make it a relaxing and fun place to spend time in.
Mix colours with patterns
Patterns add a sense of personality to a room which colours alone cannot always achieve, exploring your style can help bring vibrancy to the conservatory. 
"Don't be afraid to mix colours with patterns to create a more inviting atmosphere. If you love a modern classic style, floral and nature-inspired patterns can help achieve a stylish, pared-back look. Mixing these patterns with natural colours such as greens and new neutrals will create a really cohesive and calming ambience and complement views of the outside."
"If you prefer bold colours and styles, you can introduce these through accessories like lampshades and cushions which will transform your room without a huge investment. Alternatively, you could go for statement furniture, rugs or curtains to create a real wow factor and drama.  These changes can really help inject some personality into your conservatory where glass can dominate without some texture and pattern." says Amy.
Create shadowing with Venetian Blinds
Selecting conservatory blinds can be a tricky choice as you want something that both looks elegant but has a dual purpose when it comes to weather changes, blocking out sufficient light in the summer to keep the place cool. 
Amy Suggests: "When choosing conservatory blinds, it's important to consider how versatile the blinds are going to be year-round. Roller blinds and vertical blinds can be a great option if you have a large conservatory with window panels so you can cover big surface areas. Plus you can also get roller blinds and vertical blinds in blackout blind options, which are brilliant at blocking out the sunlight on hotter days. 
"Opting for Wooden Venetian blinds is a stylish option which combines design and function. Wooden Venetian blinds have a luxurious look, whilst casting warm and linear shadows into the room, giving a peaceful and relaxing aesthetic to the space. The thickness of the slats also means you can better adjust the amount of sunshine you are letting in throughout the day, and in the colder months they can help retain the heat."
Revive Vertical Blinds 
Opting for linear blinds such as vertical blinds means you can also get creative with colour choices. 
"Vertical blinds don't have to be plain and boring, whilst there are plenty of classic colours, you could go bolder with colours that still complement your decor style. Consider sage greens, powder blues or tangerine if you fancy a New Orleans aesthetic to bring more playfulness to the room; plus vertical blinds have made a comeback this year," says Amy.
Create a library
Libraries can be placed anywhere in the home, so why not the conservatory? As naturally bright spaces, they make a great reading room for light. 
Amy recommends; "Conservatories tend to be used as relaxing spaces, especially in the summer months where you might be partial to a quick afternoon snooze. The natural light makes it the perfect spot for reading, so why not create a reading nook and fill that empty corner of your conservatory?
"Adding one or two bookshelves or a coffee table with a stack of inspirational magazines will help complete your sanctuary. Bring the eye level up from the low window sills that can so often be found in conservatories and instead introduce a wall-mounted floating shelf to add some plants, pictures and vases to group shelf items in threes and make sure you vary the height."
Bring the outside in with botanicals
A conservatory is often the bridge between the main house and garden, which makes it the perfect spot to start incorporating more botanicals.
"Conservatories are a haven for plants as they allow for lots of natural sunlight throughout the day. Why not take advantage of this perk and add some greenery to the conservatory to add those final touches?
"Plants breathe life into rooms (literally) and bring a vibrancy that other accessories cannot always do. They are perfect for filling any awkward corners of the space, and they can be as small or large as you like. Although my tip is to curate and style your plants to work around your fittings, such as nooks and shelves or even create a plant wall to give it a more elevated look than having them sat on the floor," says Amy.