Posted on 11th April 2023
Home Exterior Tips: 10 Decking Ideas to Enhance Beauty and Space of Your Outdoor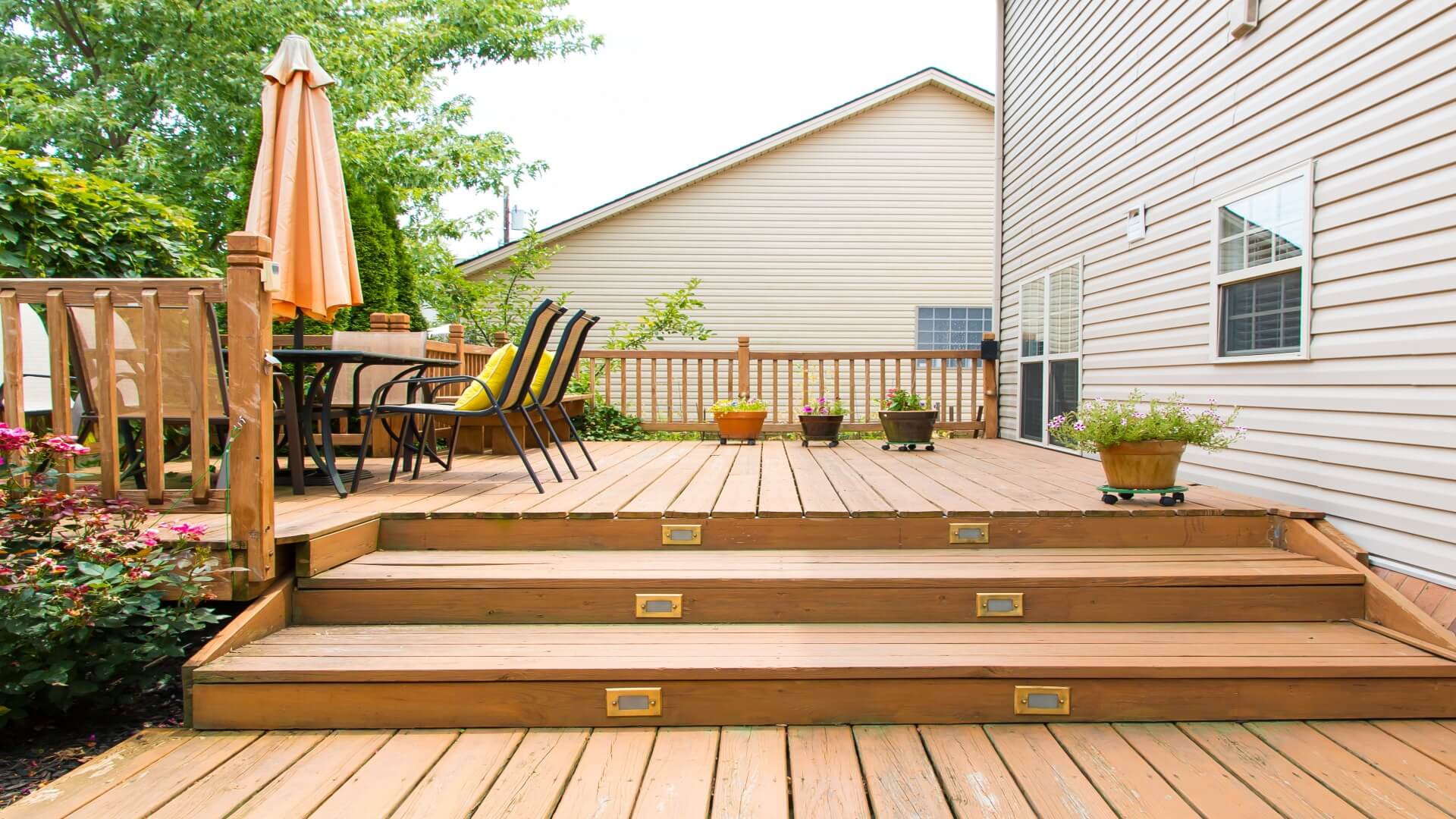 Whether you are looking to simply enhance the appearance of your exterior space or are aiming to make your decking more appealing to potential buyers when selling your home, we have got you covered. There are many ways that you can create a beautiful outdoor space, we have curated a list of 10 decking ideas to help enhance your outdoor area.
1. Lighting
A simple way to bring life to a space and brighten up the area is by adding lighting to the space. Not only will this add beauty but it also adds functionality through safety and security at night. There are many ways lighting can be added to your space, whether that's built into your decking or external lighting on walls or along fencing. The type of lighting can greatly alter the appearance of the space; for example warm lighting usually gives a more cosy and comfortable feel, whereas cool lighting can create a brighter and more modern aesthetic.
2. Adding sociable features
By adding sociable features to your outdoor space, such as fire pits, hot tubs or even an outdoor bar, you will utilise your garden space much more often with family and friends and get the most out of your space. There are many ways you can make your space more inviting to guests and adding garden features which make your space more beautiful but also more sociable is a great idea to do so. You could add hot tubs or even seating areas with sofas and comfortable seating.
3. Add garden furniture
Adding beautiful garden furniture within your space can significantly alter the appearance of any outdoor space. There is an ample amount of choice available on the market in multiple styles and materials to suit any space. Old, tarnished furniture can give a tired and run-down appearance to your garden so adding new furniture to match the surrounding landscape will transform the space.
4. Add a water feature
Many customers choose to add a water feature to enhance their garden space. This provides a serene and relaxing atmosphere that you can enjoy for decades. There are many different water features to choose from to best suit your surrounding environment, whether you are wanting to add a garden water fountain or a small bird bath. A water feature is guaranteed to enhance your garden space.
5. Build planters
In order to bring life to your space and create a natural feel in your area, you can simply achieve this by adding plants. This is a cheap and easy way to enhance your space without breaking the bank. If you need to add a splash of colour to your modern garden and don't want to spend hundreds on new furniture, adding colourful plants and flowers can achieve this aesthetic.
6. Add a trellis
A great way to enhance your garden is by adding a trellis to your space. There are multiple to choose from, you can choose a composite trellis which can be fitted to a wall or fence to add interest to a plain area, or you can utilise a wooden trellis to allow for growing plants to climb. Many customers add a trellis to the top of their fence panels to add beauty to the area
7. Add composite decking
An ideal way to enhance your space is by investing in composite decking. Composite decking is a beautiful feature that comes in various colours and surface finishes to suit every outdoor landscape. Not only is composite decking beautiful and will add aesthetic value to your area, it will also last for decades and save you time and money on maintenance.
8. Add composite fencing
Composite fencing can enhance your garden by not only adding aesthetic value but adding functionality through privacy and security. If you also have composite decking in your space, then this will create a cohesive colour scheme and appearance throughout the landscape, which is appealing to the eye.
Add composite cladding
Another way to enhance your garden space is by adding the feature of composite cladding to your exterior wall or property. This can drastically increase the aesthetic value of your space and maintain a colour scheme throughout the space. Cladding comes in multiple colours and surface finishes, like decking, meaning you can choose between many options to better suit your taste and aesthetic.