Posted on 5th July 2023
Experts Coin the Latest Trend You Need to Know About In Your Garden – The 'Feature Fence'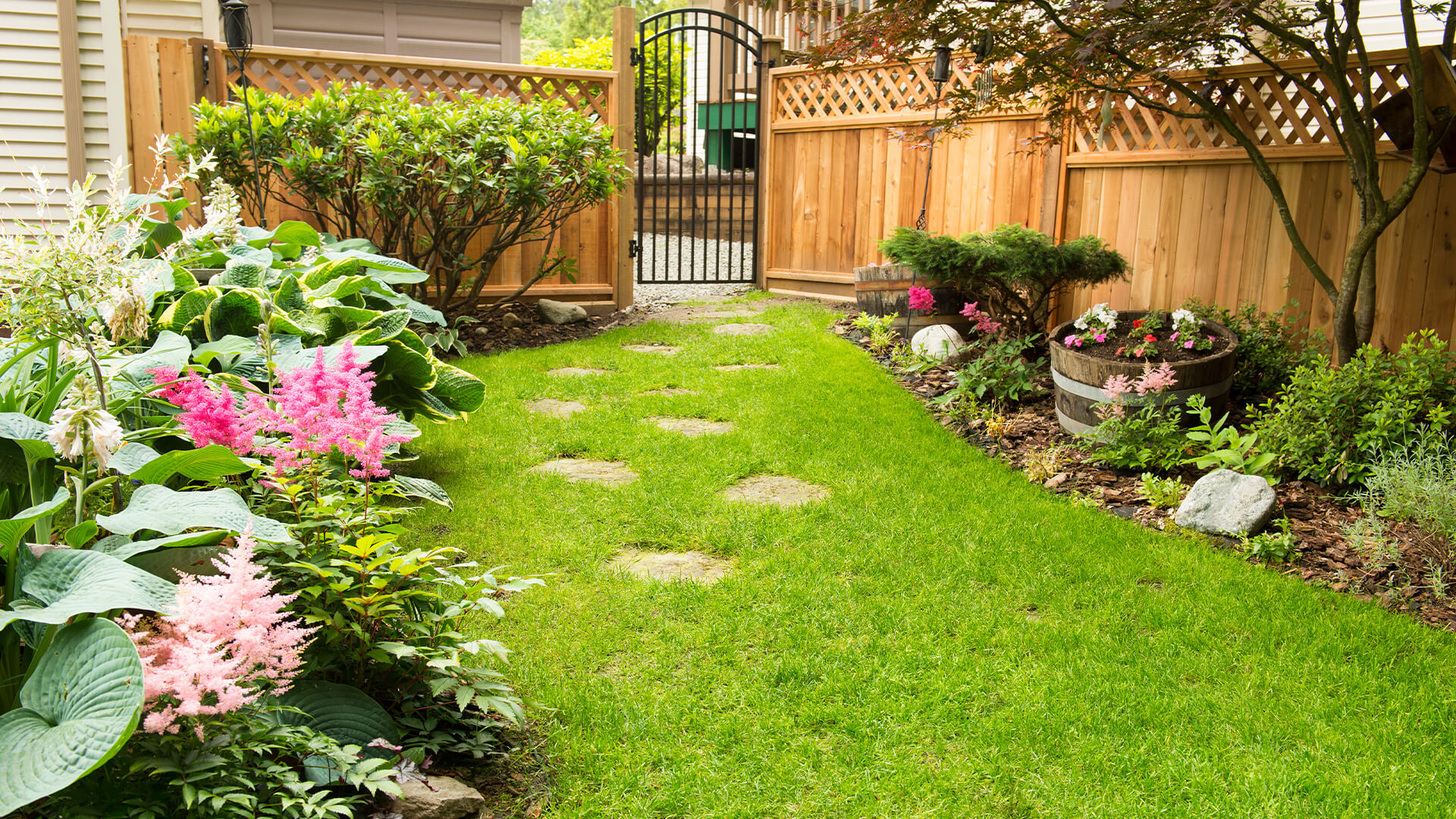 Experts reveal how to master a 'Feature Fence' with accessories, lighting, paint choices and ornaments to transform your outdoor space 
There are 31.2M views for #SmallGardenIdeas on TikTok
We've all heard of a feature wall – creating a focal point in your room – but how can you create the same effect in your garden? The interior design experts believe it all starts with your fence… 
With 31.2M views for #SmallGardenIdeas on TikTok1, it's clear that people are looking to transform their balcony, 'yard-en' or terrace and make the very most of their outdoor spaces. We asked the experts at Wallpaper It, Ginger Ray and Value Lights share their tips and tricks for curating a 'feature fence' that will transform the look and feel of your outdoor space.
1. Choose the right paint 
Olivia Hunter, DIY specialist, Wallpaper It shares her tips for getting a professional finish when painting your fence. 
Olivia says: "When selecting your paint, be sure you're picking up a pot of paint designed specifically for exterior wood. Paints specifically designed for your garden are formulated to be more durable and are able to withstand the various weather conditions your fence will face. 
"Before painting, first make sure to get rid of any old flaking paint. This will help your exterior paint go on more smoothly, but it will also texturise the surface, allowing the new coat of paint to hold faster. Use a paint scraper to dislodge any loose paint and then thoroughly rub down the whole fence with a sheet of coarse sandpaper.
"Once you've completed the preparation, give the fence a clean to ensure the surface is clear of debris, ready for paint application. You can clean your fence as you would with the walls inside your home – simply use a basic sugar soap solution and an old cloth or sponge to wipe down the surface of any dirt or cobwebs.
"For small garden spaces, choose garden paint shades in off whites to create a light-reflecting effect that gives the illusion of a bigger space. Or, opt for muted green paint shades or pops of colour for a bright, fun look."
For a truly professional approach, Olivia offers her advice: "Painting in hot weather can be problematic because if the paint dries too quickly it can appear patchy, bubble and can even become less durable over time. To avoid this, make sure you paint your fence on a day where temperatures are under 20 degrees."
2. Use lighting to create ambience 
Marlena Kaminska, designer at ValueLights, advises: "Lighting is an essential element of any good outdoor space. Not only does this increase functionality, allowing you to enjoy the space long after the sun goes down, but choosing the right lighting is also central to creating an inviting atmosphere.
"It can be a challenge to know exactly where (and how) to install lighting in your garden, but if you're looking for a quick low-effort solution, festoon lights are the ideal choice – and your fence provides the perfect backdrop for this display!
"The key to hanging festoon lights on a fence is to secure them in place using either cup hooks or cable ties. The number of attachment points will obviously depend on the size of your fence, but for the best results we recommend placing fastenings at every metre.
"Stylistically, if you've chosen a deep paint colour for your fence, look to using warm toned lighting to enhance the richness of these hues."
3. Decorations for the perfect backdrop
Jess Martin, decoration expert at Ginger Ray, says: "In the warmer weather, hosting friends and family in the garden for any event is not only cost-effective but can also be a lovely convenience. Garden decorations are a perfect way to elevate any outdoor celebration and turning an existing fence into a show stopping feature is a perfect place to start. 
"Introduce layers by using hanging decorations for your guests to admire. A white rose artificial foliage garland is a subtle but sweet way of incorporating your surroundings into your decor. Or for an extra focal point, use a rustic print floral bunting to spruce up your fence. For a bigger celebration, coupling your feature fence with balloons is always the way to go. A nude and white balloon arch will avoid any colour clashes in your garden and still maintain the wow factor.
"A feature fence can also be a great photo backdrop for those memorable moments and hanging backdrops are a low-effort but high-impact solution. To allow your guests to take centre stage in those snaps, opt for a rustic boho theme with a macrame wall hanging backdrop. If your fence colour doesn't match the theme that you're going for, choose a flower wall backdrop instead as it covers an entire section of the fence for a temporary celebration.
"Regardless of what decorations you opt for, an outdoor environment can appear busy, so we always recommend keeping it simple yet effective for a consistent garden party theme."