Posted on 27th July 2023
Expert Advice: Six Steps to Make Sure Your New Furniture Fits in Your Home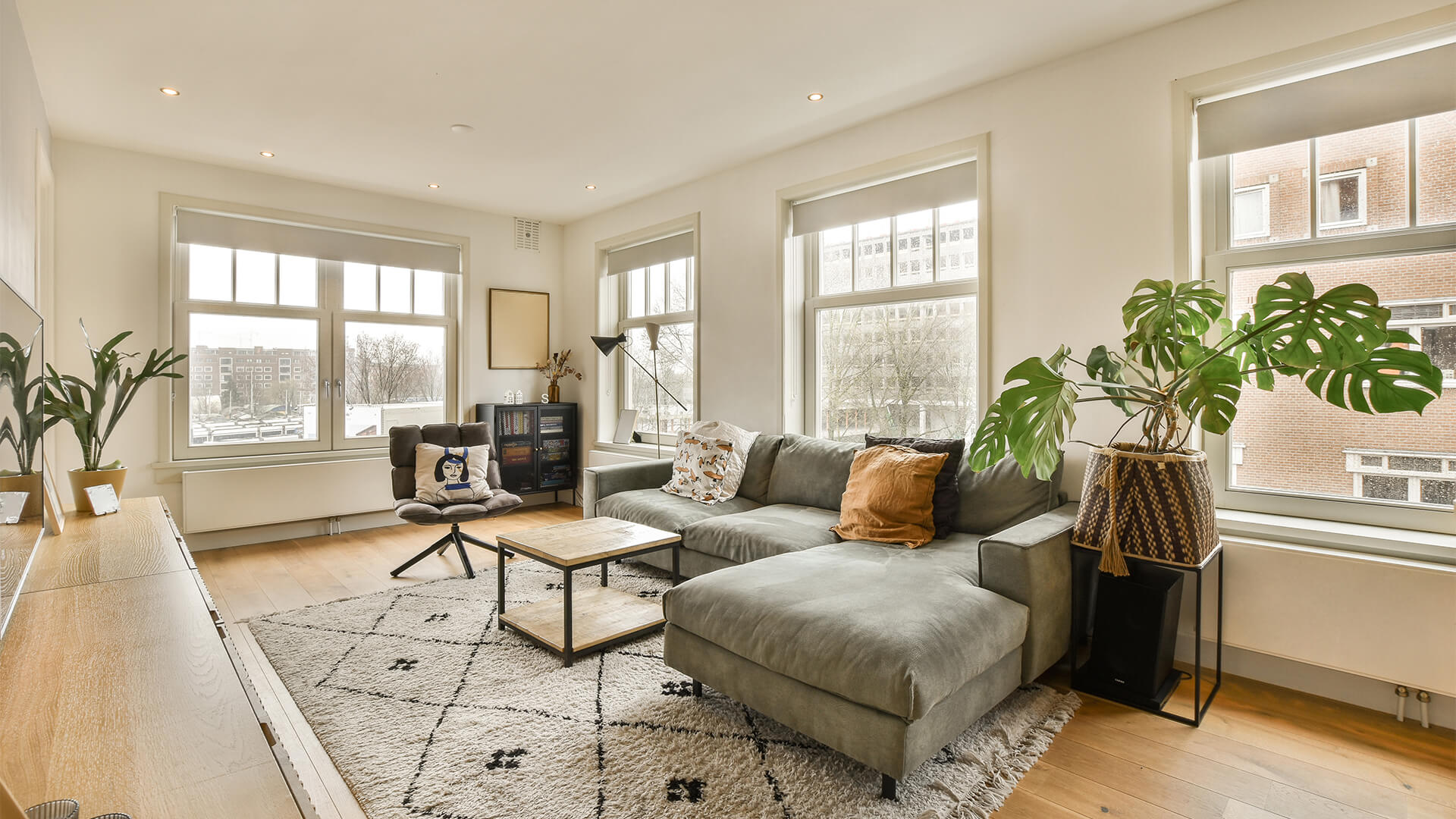 Luxury interiors designer and co-founder of OKA, Sue Jones,  explains the golden rules of furniture measuring
Jones features three key living room furniture tips for a well designed space
Buying new furniture is an exciting part of the interior design process, but it can be easy to get carried away by aesthetics, and forget about the practicalities – the most important being whether or not your dream design will fit into your home.
A new piece of furniture is an investment, so to avoid disappointment, it's important to do the groundwork and measure up, particularly if it's a bespoke piece, such as a custom sofa. That's why Sue Jones, luxury interiors expert and co-founder of OKA, has shared her top tips to curate your space.
1. Measure all aspects of the room
Your first task is to measure the room so you know exactly how much space you have available. You might find that sketching a rough outline on a piece of paper and labelling it with the dimensions for the room, including any doors and windows, is the most helpful way to do this, especially if you're working with an unconventional shape. 
Jones advises to first calculate the width and length of the room, to find out how much space you have to play with, but adds that it's important to remember it's not just floor space you need to think about. "It's also worth considering measuring the height of your ceiling and leaving a gap above any tall pieces; this will create a feeling of greater space," she says.
Once you've done that, you'll need to measure the width, height and clearance of your doorway, and compare these measurements with the width, height, depth and diagonal depth of your furniture. "Make sure to measure all doors and hallways between the entrance to your home and where you want the furniture to live to be sure the piece will fit," Jones adds.
2. Remember to account for obstacles 
When measuring a room, remember that there are other considerations beyond floor space that will affect whether your new furniture will fit. 
"Be sure to take radiators, plug points, alcoves, floor grilles and fireplaces into consideration, as these may affect the layout of your furniture. You should also consider wall space, particularly on those that have windows or other features that you don't want to block," Jones shares.
3. Leave enough space for movement
You don't want a room to feel cramped or cluttered, so before introducing something new, try experimenting with the layout to see how much space you might have left.
"The trick to furniture placement is to make sure there's enough space for people to move around freely. For example, leave at least 50cm between your dining chairs and walls to allow plenty of space for movement. In the hallway, avoid lining the walls with bulky furniture that will make the space feel cramped. Try to leave at least 80cm between your furniture and the walkway to avoid it feeling too restricted," Jones comments.
When it comes to specific items of furniture, Jones has also shared her advice to help you make sure you're choosing the right size for your new pieces. 
1. Choosing the perfect sofa for your space
Sofas are one of the most important items in your sitting room, but buying the wrong size can negatively affect how the room looks and feels, so configuration is key. Too large and the sofa will dominate the room; too small, the sofa will be dwarfed by empty space. 
"If you've measured up, but still aren't sure if a new custom sofa will be the right size for your space, there's a simple way to judge the size visually. Using newspaper, cut out the footprint (length and depth) of the sofa you're considering and lay this down on the floor of the room where you plan to place it. This will help you to see if you have enough space to walk around the model you're looking at, as well as check that it works with other items such as cupboards and side tables. 
"When choosing your new sofa, make sure to ask for its dimensions when packaged. You may find that a sofa that appears too big when fully assembled can actually fit into your home thanks to a smaller packaged size," says Jones. 
2. Fitting in the perfect coffee table 
A coffee table can completely change the feel and functionality of a room, for better or worse. To avoid the latter, getting your measurements right and choosing the best coffee table for your space is crucial. 
The size of the table should be determined by your sofa. One that is the same size or larger than your sofa will look too big, and will make your sitting room appear smaller. "To keep the proportions in check, I recommend seeking a style that is two-thirds the length of your sofa, and avoid coffee tables that are higher than your sofa seat, which will make the room feel out of proportion. You should also make sure you leave plenty of space around the edges to allow for comfortable foot traffic," shares Jones.
3. Cupboards and side tables 
No room is complete until it's been fully furnished with complimentary furniture, such as side tables and cupboards, and getting the measurements right for these items is just as important as the more prominent pieces. 
"Cupboards, bookcases and sideboards which sit against the wall need to be positioned carefully to make sure they don't block footways or infringe on other items of furniture. One way you can test whether you should introduce wall fitting furniture is to stack some boxes in a way which mirrors the dimensions of your desired piece. If you find yourself bumping into the items, you're best looking for a different location.
"Side tables are unique in furniture placement, because unlike other items these are the one piece of furniture that you want to be close to others, especially the sofa. The only rule here is to make sure that the item doesn't block or obstruct a passageway in a way that will obstruct the flow of the room," comments Jones.