Posted on 6th February 2023
Everything you Need to Know about Pursuing a Career as a Setting Out Engineer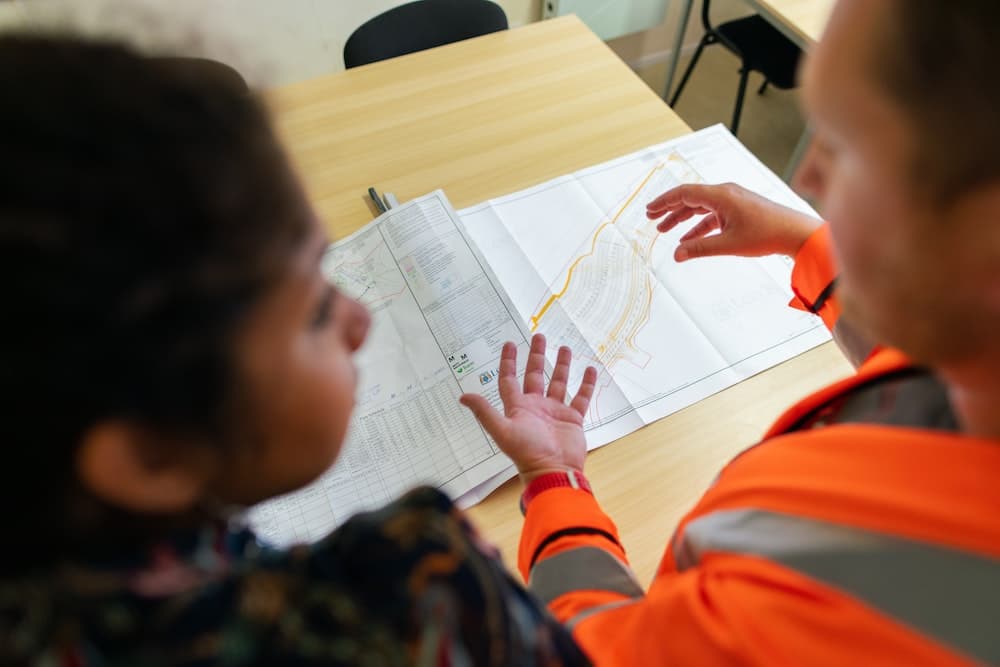 Setting out engineers have a huge role to play in construction projects. Their main duty is to identify the location of structural features, below and above ground, before the commencement of construction work. These experts are able to achieve this with the help of precision equipment, technology and site plans.
A career as a setting out engineer can be quite fulfilling and rewarding. To find out more about this line of work, including the necessary skills, qualifications and average earnings, continue reading below.
What Does A Setting Out Engineer Do?
A setting out engineer is mainly tasked with the work of preparing a construction site for development. Simply put, they identify where structural features, like drainage systems, access roads and water facilities among others, are going to be installed. It is upon them to make sure that workers on the construction site work in accordance to the existing site plans.
Some of the main roles of a setting up engineer include:
–    Surveying, setting out and preparing/levelling a construction site.
–    Using markers and pegs to map structural boundaries on the ground
–    Using building information models, drawings and site plans in the course of their work
–    Making sure that plans and drawings are accurate by working closely with engineers and designers
–    Finding solutions to any technical issues
–    Maintaining health and safety
–    Maintaining a site diary
–    Quality control oversight
To conduct all these duties, a setting out engineer must be able to work in an office setting as well as on an actual construction site.
Skills Needed
To excel as a setting out engineer, you will need a few important skills, on top of your professional qualifications. Some of the additional skills that can help you excel in this line of work include:
–    Great spacial awareness
–    Ability to understand detailed site plans and drawings
–    In depth knowledge of construction and buildings
–    Great communication skills
–    Great attention to details
How To Become A Setting Out Engineer
There are different ways of becoming a setting out engineer. You can get the necessary qualifications through apprenticeship or a university course. Here's a breakdown of some of the ways you can become a setting out engineer:
–    University Course:
If you choose to follow this path, you will have a few options to choose from, you can go for an undergraduate degree, HND (Higher National Diploma), or complete an industry accredited foundation degree.
Some of the subjects you can expect to cover include building engineering, structural or civil engineering, construction studies and building surveying among others.
Once you have completed your course you can approach engineering firms or construction companies and apply for their graduate trainee programs. Since some employers may require a postgraduate award in engineering, you could also study for one.
–    Apprenticeship:
Another great way to get into the construction industry is through an apprenticeship. Apprenticeships are normally open to any individual from 16 years old. Apprentices are normally employee of their company, and are expected to work for a minimum of 30 hours each week. This time is divided between a college or training provider and on the job experience.
To start your journey to becoming a setting out engineer, you could take part in an apprenticeship in Construction and the Built Environment. After you get a more permanent position, you can move on to doing more setting out specific training.
–    Construction Work: 
It is possible for you to apply for a setting out position and completing on the job training with your employer, if you already have some experience in a specific area of construction, like bricklaying perhaps.
–    Work Experience: 
If you truly want to work in the construction industry, it is important that you get some work experience. You can do this at school or by working for a company or even relative – who also works as a setting out engineer – during your free time.
Career Path And Progression
Initially, you can start as a trainee or junior setting out engineer. You can then become a surveyor or civil engineer, after acquiring some specific training. Alternatively, you could choose to become a project or site manager. These options open up the possibility of working freelance or opening your own business.
By achieving chartered status through a professional institution, such as the CIOB (Chartered Institute of Building), you can make yourself more employable and increase your chances of earning a higher salary. You can find out more about potential careers as a setting out engineer at techsol.ie/services/setting-out-engineer/.
Potential Earnings As A Setting Out Engineer
The average earnings for a setting out engineer tends to vary with the level of experience. While the figures quoted below depend on any overtime worked, employer and location, you can expect to earn the following in this line of work.
–    Around £25,000 to £30,000 as a newly trained setting out engineer
–    Around £30,000 to £35,000 as a trained and experienced setting out engineer
–    Around £35,000 to £55,000 as a senior setting out engineer
Conclusion
At this point you should have enough information on everything you need to know about a career as a setting out engineer.