Posted on 7th August 2023
Engineering The Extraordinary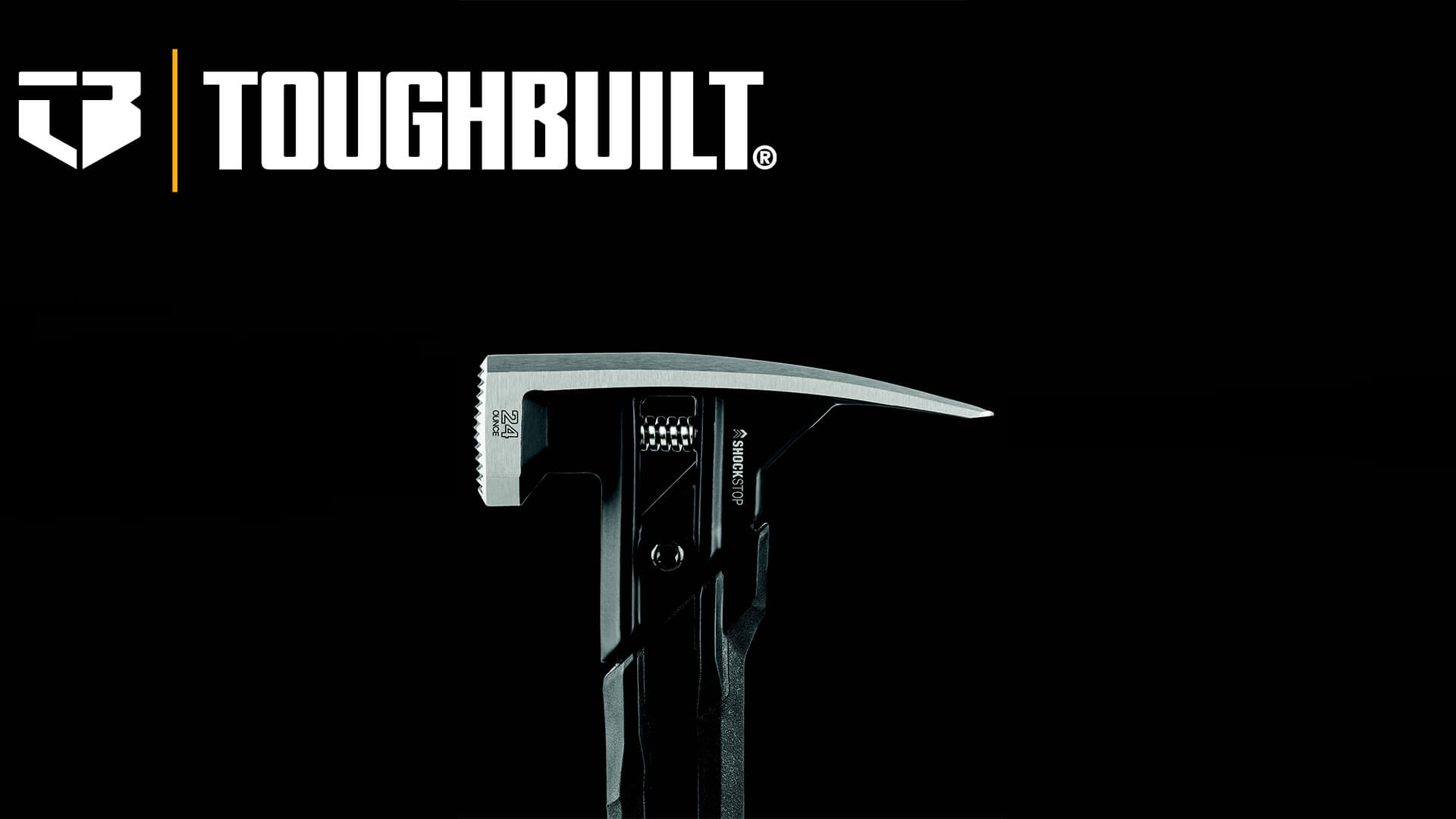 ToughBuilt, an advanced product manufacturer and distributor, emphasizes innovative, quality solutions developed through intelligent design. The brand is currently focused on providing tools and accessories for the professional and do-it-yourself home improvement and industrial trades. The team of experienced industrial designers, digital artists, and mechanical engineers at ToughBuilt begins every project with a blank whiteboard to bring intuitive products to market from concept to consumer.
The ToughBuilt® ShockStop™ hammers revolutionize professional striking tools. Innovative ShockStop™ technology absorbs vibration at the head to slash fatigue and reduce compounded strain. It keeps pros at peak performance all day.
In the last calendar year, ToughBuilt debuted the Reload Utility Knife, a groundbreaking new cutting tool. This innovative world's-first auto-reloading magazine-fed knife entered the market with rave reviews, viral conversations spanning social media, and both a ProTool Innovation Award and a category Gold Innovation Award for Best Utility Knives from Home Improvement Executive.
Next, following years of success with their robust Sawhorse/Jobsite Table line, the refreshing new ToughBuilt QuickSet™ Work Bench brought unmatched versatility and durability to the professional worksite. A winner of the Golden Hammer Award from HBS Dealer, a ProTool Innovation Award, and a Gold Innovation Award from Home Improvement Executive, the workbench continues to drive an online conversation about the resilience of ToughBuilt products that resulted in millions of social media impressions worldwide, marking both the bench and the brand as a source of new technological advancements and rugged design.
Later that quarter, ToughBuilt's flagship ProBlade™ Tape Measures with Blade Control introduced a standout, category-leading family of new measurement tools in the measuring and marking category, earning the Company an Innovation Award from Home Improvement Executive.
The impressive introduction of the 500-ft Laser Leveling Kit reimagined how 360-degree laser levels function with an intuitive, first-of-its-kind, 3-piece stacking guide rod that allows for a rolling laser receiver to provide bracket-free attachment and a one-handed interface for faster operation. This class-leading guide rod system provides professionals with an immediate solution for years of slow and inefficient snap-together rods that lack durability. The laser housing emits a beam that displays a consistent, accurate signature that is detectable up to 500 feet from its projection point, setting a benchmark for precision and technological advancement.
Adding a convenient 2-in-1 Masonry Level to the line late in the summer and two robust new Extending Box Levels to the levels category, ToughBuilt once again broke the mold and brought refreshed capability to jobsite leveling. These remarkably strong extending levels expanded its brand presence through viral TikTok and Instagram videos highlighting the robust endcaps, precision-etched rapid-measurement markings, and 24"- 40" extending capabilities, driving more than 5 million views across both platforms.
In autumn, the Company brought its first seven handsaw SKUs to the woodworking and general construction marketplace, led by the new ToughBuilt Folding Pull Saw, the industry's first folding, dual-edged ryoba style pull saw, which features an integrated mechanism that folds closed and snaps shut to allow the blade to be stored safely within the saw's handles when not in use, providing users with a full-length finishing saw that can be safely stored or transported. Each traditional saw also boasted features like an integrated pencil and blade storage, advanced ergonomic design, and a triple-cut tooth pattern that performs smoother, easier cuts while removing debris.
In the new year, ToughBuilt presented the first eleven out of 150 planned long-handle garden and landscaping tools, showcasing a rock-solid post hole digger, a full line of garden and lawn care spades and shovels, and the first-of-
its-kind D-Grip Hollow Point Shovel which features a unique tip, beveled to cut through roots
when digging.
This spring, ToughBuilt has introduced a full range of striking tools, including engineering, drilling, sledge, and rip claw hammers, with ergonomic grip paneling and balanced design, and the announcement of their long-awaited ShockStop™ hammers: an industry-leading framing rip hammer designed with an integrated spring and pivot system to reduce felt recoil and diminish fatigue over repeated striking, while remaining powerful and balanced with each downswing.
Coming soon to ToughBuilt's expanding product offerings is a complete line of screwdrivers, precision, and insulated drivers, and ratcheting bit drivers; a unique hand tools line that features integrated storage systems, multi-bit autoloading systems, tri-panel ergonomic handles, wrench bolsters, and strengthened cores for torquing as well as an industry first Bit Grenade, built for rapid deployment and tethered, one-handed access when working on ladders, in low-visibility spaces, and at great heights.
These thrilling products join award-winning high-performance jobsite support stands, cutting-edge lines of ergonomic knives, snips, and shears, the industry's most awarded knee pad line, and an incredible range of intuitive ClipTech® enabled softgoods that deploy on and off a belt, wall organizer, or mounted ClipTech® hub for rapid change-outs and simplified access on the job. At ToughBuilt's C.O.R.E. is Confidence, Originality, Reliability, and Engineering: their end users define themselves by facing the future of work, gear, and mobility head-on. Their customers depend on their gear to work as well on the fifteen-thousandth day as it did on day one, and they demand accuracy, precision, and sophistication that fuels a job well done, so the company approaches each problem they encounter thirsty for fresh solutions and new concepts for improved product design.
The substantial development of ToughBuilt's new product lines represents an excellent opportunity to use smarter, faster, simpler solutions to increase brand awareness and customer satisfaction while setting a new standard for pro-quality design. This year, the company has a tremendous number of innovative products planned for launch and continues to look to increase international distribution and further leverage fresh product ideas, and expand the company's offering into new and untapped categories.