Posted on 14th June 2021
DIY Bathroom Remodel Tips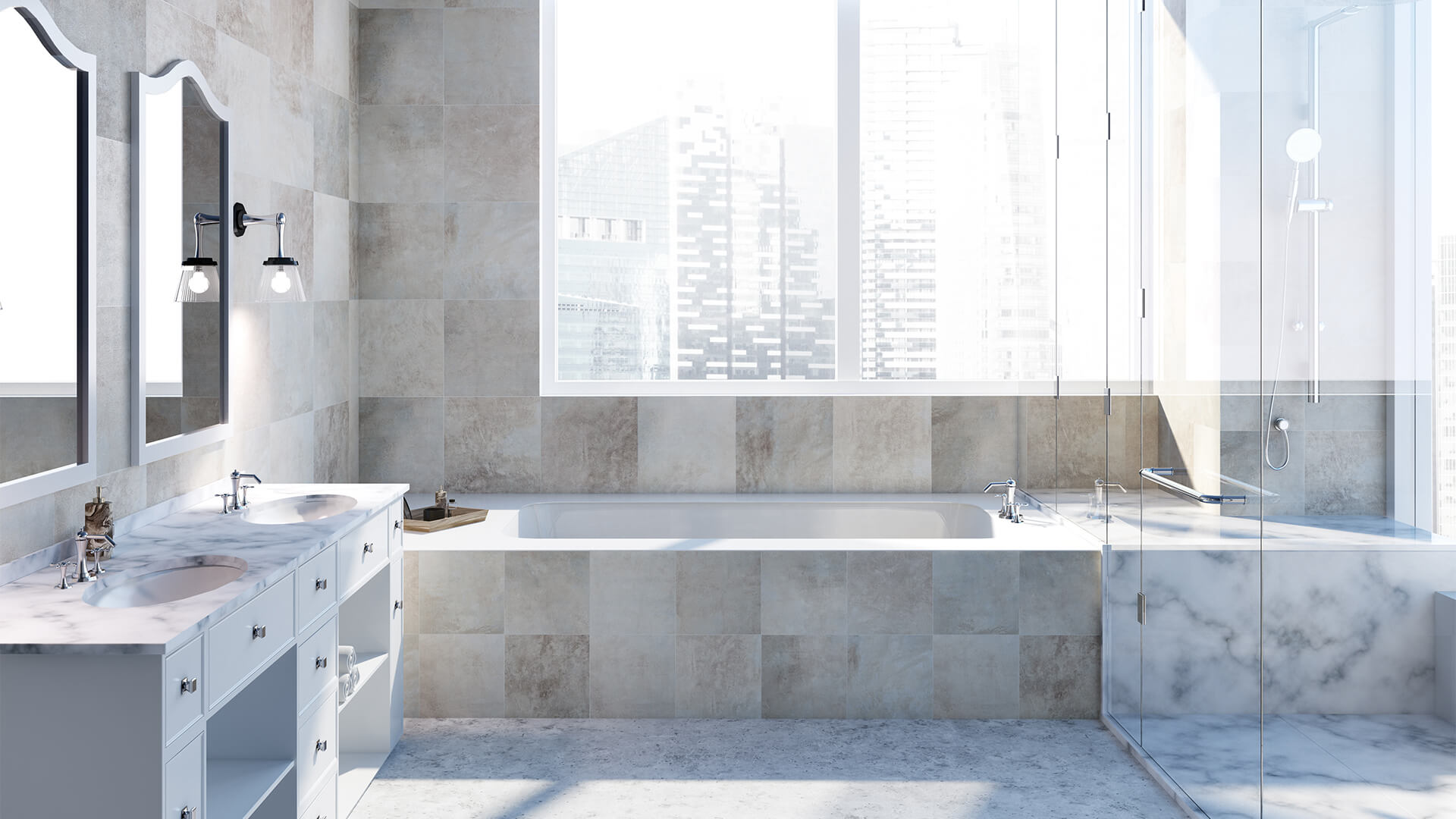 Bathrooms are among the easiest rooms in the house to remodel because most of them are usually smaller than other rooms. Bathroom remodelling may be labour intensive and complex but you can do it yourself. You may save up on labour costs by doing the easiest operations and hiring professionals for complex jobs.
Before you start removing the old tiles, wall mounted sinks and other bathroom fixtures, plan every step of the renovation and make sure you are prepared for the task. Equip yourself with the right tools and have a budget in place to cover all the expenses you may incur.
Read on to check out some ideas you may utilize when remodelling your bathroom.
Re-tiles the floor and shower space
The frequent use of a bathroom requires durable tiles like porcelain, vinyl and ceramic tiles. Use textured tiles or those with matte finishes if you need a grip on your floor. Mark reference lines before you start tiling to ensure you achieve your desired pattern and waterproof the tiles to increase their useful life.
Add standalone tubs and freestanding fixtures
Bathroom fixtures, especially standalone tubs and freestanding sinks, portray elegance and create a nostalgic mood. They may be placed next to windows for a view and be integrated with your desired bathroom design. There are various shapes and sizes, making it possible to find the one compatible with your bathroom remodelling plan.
Spruce up your vanity and cabinets
You may replace the whole vanity or update it by repainting and fixing the cabinet panels. You may also install cabinets around wall mounted sinks to maximize the use of space. Make sure the faucet is installed and connected to the drain correctly. Adding a marble or polished granite countertop elevates the vanity unit.
Install a new sink
Use freestanding sinks for an elegant look on your bathroom and if you have a bigger bathroom with more space for other amenities. Wall mounted sinks create a minimalist look making your bathroom look bigger and they allow you to explore more storage ideas for your bathroom.
Set up stylish lighting fixtures
You may perform simple electrical works in your bathroom like changing the bulbs and other lighting fixtures. Hire professionals to perform any complex wiring jobs, then complete your renovation with the finishing you want. Use a dimmer switch to set up the brightness of lights in your bathroom, depending on the mood you want.
Customize your walls
Pick the right colour scheme for your bathroom to match the mood and desired design. Brighter colours make the bathroom feel bigger and lively, while darker colours make the room seem smaller. You may install racks to place your towels and wall hooks to hang clothes and keep things off the floor.
Add customized and functional fixtures
Replace your shower fixtures, toilet paper holders and replace bathroom faucets to improve the appearance of your bathroom. Adding standalone tubs and freestanding sinks in bigger bathrooms make it seem more elegant. Use large, stylish mirrors and install a light fixture on top of it or install a backlit mirror to enhance the light reflection in the bathroom.
Bathrooms should not only be used for their functionality but enhanced for style and comfort. Plan the intricate and simple details of your bathroom design to make you feel at home and comfortable in your space.